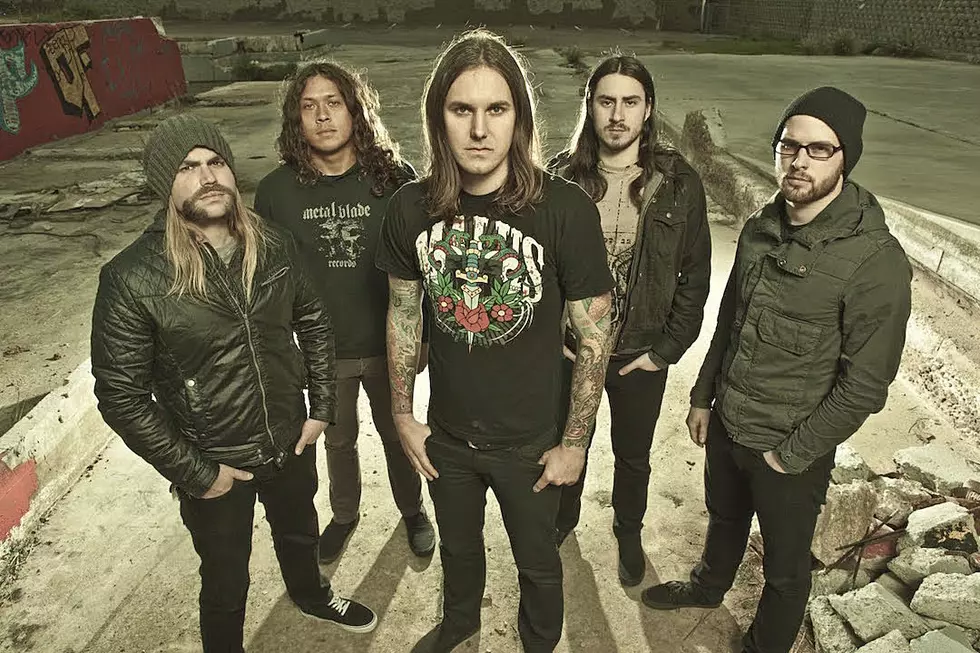 Musicians Respond to As I Lay Dying's Controversial Return
Metal Blade
Metalcore band As I Lay Dying have returned with their "classic" lineup of vocalist Tim Lambesis, guitarists Nick Hipa and Phil Sgrosso, bassist Josh Gilbert and drummer Jordan Mancino. The group released their first song in nearly six years today, June 8, titled "My Own Grave," as well as announced a comeback show that will take place on June 16 at Soma Sidestage in San Diego, California.
The reunion has sparked a wave of controversy within the metal community. Lambesis was incarcerated in 2014 for attempting to hire a hitman to kill his estranged wife. Ultimately, he served three years of his six-year sentence and was released near the beginning of 2017. Questions have risen, and a number of artists have drawn their lines in the sand.
A good majority of the industry seemed to stay silent on the matter and Sumerian Records owner Ash Avildsen took notice. "Enjoy the silence. Amazing what people will rationalize doing to be relevant and make money. You are all sick. A situation more toxic than Weinstein, Cosby and Spacey put together. You facilitating degenerates, get ahold of yourself. I am embarrassed to call you my peers."
Before that, however, Jamey Jasta was one of the few to come forth with his thoughts. "Nick, Jordan, Phil and Josh are incredible musicians and very nice people. There's a bigger discussion to be had and when the time is right hopefully we'll do it and they can give everyone insight behind their decision. Until then I will hold judgement."
He later added to a fan's comment, "Well, let's be clear, I'm reserving judgement on the other four guys rejoining, I'm still processing it. I will speak to them in person when they are ready. What Tim did was lower than low, is he a changed man now? Should he be forgiven? I don't know. Maybe if his ex-wife and kids do?"
Last last night the Contortionist's vocalist Michael Lessard came forward against the band's return. When responding to a fan's comment, he asked, "What if he had been successful with taking another person's life? I don't think the fact that he failed exempts him of his attempts. I have no acceptance for people who do unacceptable things and I'm not interested in helping give them a platform to influence others."
Kenneth Nixon, frontman for the rock band Framing Hanley also questioned the band's return to the limelight.
Former Lionheart bassist and current Havenside vocalist Brandon Wells, as well as guitarist Alex Tehrani of Spite (a band on Fronz from Attila's label) defended the group in their decision to re-form.
Although artists are beginning to come forth with their thoughts, many mid-to-higher level acts are continuing to remain silent. Where do you stand on the situation? Are you hoping to see more musicians voice their opinions? Do you think artists have a responsibility to speak out on social matters?
See As I Lay Dying in the Top 50 Metal Bands Who Released Their First Album in the 21st Century
10 Shocking Crimes in Rock + Metal History
More From Classic Rock 105.1