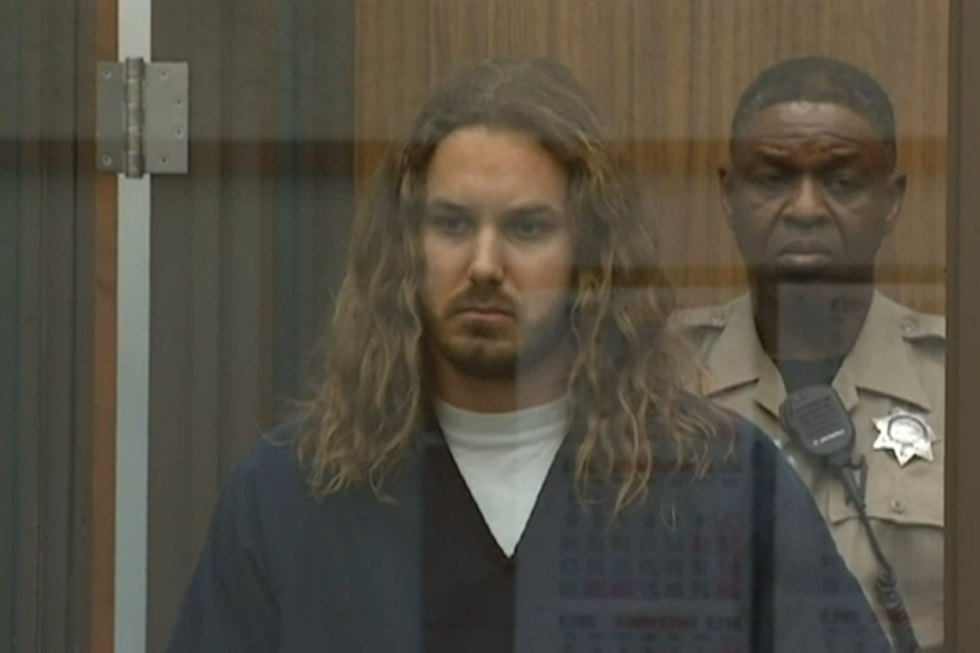 Tim Lambesis Pleads Guilty to Murder-For-Hire Charges, Faces Up to 9 Years in Prison
CBS
As I Lay Dying vocalist Tim Lambesis pleaded guilty today, Feb. 25, to solicitation of murder for his role in a murder-for-hire plot to kill his estranged wife, who is also the mother of Lambesis' three adopted children. As a result of his guilty plea, Lambesis may be facing nine years in prison and a $10,000 fine, according to ABC 10 News in San Diego. He will be formally sentenced on May 2, reports Lambgoat.
Last year, Lambesis was arrested after allegedly attempting to hire a hitman to kill his estranged wife, Meggan Lambesis, who filed divorce papers in late 2012. The hitman turned out to be an undercover officer. Lambesis was released on $2 million bail and remained on house arrest during the duration of his court proceedings, with minor exception.
Just a few days ago, full details of Lambesis' meetings with the undercover cop were shared online. Here is a portion of the officer's testimony. Here is the account via Radio.com:
"During our conversation he told me that he had picked out three dates that were good dates for him, for me to kill his wife. Those were the dates that he would have his children and therefore, he would not be a suspect in the case."

The undercover officer tried to get Lambesis to use the word "kill" or "dead" during their conversation, which he said was recorded, but Lambesis resisted. "But he continued to say repeatedly that, I want her gone. I want her never ever, ever to come back."

Then Lambesis started to walk away. "So, as he was leaving, we got about fifteen or twenty feet away from each other and he turned back to me and he goes, "Just to clarify, just so you know, I do want her dead.'"
The remaining members of As I Lay Dying have not yet commented on Lambesis' conviction, but stay tuned to Loudwire for all updates on this developing story.
More From Classic Rock 105.1