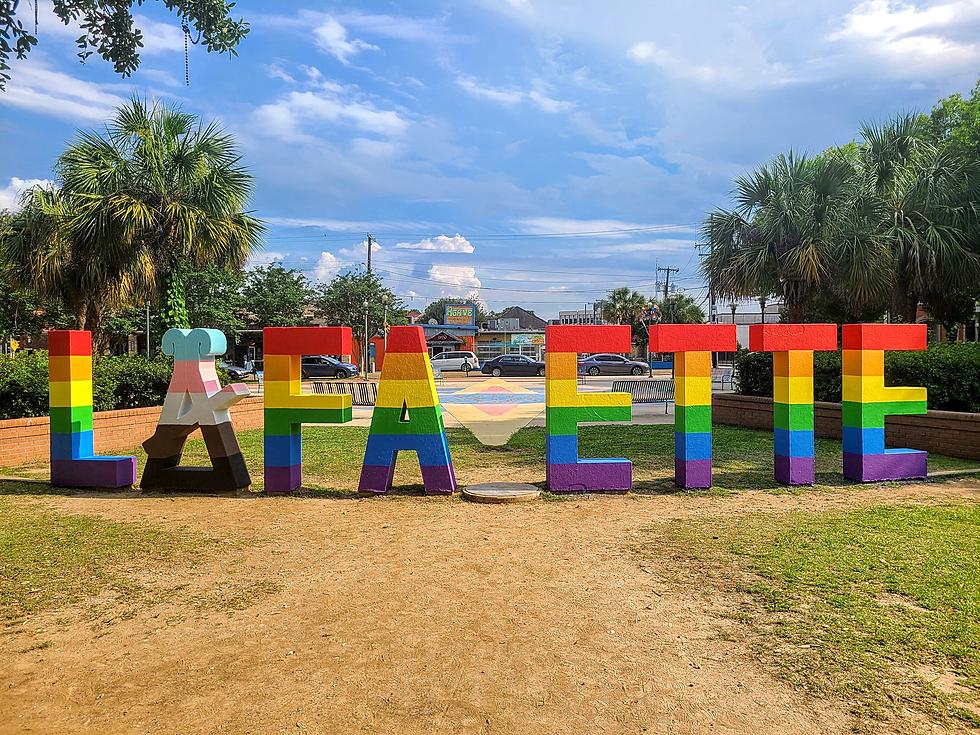 UPDATE: Arrest Made in the Defacing of Lafayette Pride Sign
Photo submitted by Peyton
An arrest has been made in the defacing of the Lafayette sign.
According to KATC TV3, Zachary Lee Kynard was arrested by the Lafayette Police Department.
Kynard was identified and arrested after he allegedly defaced the LAFA ETTE sign in Parc Sans Souci in Downtown Lafayette. PFLAG, the Parents and Friends of Lesbians and Gays, a non-profit organization, had painted the sign to celebrate Gay Pride Month and diversity in general.
Lafayette Police took to social media to share the suspect's image in the hopes that someone would be able to identify him. It appeared to have worked.
KATC reports that Kynard was booked on a Simple Criminal Damage to Property charge, with a bond set at $5,000.
PFLAG picked up their brushes again earlier this week to repair/repaint the sign, and the rainbow is, once again, flying bright!
It's because of people like this suspect that we can't have anything nice (or the saying goes). I don't understand the desire to deface something and, if this suspect had a good reason to do so, I am willing to listen. At this moment in time, I can't think of one.
No reports as to whether the suspect will face hate crime charges.
Great Movies That Deal With Racial Issues
70 Google Maps Images That Show How Much Lafayette Has Changed
Lafayette Traffic Situations That Make Drivers Faché Faché (Mad Mad!)
More From Classic Rock 105.1