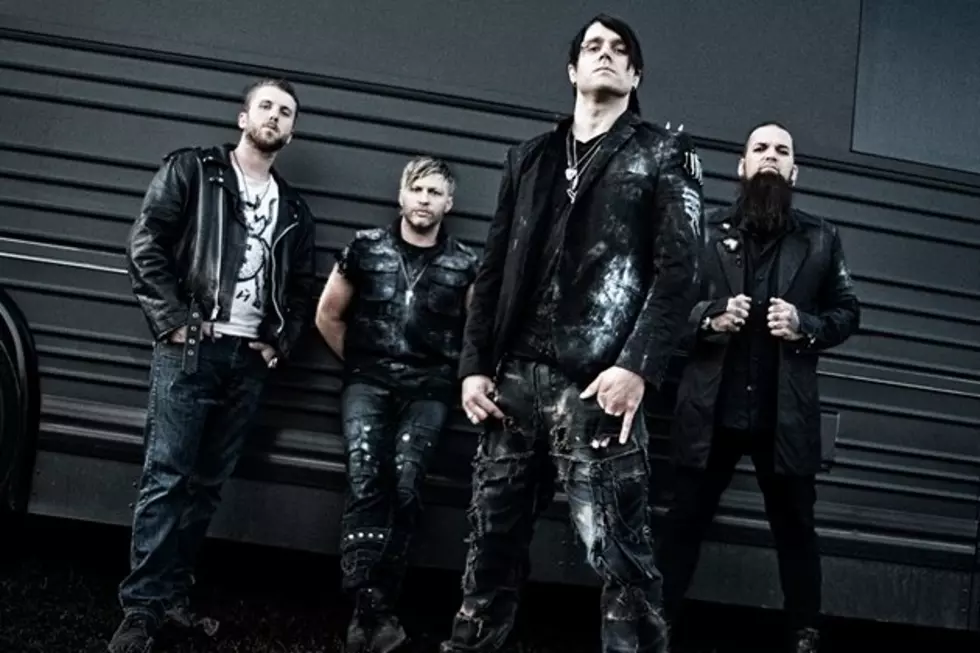 Three Days Grace's Matt Walst on Transitioning Into the Band + New Album Progress
Photo by Roland Wilhelm
Three Days Grace released the chart-topping single 'Painkiller' earlier this year as a teaser of what's to come. The band officially made the switch to Matt Walst as their new frontman and he's currently alternating between the live stage and the studio with the group.
Walst, who also fronts My Darkest Days, took a few minutes to chat with 'Loudwire Nights' host Full Metal Jackie about joining Three Days Grace and offering a few insights into the recording of their new album. Check out the chat below.
It's Full Metal Jackie on Loudwire Nights. Matt Walst from Three Days Grace with us on the show tonight. Matt, how did the experience of touring with the band last year affect the decision for you to permanently join Three Days Grace?
From the get go, it felt right. At first it was a little freaky. My first show was in front of 8,000 people in an arena. After six months of touring it just felt right. That's why I stuck by it.
Your brother Brad has been a member of Three Days Grace from the beginning. What were the conversations like between the two of you when you were making the decision to join the band?
When I decided to go on tour with them, me and my brother were having sushi for the first time in years, having dinner together. He got the news and he's like, you better get your singing shoes on -- I was like, oh god! I just practiced and practiced and then jumped on tour.
Matt, you formed My Darkest Days nine years ago. In terms of inner workings of a band, what are some noticeable similarities between the band and Three Days Grace and what are the major differences?
My Darkest Days is a lot lighter. We had heavier songs and then a lot lighter songs. Three Days Grace has a few lighter songs, but it's more rocking and heavy. People mosh a lot more. With My Darkest Days, it was more about chicks and that kind of subject matter. With Three Days Grace you get people moshing, you get people jumping, there's a lot more energy and a lot more fun for me.
Creatively what challenged you most about taking an active role in songwriting for an established band with a recognizable style?
On the first record Three Days Grace ever put out, I co-wrote two songs -- 'Let You Down' and 'Scared' -- so I had an idea of the writing process and I've always been such a big fan. I kind of know what the song is and what people like about Three Days Grace because I've always been such a big fan of them from that perspective.
What specific moment on the new album is the most pure representation of Matt Walst's capabilities as a singer?
We have a song that is coming out called 'Falling Angel' and there's a bridge part that's really high. I think that song is a good representation. It shows my range and shows what I can do vocally.
You're playing Heavy Montreal in August. Why is being on the bill so important to you and Three Days Grace, who are a bunch of guys from Ontario?
It's going to be the biggest metal concert in the country and opening before Metallica is just crazy. A dream come true. It's going to be a big one, we're super excited about it.
Matt, tell us about the status of the new record and where you guys are at right now.
We're about 75% done, I'd say. We've been doing some shows, then going back into the studio to do some recording then doing some more shows. It's good, you can come back to the song and listen to it and be like, "OK is the song done? What does this song need?" When you hear something so many times and over and over, you start to lose perspective on the song. But you take a month away from it, then come back, you can either see it's perfect or see the flaws in it. You can correct those.
Thanks to Three Days Grace's Matt Walst for the interview. Catch the band on tour at these locations. And keep an eye out for word on their new album, coming soon. Tune into Loudwire Nights With Full Metal Jackie' Monday through Friday 7PM through midnight online or on the radio. To see which stations and websites air 'Loudwire Nights,' click here.

More From Classic Rock 105.1