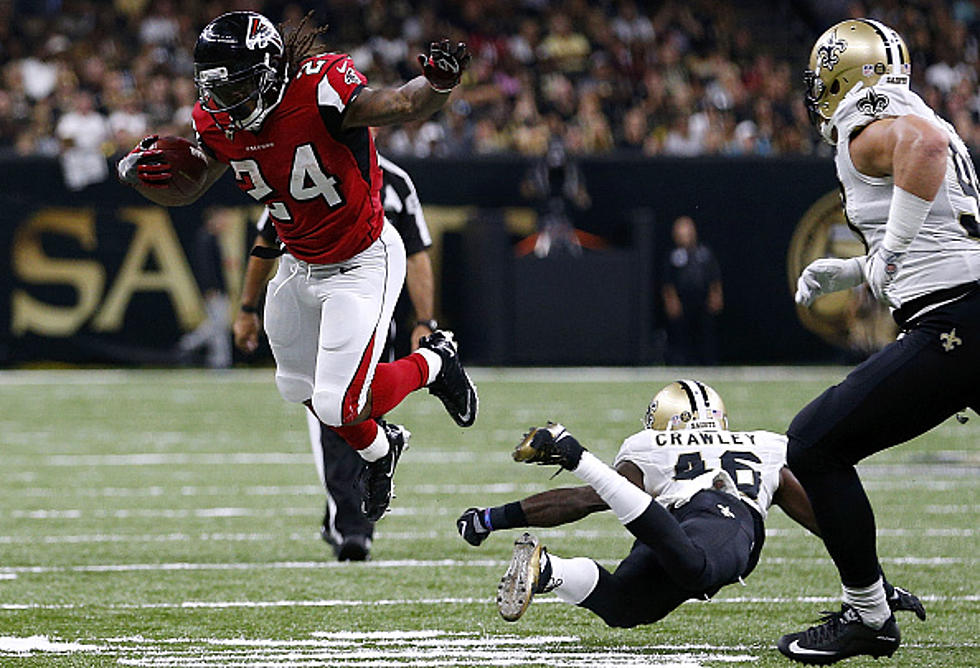 Saints Fall To Falcons In Rebirth Anniversary Game
(Photo by Jonathan Bachman/Getty Images)
Monday night was supposed to be a jubilant celebration of the 10th anniversary of one of the best moments in Saints' history. That's not how the script played out.
The Rebirth game captured New Orleans' resiliency in the face of adversity. Ten years later, Saints fans hoped their favorite team would replay their favorite movie, but the Falcons shredded that fantasy to pieces...along with the Saints' defense.
Devonta Freeman and Tevin Coleman combined for 296 total yards and four touchdowns, and the Falcons torched the Saints for 442 yards of offense. The Saints actually outgained them, posting 474 yards of offense, but the numbers lie. A 90-yard interception return by former LSU linebacker Deion Jones basically iced the game, and even though New Orleans made a late push to make things interesting, the Falcons walked out of the Superdome with a 45-32 win over their rivals.
"We have to stop the run better than we stopped the run," Sean Payton said after the game. He added, "You're not going to win many games when you can't hold somebody under 200 yards rushing, I know that."
It was obvious the Saints' defense looked lost at times. Receivers were left wide open, highlighting the inexperience of a team dealing with serious injury issues.
Without Delvin Breaux, PJ Williams, Kenny Vaccaro, Sheldon Rankins, Tyeler Davison, Stephone Anthony and several others on defense, a thrown together unit got exposed. It might not be their fault, but it didn't make the loss any less painful.
The Falcons scored on five of six drives at one point, highlighting the ease of their execution against a struggling defense.
On a brighter note, both teams came together in a sign of unity during the National Anthem. In a time where all eyes are on players during the country's defining song, they stepped up and shared a moment of solidarity. It was beyond refreshing.
Bravo to all the men on the field. That's how you come together to send a message.
Unfortunately, the message sent to Saints fans was a lot more somber. With the loss, New Orleans falls to 0-3. While their record isn't a kiss of death, it's definitely not a good sign of what's to come.
It would be easier if there were an individual to blame for the poor start, but who do you put that on? Is it Sean Payton's fault that his players keep falling victim to injury? Is it the inexperienced players' faults they were thrown into action without the proper adjustment period? People will point fingers, but it's hard to pinpoint the true source of the misery.
Maybe the Saints will find another rebirth at some point this season, but on the night they were supposed to celebrate one of their finest hours, the scoreboard betrayed them.
More From Classic Rock 105.1