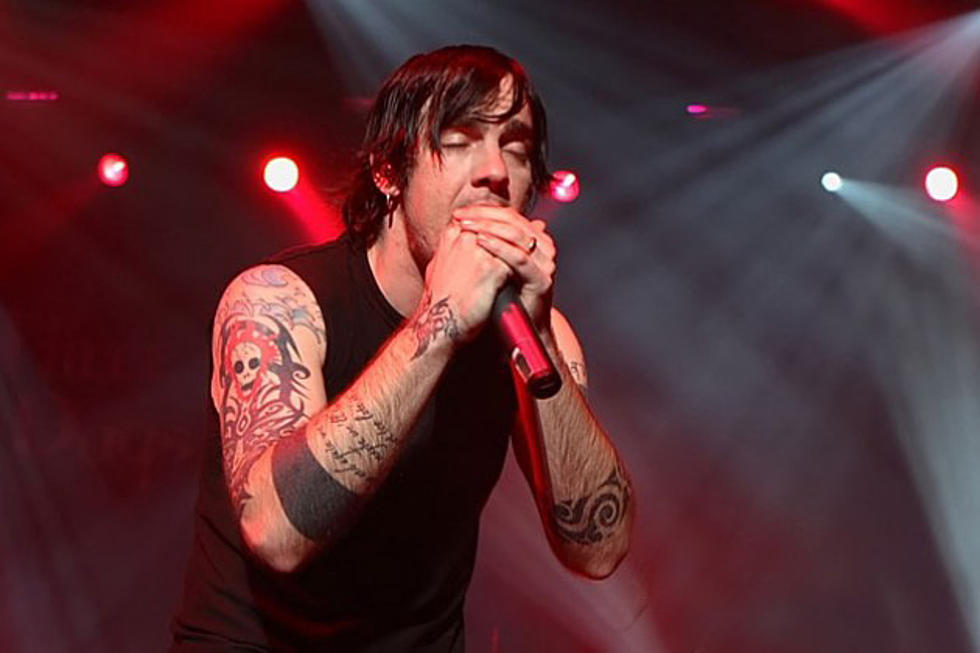 Adam Gontier Criticizes Musical Direction of Three Days Grace, Plans to Release Health Records
Mary Ouellette, SheWillShootYou.com
In the 10 days or so since the announcement of Three Days Grace's split with frontman Adam Gontier, more and more details have surfaced about their parting of the ways. Gontier is the latest to unveil more about his exit from the band, stating that it was more of creative decision, but also reiterating that he does have health issues.
In an interview with The Pulse of Radio (via Blabbermouth), Gontier states, "For me, I think the thing that broke the camel's back was, I had enough of the money coming before the music. It's not perfect timing, but it had to be done, you know. For the sake of my own mental health and well-being, I had to do it."
The vocalist went on to add his displeasure with the band's current creative process. He explained, "The music really wasn't coming from the heart. I can say that on the record 'Transit of Venus,' there's maybe one or two songs that actually do come from my heart, but a lot of songs have been written just for radio and for fans, you know, to relate to. Quite a bit of it just adds up to the fakeness of the whole industry and how you're writing hits for other people and not for yourself -- and that's really what the band was, has been all about."
Gontier's comments are consistent with a posting he made earlier this week on Facebook about the split. In his posting, he wrote:
I know everyone's been waiting for a post/response from me, to the recent situation between Three Days Grace and I. I've got so many things I'd love to say, but this is Facebook, and out of RESPECT, I'm not going to get into any of it right now. The one thing I can say publicly, is that I am so thankful for the outpouring of love and support from all of my fans, and that I AM NOT done making music. This is just the tip of the iceberg for me (and you) ..., trust me on that! I will have new music coming soon, and I can say, honestly, it's the best music I've EVER created. I'm so excited for you to hear it! I'll close with this for now. I am so disappointed in myself for believing, after all these years, that the ones I truly believed were closest to me, are, were, and have always been the farthest away from me. Just pick up. Move on. Pretend nothing happened. Not ONE call, text, email to see how your so called "friend" is doing. It's sad, but it is what it is. The music BUSINESS. Remember this people..., in my/our case, it's always been about the "business". The money. What about the love for creating real music from the heart? Where did that fit in? Pretty much nowhere. No room for music from the heart, when it's just about music for the radio. Lastly, stay tuned for my new music. It's real. Honest. Not fake. It's from my soul. Which is exactly the same place that I keep all of you. In my soul.
Thank you so much for your love, support and kindness through this time.
Adam
As for the band's original statement that revealed a health concern was part of his reason for leaving, the musician attempted to clarify things in another Facebook posting. The vocalist stated:
Although I'm not completely comfortable sharing my life on a public platform, I feel a responsibility and obligation to connect with my friends, my fans, my fellow human beings, regarding my ongoing health problems. I've made the decision to do this because I know there are so many others out there suffering the same way I am. What I know for sure, during this time, is that I can connect and bond / derive hope from the human spirit. I intend to specifically make public the status of my health, via my health records, so that I can put concerns to rest, and bring light to the truth. I will share my health records, which will include my emotional struggles within Three Days Grace for over the last two years. This will be posted within the next few days. From there, my wish is that all will be put to rest, and I will move forward with dignity and faith.
Again, to all of my fans, thank you for your love and support. You are my lifeline.
Adam
More From Classic Rock 105.1