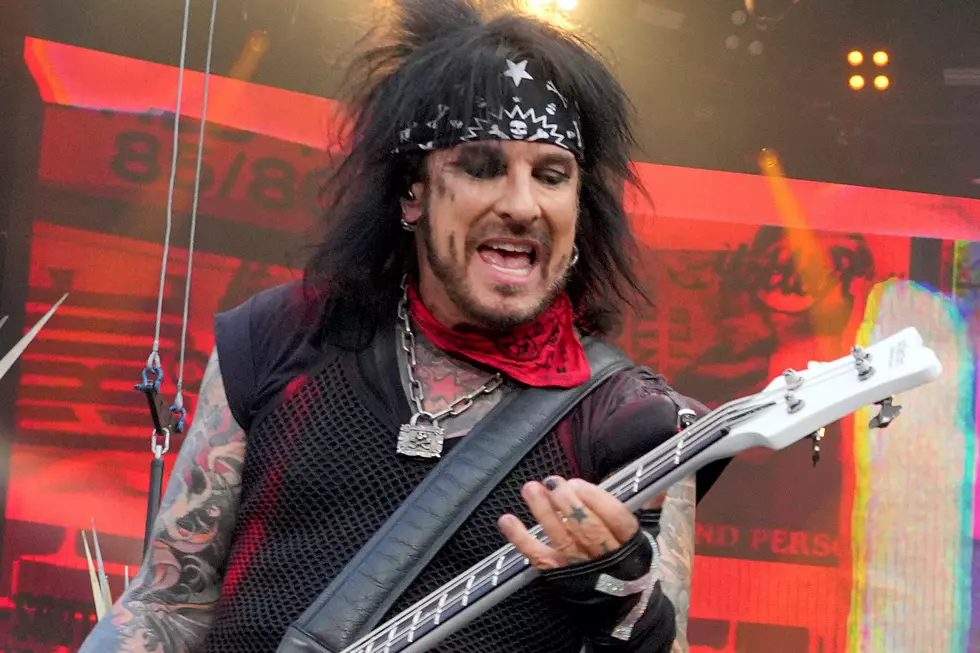 Nikki Sixx Confirms Motley Crue Are Writing New Music, Shares Photo From Studio
Kevin Mazur, Getty Images
If you weren't already wondering WTF is going on with Motley Crue, you're about to get even more confused. Nikki Sixx has confirmed that the band is writing new music, just a week after the news of Mick Mars' lawsuit against them was made public.
Earlier this month, Sixx tweeted that he and John 5 — who is now their touring guitarist (we think) in place of Mars — had spent some time "writing random riffs" in the studio. He didn't say what it was for, but in a pair of new tweets, the rocker confirmed that it is, indeed, new Motley Crue music.
The first tweet was featured an image of Sixx, Tommy Lee and John 5 playing in a studio, and the caption read, "Another killer songwriting day with Tommy Lee and John 5." The second tweet said, "We are writing. The creative process of songwriting has always been the heartbeat of our band. We're gonna go in the big studio next week and record a few off the floor and see where it goes. We don't have a definitive plan at this point. Just letting the songs guide us."
See the posts below.
These tweets seem to imply that John 5 will play on the eventual recordings, so it's unclear where Mars' stands with the band going forward. On April 6, the guitarist filed a lawsuit against his bandmates, claiming they've been attempting to oust him from the band ever since he announced his retirement from touring in the fall.
READ MORE: Motley Crue's Manager + Mick Mars' Lawyer Explain Lawsuit From Both Sides
He initially intended on remaining a member of the band and participating in any endeavors that don't involve touring, but Crue apparently offered him a severance package in return — that he declined. The group responded in a statement of their own, which concluded with them wishing Mars well, so his stance as a member is currently unknown.
Crue's last studio release was a handful of songs for the 2019 Netflix film The Dirt. The rockers' next performance with Def Leppard will take place May 22 in the U.K. See all of their upcoming dates and get tickets here.
Motley Crue: A Timeline of Their Storied Career
A photo timeline of Motley Crue's career.
More From Classic Rock 105.1