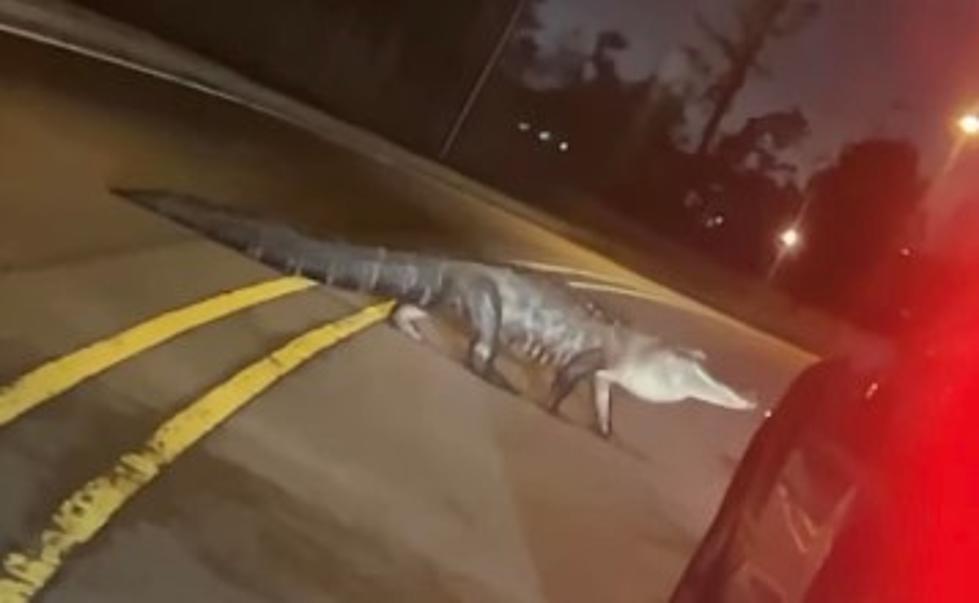 Massive Gator Spotted Crossing Roundabout In Lake Charles [NSFW]
YouTube
In South Louisiana, we have beautiful waterways and wildlife. That is why we are called Sportsmans Paradise. Here in Southwest Louisiana, we are no strangers to gators in our waterways but it's rare to see an alligator crossing over one of our roadways.
Well, that is exactly what happened the other night here in Lake Charles. A couple of people saw this massive alligator crossing the road by the Golden Nugget in Lake Charles and broke out their phones to record the dinosaur crossing the road and posted the videos on Facebook.
We did some investigating and found out this gator was crossing the road in the early morning hours on Tuesday. You will see in the video just how big this gator is. If we had to guess, the gator is probably at least 9 to 11 feet long.
In this first video you are about to watch, a guy broke out his phone and recorded the gator crossing the road. it looks like the gator was by the roundabout. Be careful when opening up the video below. There is some profanity in the video but it makes us laugh even harder with the play by play.
Then here is the second video below, you will see the alligator back on land and you then realize just how big this beast is. The Golden Nugget Golf Course is right there so we are guessing he was headed toward a pond on the course.
We were thinking though, maybe he just left the casino after a late night of playing Blackjack LOL.
Beautiful Louisiana Wildlife
More From Classic Rock 105.1