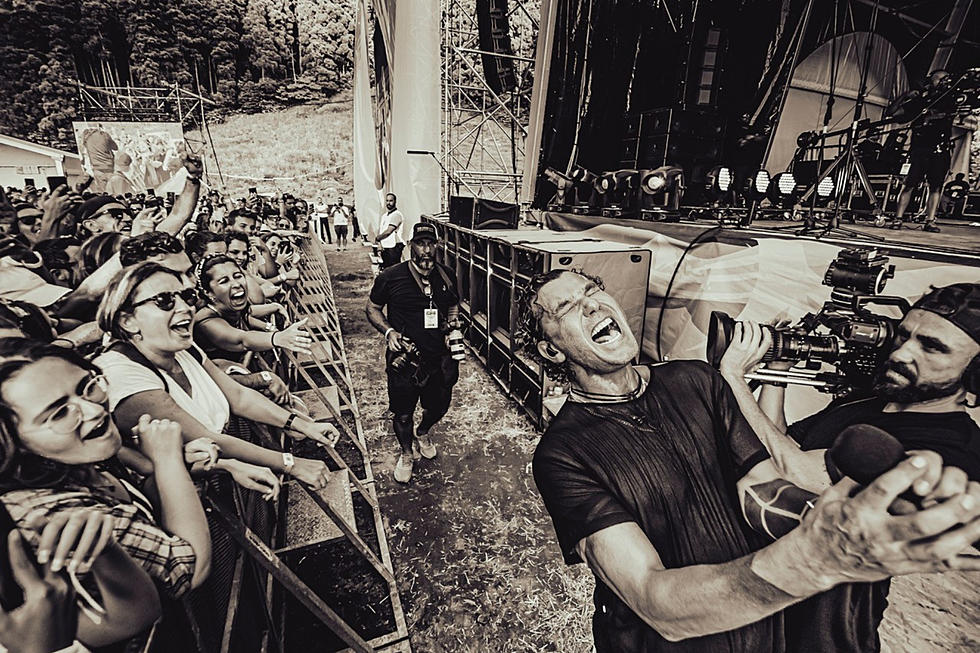 Gavin Rossdale Discusses His Brutal Songwriting Process – 'I Destroy Myself and Then Suddenly Find Something'
BMG
"Life's a bitch and it comes and hits you in the face when you least expect it."
Gavin Rossdale caught up with Chuck Armstrong on Wednesday night's Loudwire Nights (May 3), and one of the first things they talked about was the heaviness of Bush's latest studio album, The Art of Survival.
"Getting divorced is quite heavy," Rossdale told Chuck about some of the difficult things he experienced over the last few years. "Living through that co-parenting is quite heavy and annoying. What I went through and what happened was just sort of what everyone was going through. Life has been pretty tough unless you're one of the billionaires who seem to profit off of all our misery. The rest of us had to suffer and go through it."
The heaviness of the lyrics on The Art of Survival are matched by the heaviness of the music, something Rossdale said he was particularly excited about, especially because most fans and critics don't expect a band like Bush—who has been creating music for three decades—to get heavier in their later years.
"I like it when it's heavy," he admitted. "I'm in the room when I make it and it's fun. It's fun to be surprising. It's exactly what I wanted, it's the least expected way to go."
While Rossdale talked to Chuck about some of the personal struggles he's faced, he admitted that he's also happier than he's been in a long time and he's having fun playing these heavier songs live. While some may wonder if it's hard to maintain happiness while singing songs rooted in hard experiences, Rossdale seemed quick to push back.
"It's like emotional sweating," he told Chuck. "You purge it. It's all purging. I have bleak elements and bleak moments in the song, but I'm not a nihilist where I think everything is terrible. I'm a really positive person—it's just that we all have to deal with negative situations."
For the Bush frontman, he deals with those situations best on the stage.
"I play every show like it's my last."
Bush Aren't Done Telling People About Their Latest Album
As Rossdale reflected on The Art of Survival, which came out on Oct. 7, 2022, he's also looking ahead as Bush are releasing a deluxe edition of the record on June 9. The new version will feature new songs, including the just-released track "All Things Must Change" and a fresh version of "1000 Days" featuring Amy Lee of Evanescence.
Some bands and frontmen may play bigger roles in the development of special edition releases like this, but for Rossdale, he's focused solely on the music.
"We're not done with telling people about the record," he explained. "It could've been an EP on its own, but [The Art of Survival] came out eight months ago. That was like 1,000 years ago. That's a song with Amy ago."
So when his label told him they needed some music, he just asked how many songs they wanted and then Bush put them together for the new release.
And when the label asked for live tracks, well, Rossdale wasn't as enthused.
"Live songs aren't my personal favorite," he confessed. "I don't understand it. David Bowie live, Stevie Ray Vaughan live, those are the only two records I've heard that I get a sense of why. The rest of it, it's like singers in rock bands doing solo records. Live records and singers doing solo records—I know, I did one and I know I did a live one, I'm full of contradictions myself."
When asked about doing a solo record even though he didn't like it, Rossdale admitted that he's not the kind of person who gets a rise out of having his name front and center above all else.
"Bush is far more well-known than my name," he said. "I'm egotistical, obviously, I stand on stage telling people what I think, but at the same time, I love my band. They're my best friends. I've got best friends outside of music, but I love those guys. We play great together."
Rossdale laughed as he thought about his solo run, mainly because it seemed like everyone wanted to know when Bush were getting back together. He admitted he has the same experience when he's acting, too.
"When I do movies, the grips, the gaffers, the electricians, they all go, 'Hey that's cool, when's the next Bush record,'" he says. "As soon as I finish any job, I go into the studio and try to satiate that side of my life."
Gavin Rossdale Discusses His Songwriting Process
The constant questions about his work create a lot of pressure on Rossdale, but he tends to maintain his mental health and sanity through the very act that he believes defines him: songwriting.
"That's my first job," Rossdale said very confidently and clearly on Loudwire Nights. "Obviously I'm in a band, but I think of myself as a songwriter. I have a terrible process where I have to beat myself up and destroy myself just within an inch of never doing it again and then suddenly I find something. I'm a moody guy who finally gets happy. It's like torture. I can't get out of the way of myself. My ego is crushing me and then I think of something and I'm like, 'Cool. I got it.'"
Though Rossdale had a smirk on his face as he explained this process, it was clear he wasn't joking about how tough he is on himself when it comes to writing songs. He even recognized this as he quickly added to the conversation, "As an artist, you have to be kinder to yourself—it's the imposter syndrome. That's why I don't like confident, overbearing, loud people. The humility is more interesting. It encompasses more interesting perspectives on life ... The song is even sweeter when you've been telling yourself for two days that's it, it's all over and you have to find a new job."
It's those two days—or however long it might be—that tend to be the hardest on Rossdale.
"The time in between is the danger zone," he said. "The hardest part about any creative endeavor is sitting down to do it. Once you're in there, if I can't think of something good, I'll think of something bad, because even something bad might have a little bit [of good]."
As he thought about that, Rossdale was reminded of advice that his best friend's dad shared with him when he was younger, advice that he's been very open about over the years.
"When we were kids and out all night, every night, trying to find girls in London, trying to be these hip kids who could barely get into any places, [my friend's] dad said, 'It's cool that you want to be in a band and avoid regular life and jobs and all that, but don't forget: Tin Pan Alley. They're there 9 to 5, five days a week, writing songs. So, if you want to write songs, that's cool, but make sure you write them.' It's annoying because he was right. It just takes sitting there and diving into it."
Influences and the Worlds They Create
Rossdale has always been open about the artists who have played major roles in his life—like The Pixies—and in the conversation on Loudwire Nights, he named David Bowie and Stevie Ray Vaughn as two artists who transformed the way he thought about live records. With artists like that, Rossdale doesn't simply enjoy them, but he is truly influenced by them.
"[It's] the worlds that they create," he explained to Chuck about why artists like Bowie, Vaughn and The Pixies are so meaningful to him. "[It's the] combination of what they're saying, how they're saying it [and] the instrumentation."
Rossdale considered that trifecta of musical genius from those artists and it led him to describe a somewhat typical morning for him and how that connects to him as a songwriter.
"I took my kids to school this morning," he said. "I made three lunches, drove them to school, [barely] made it in time, came back, cleaned up the kitchen and I thought, 'I don't know if I'll ever write a single lyric as good as Bowie.' I was like...damn. People ask me how long I want to do this for. When I think of The Beatles, Bowie, The Pixies, I'm so far away from them that it means that I have this massive headroom of improvement. Massive. Enormous. As long as you have a heart for it, you can continue and keep trying. If I was cleaning up and I was like, 'Man, if only Bowie could write like I could write,' that would be the end of it for me. The end of it. For me, I gotta stay hungry."
Staying hungry for Rossdale looks like perfecting his lyrics in every single song he writes and records. As difficult as the songwriting process can be on him, he knows that he has to keep pushing himself to get the best lyric he can.
READ MORE: Your Guide to Rock + Metal Bands Touring in 2023
Interestingly, throughout his career over the past few decades, he's never had voices in his life who have discussed his lyrics with him.
"No one talks to me about my lyrics, no producer has ever spoken about my lyrics," he explained. "I don't know if they even listen to my lyrics. This last record with Erik [Ron]—he's an amazing producer, an amazing engineer. I made him a lyric book, printed it out, super organized. I gave him one and he said, 'Oh great, I can sell this on eBay.' He had no interest in them. None. None."
He did catch himself and remembered one time in his career when a producer pushed on a lyric.
"When I was making the Institute record, I had one bit"—Rossdale starts singing, "Brain freeze, brain freeze, brain freeze, brain freeze." He said Page Hamilton, the producer, asked him, "Are you sure about brain freeze?"
Rossdale responded, "Yeah, they're the worst. Have you ever had one?"
When Chuck asked Rossdale if anyone questioned his use of the word "fuckery" in the opening track of The Art of Survival, "Heavy Is the Ocean," Rossdale seemed excited to talk about that specific lyric.
"That's my favorite word ever," he said about the lyric, "This fuckery will be the death of us." "It's such a universal line and anyone can hear it and be like, 'Oh, totally.' There's nothing to argue with that. It's a moment in time where it came out and I was like, oh yeah, that's good, don't touch it. The next corresponding line is, 'This bravery will save this world a bit.' We all try to do our best but we're just pissing in the ocean, we're all fucked. Nobody's going to save the world."
Rossdale started laughing to himself as he said that last sentence, remembering how he called himself a positive person near the start of the conversation.
"I'm a realist. I'm a realist. We're all fucked."
Watch Bush's Official Lyric Video For "Heavy Is the Ocean"
Gavin Rossdale joined Chuck Armstrong for Loudwire Nights on Wednesday, May 3; the show replays online here, and you can tune in live every weeknight at 7PM ET or on the Loudwire app; you can also see if the show is available on your local radio station. Pre-save the deluxe edition of The Art of Survival at this location and then check out their full tour schedule.
The History of Smashing Guitars in Rock 'n' Roll
Who was the first person to smash a guitar onstage? And how did it become a trend for musicians since then? Loudwire dug deep to uncover what we know about the history of destroying instruments in rock.
More From Classic Rock 105.1