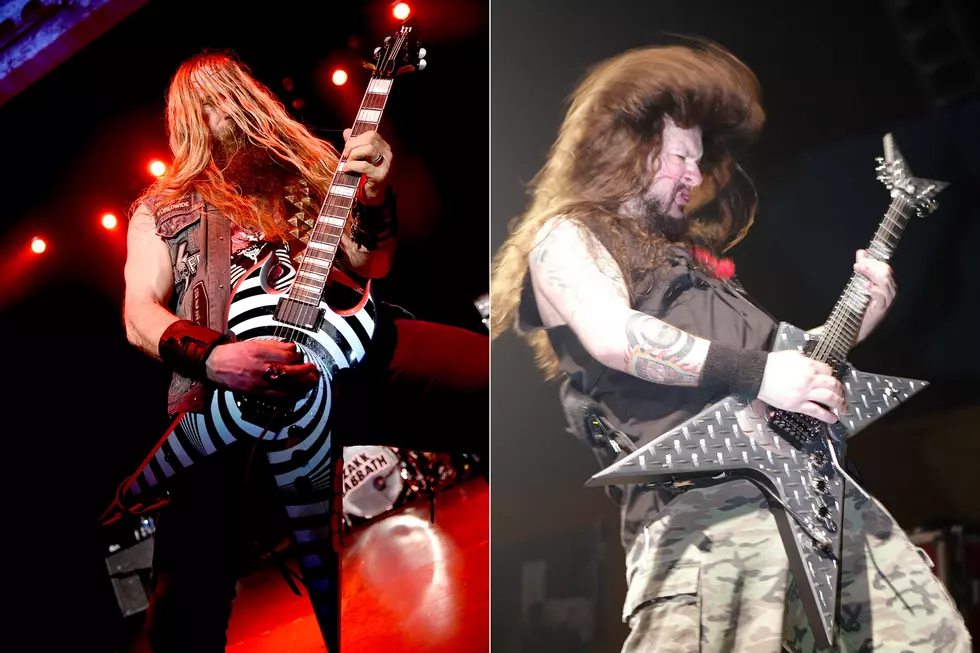 Zakk Wylde Not the Only Guitarist Pantera Considered for New Lineup, Says Band's Former Producer
Kevin Winter / Scott Gries, Getty Images
Pantera announcing a tour with Zakk Wylde and Charlie Benante was one of the biggest moments in the metal world during 2022, and they played a handful of shows in December to top off the year. One of the band's producers has revealed that Wylde wasn't the only guitarist considered for the role, though, and explained why he was chosen for it.
Sterling Winfield worked with Pantera on some of their later albums, and also produced works by the members' post-Pantera groups Damageplan and Hellyeah. During an interview with 89.3 KNON FM, the producer went into a bit of detail about the dynamic of the current lineup, adding that he was in attendance during their part of their rehearsal in New Orleans, La. just prior to the tour kickoff.
"When I was in New Orleans, I knew it was gonna be huge because I got to see how serious they are taking this, how to heart they are taking this. Phil [Anselmo] and Rex [Brown] are different people now, they are not the same people from 20-something years ago. You mature, you grow up, you own your mistakes, you move forward in your life and you hope to make a better way for yourself. And that's exactly what I see here," Winfield said.
The producer reiterated that Brown, Anselmo, Wylde and Benante never intended for the tour to be called a reunion — in their eyes, it was always meant to serve as a tribute to Dimebag Darrell, Vinnie Paul and the music they created together. He also added that Wylde and Benante were great fits for the roles they took on in honor of their fallen friends.
"They're not trying to be Dime and Vinnie, guys. They're not trying to be that. That would be disrespectful. But they are being themselves and they are having fun," he continued.
"Now, there were some other guitar folks that were brought up. I'll just say this — that it would not have been a good fit, and quite honestly, they would not have been able to pull it off," Winfield admitted. "But it always kept circling back around to Zakk... Because he knew Dime better than most any other guitar player on the planet knew him. Is it gonna be Dimebag Darrell's exact notes and riffs and everything? No. It's Zakk Wylde, you idiots. It's Zakk."
Listen to the interview below.
The producer didn't name which other guitarists had been considered for the role. However, one guitarist recently revealed that Brown once suggested he audition for the band if they were ever to play again — Alter Bridge's Mark Tremonti.
"A number of years ago, I was talking with Rex at the Download Festival, and he was talking about a possible Pantera reunion. He looked at me and said; 'You should put your name in the hat,' and I was like, 'No way, man!' You have to be a certain type of personality to take on that role," Tremonti said.
As of now, Pantera's next scheduled performance is set for May 20 at the Welcome to Rockville festival in Daytona Beach, Fla. See the rest of the dates and get tickets here.
Zakk Wylde Not the Only Guitarist Pantera Considered for New Lineup, Says Band's Former Producer
12 Bands That Called It Quits After the Loss of a Member
Sometimes carrying on is out of the question.
More From Classic Rock 105.1