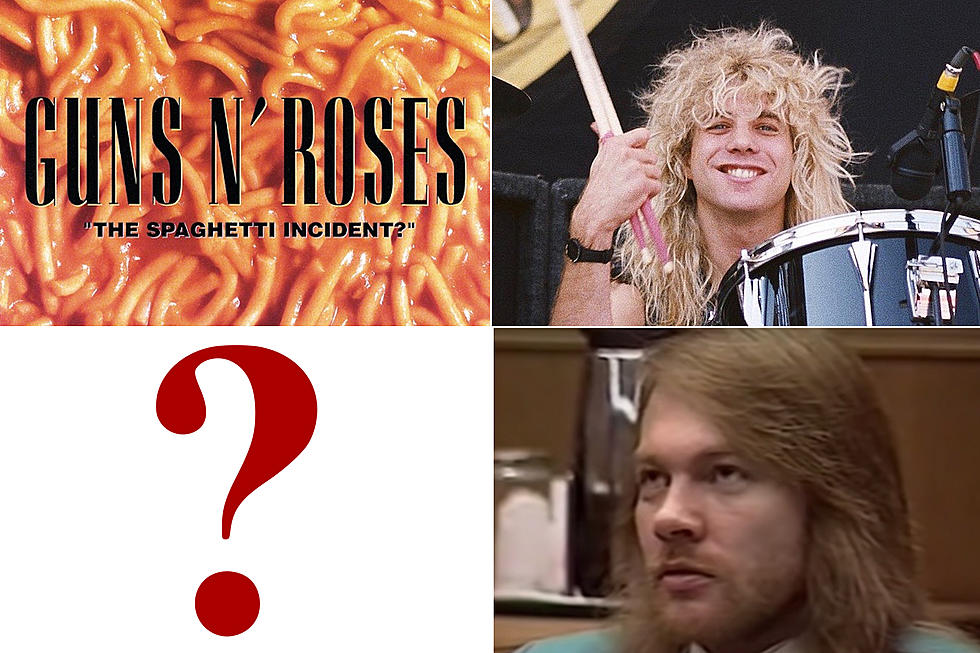 Why Is Guns N' Roses' 1993 Album Called 'The Spaghetti Incident?'
Geffen / Marc S. Canter, Getty Images / YouTube - YourCatDied
Why is Guns N' Roses' 1993 covers album called "The Spaghetti Incident?"
Two years after the release of the band's Use Your Illusion I & II albums and a few months after their massive world tour wrapped up, Guns N' Roses were perhaps the biggest rock 'n' roll band on the planet. How did they commemorate that success? With a punk covers album.
Many of the tracks were recorded during the same sessions that the Illusion albums were. The band played a few of the songs live while they were touring in support of the Illusions, including their version of Nazareth's "Hair of the Dog," Misfits' "Attitude" and U.K. Subs' "Down on the Farm." But the most puzzling part about the covers album is its title. What was "the spaghetti incident," and why did the title have a question and quotation marks in it?
Why Is it Called 'The Spaghetti Incident?'
Writer Gavin Edwards had the chance to ask Duff McKagan about the origin of the album title in the early 2000s, when he, Slash and Matt Sorum were in Velvet Revolver and weren't on speaking terms with Axl Rose, who was the only original member remaining in Guns N' Roses. The album title is a reference to an, ahem, incident involving former drummer Steven Adler's drug addiction, which got him fired from the band in 1990.
According to McKagan, GN'R got two condos in Chicago in the summer of 1989 because Rose wanted to be closer to his hometown of Lafayette, Indiana. The bassist, Slash and Adler spent some time writing material for the Illusion albums in those condos while they waited for Rose to arrive (spoiler alert: he never did), and most of their diet consisted of Italian takeout.
"And Steven was doing a lot of crack cocaine at this point, and he'd keep his blow in the refrigerator. So his code word for his stash was 'spaghetti'," McKagan recalled. "Steven spiraled out of control. We said, Steven, we're fucked up individuals and we're telling you that you gotta shape up, so you must be really fucked up."
In July of 1991, about a year after Adler's dismissal from Guns, the drummer filed a lawsuit against his former bandmates. He alleged that prior to his firing, the band had him sign contracts that took his royalties away, and that they ousted him from the band because of his poor in-studio performance, which was the result of opiate-blockers he was taking to kick his addiction.
"I was told that every time I did heroin, the band would fine me $2,000. There was a whole stack of papers, with colored paper clips everywhere for my signatures. What these contracts actually said was that the band were paying me $2,000 to leave. They were taking my royalties, all my writing credits. They didn't like me anymore and just wanted me gone. That's why I filed the lawsuit — to get all those things back," Adler recalled to Classic Rock in 2005.
When McKagan was deposed for the trial in 1993, he was asked to go into detail about Adler's behaviors as a result of his addiction — and he mentioned the "spaghetti" the drummer kept in the fridge in Chicago.
"So then I'm in court, with a jury and the whole thing, and this fuckin' lawyer gets up, and with a straight face says, 'Mr. McKagan, tell us about the spaghetti incident.' And I started laughing," the bassist continued, adding that he felt the phrase would be a fitting album title after re-reading the transcripts from the trial.
And the rest is history. The album debuted at No. 4 on the Billboard 200, and the royalties greatly benefited the artists who originally wrote and recorded the tracks that were included on it.
READ MORE: 9 of the Nicest Things Guns N' Roses' Axl Rose Has Ever Done
"Having your song on a Guns N' Roses album is a considerable chunk of change," Dead Boys' Cheetah Chrome told Rolling Stone. "I moved down to Nashville, got resettled down there and was able to live and not work for a while. Definitely turned my life around a little bit. It got me through a rough time."
"It's the energy and the defiance that punk rock had and that it didn't really hit the mainstream all that much," Rose said in '94, according to the aforementioned Rolling Stone story. "And we are, whether we like it or not, in some ways in the mainstream, so we've got to bring certain songs to people's attention."
All 23 Musicians Who've Been in Guns N' Roses
Hope you got some time to get through this one.
More From Classic Rock 105.1