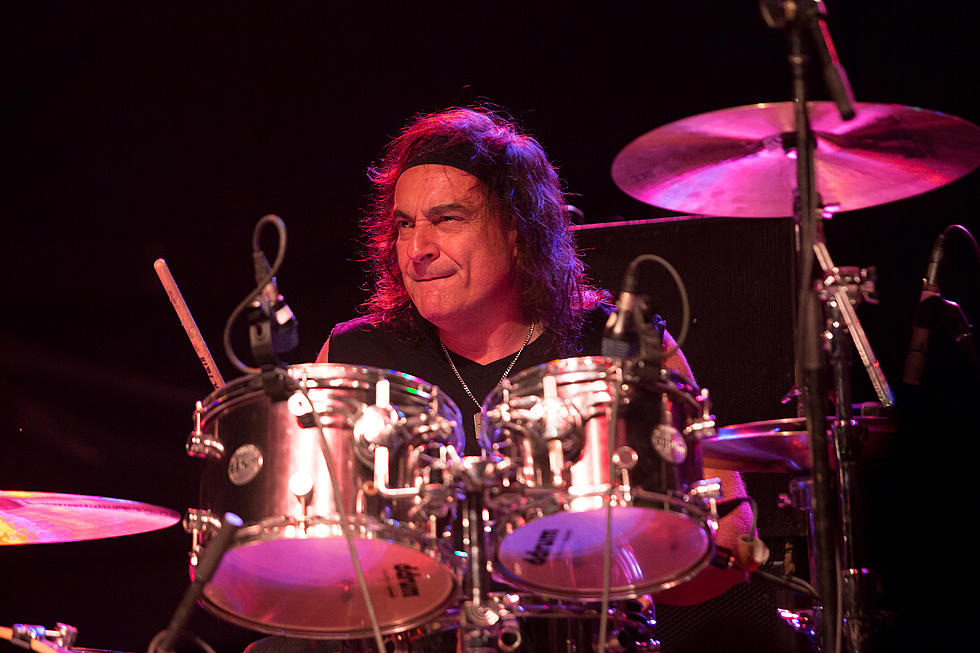 Vinny Appice Recalls Playing John Lennon's Last Live Show When He Was In High School
Jason Squires, Getty Images
Drummer Vinny Appice was the latest guest on Full Metal Jackie's weekend radio program, discussing a range of topics from Last In Line's new album Jericho to his teenage years where he wound up playing with John Lennon at the Beatles legend's last-ever live appearance.
Appice's musical history extends further back than his time in Black Sabbath and Dio, having worked with both Lennon and Rick Derringer before establishing himself as one of the most iconic drummers in metal. He was still in high school when he first got a call to come track some handclaps on a song, which he quickly learned was for Lennon.
It wasn't until the last handful of years, however, that he came to realize how significant his sole live appearance with Lennon was.
Elsewhere in the interview, he talks more about recording Jericho and all of the work he manages to get done at his home studio as well.
Read the full chat below.
Since coming together as a reformulation of the original deal band Last in Line has now released a couple of albums. How far removed is Jericho from the musical identity of Dio?
It's removed. The original band was with Ronnie and Jimmy Bain on bass. This version of the band is with Andy Freeman on vocals and Phil Soussan on bass, but it still retains its roots. If you listen to the songs, there's still some Dio-ish undertones in the music because it's me and Vivian Campbell. We've played together for so long, we did so much touring back in the day... all the album's we've done together... We're still the foundation when you listen to the music, but there's more of a modern edge to it. We're in a different era now and we have a different singer and we have a different bass player. It still kicks!
Last in Line, "Ghost Town" Music Video
Although recording has become an isolated process, especially over the last few years, the basic tracks for Jericho were cut live. What aspects of human interaction can't be replicated?

Not only it was, was a cut live, there was no click track.
These days, I do a lot of stuff. I have a studio in my house, so I do sessions and different projects for bands that I worked with. There's a click track and the files are sent to me over the internet, then I input everything and play to it. I like doing it this way too, but it doesn't replace being in the room with somebody and getting inspired with the people around you. It's just a different vibe.
The good thing about doing it the way I do it with a click track is if I don't like a fill, I can go back and just punch in the fill or try so many different ways or approaches to play that fill where there's a hole for the drums or something like that. So, that's pretty cool.
But the old way to do it is with everybody in the room, that's the way we did the recording for Last in Line.
Last in Line started as the classic deal lineup minus Ronnie. Now, 10 years later, when do you still feel his presence?

I feel his presence more when we play live and we play "Holy Diver" and some of the other songs. I was so around him so much and played those songs so many times with him. That music is insane and Holy Diver is on its 40th anniversary this year and it doesn't let up. They're using it for movies — it's in the Thor movie — [there]s all different requests to use the songs and it's amazing.
So Ronnie will always be here. They did a great job with the documentary Dreamers Never Die. We went to see it and the place was packed. Everybody loved it. It was fantastic and everybody was crying at the end.
Ronnie is always going to going to be with us. We don't play the song "Heaven and Hell," but that's Ronnie and I can feel Ronnie in there.
I'll tell you a quick story...
After Ronnie passed, we did a concert in London with Tony Iommi, Geezer Butler, Glenn Hughes singing and me. We were in the same studio in Wales that we used to rehearse at with Ronnie. We had to go over the set and when we got to "Heaven and Hell," it was just the weirdest feeling. We started and we all felt the same way. It was such a weird vibe that Ronnie was not here. Glenn did an amazing job and that was one of Ronnie's favorite singers, but the vibe was really strange because he wasn't there and that's his song. That's just pure Ronnie.
Most people know you from Dio and Black Sabbath. But earlier in your career you played with John Lennon and Rick Derringer. As a young musician, how did the experience of working with them affect you?

I was with John Lennon before Rick Derringer and I was about 16-and-a-half years old. We were managed by the Record Plant studios, so we always had our rehearsal room. They called us down and one night and said, "Can you come down and do handclaps?" We all went down and we had four horn players, keyboard players... those nine of us went down. We walk in and there's John Lennon. We put the headphones on and now he's talking to us. I'm like, "Oh my god, this is incredible," and we did handclaps for "Whatever Gets You Thru the Night". That's the song he did with Elton John and that's me and my band doing handclaps.
After that he used to come up to our rehearsal room and he used to hang out. We played pool with him — just hung out. He was great.
I heard he was going to maybe use us for his next tour because we were really good. Then we did a couple of video things at the Record Plant that we used in his DVDs. He produced a singer that never got released, but we were the band, so we worked with him as a producer.
Then he asked us to do a live show with him. So, we did the live show at the New York Hilton and that show was broadcast all around the world and I don't know if it was live around the world, but it was shown all around the world at one point. They said it was live and then I find out in the magazine about five years ago that that was his last live appearance and I'm like, "You've got to be kidding. I played his last live appearance. One of the Beatles — John Lennon..." it was just insane.
I used to go to high school the next day and it was like going into a black and white world from the world of color. It was a very amazing experience and from there, I played with Rick Derringer. I met him at the Record Plant as well and he was another influence and a great teacher. He was such a pro.
John Lennon, "Whatever Gets You Thru the Night"
You always seem to be playing on something whether it's your own band or tracks for someone else. What makes Vinny Appice a go-to drummer for so many people?

I have a certain style that comes out of playing with Sabbath. I'm very into the tempo and into the feel and the groove. I don't rush anything — I make it heavy and this is what I love to play.
Most of the stuff that I'm playing on is things that I created with the bands — Last in Line, Kill Devil Hill (with Rex Brown), and I had another heavy band called WWIII. All these happy names too [laughs].
Guess I established myself as that style of playing — really heavy, really strong and aggressive. That's the way I grew up listening to Led Zeppelin and John Bonham, my brother Carmine and [Deep Purple's] Ian Paice... all these great drummers. I still love playing and I'm still going strong. The fire is not out yet.
Thanks to Vinny Appice for the interview. Get your copy of Last In Line's new album 'Jericho' on CD or vinyl and follow the band on Facebook, Twitter, Instagram and Spotify. Find out where you can hear Full Metal Jackie's weekend radio show here.
10 Rock + Metal Bands Whose Drummer Is the Only Original Member Left
The following bands no longer have any original members left except for their drummer.
Top 66 Hard Rock + Metal Drummers of All Time
More From Classic Rock 105.1