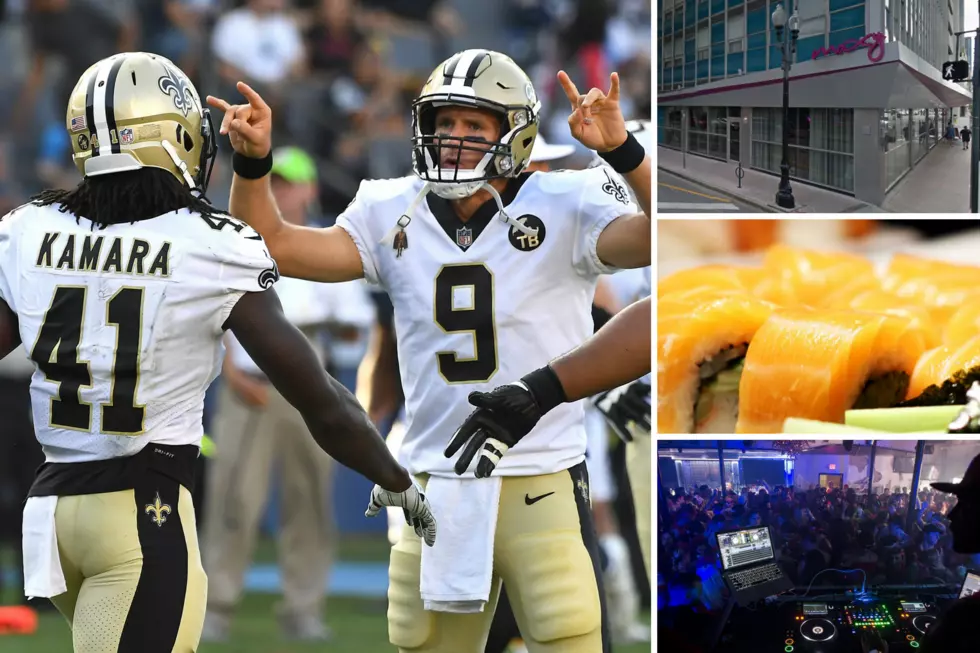 Getty Images
If you're ready for some football, we've got a deal for you! We want to send you to the Big Easy for a Black & Gold experience you'll never forget. You'll win a pair of plaza-level seats to the Saints game, hotel stay at the Moxy, dinner at Tsunami and a bar tab to party NOLA-style at Bourbon Heat!
Want to win? Download our app and click on Saints to enter to win. You must be 21 or older to enter.
Here's the schedule of home games for the 2018-2019 season as well as entry dates.
Sep 9 - 12p vs Buccaneers [Hotel for Sep 8] - Entry Aug 31-Sep 5th
Sep 16 - 12p vs Browns [Hotel for Sep 16] - Entry Sep 6-12th
Oct 8 - 7:15p vs Redskins (MNF) [Hotel for Oct 8] - Entry Sep 13-Oct 4
Nov 4 - 3:25p vs Rams [Hotel for Nov 3] -  Entry Oct 5-Oct 31
Nov 18 - 12p vs Eagles [Hotel for Nov 17] - Entry Nov 1-14th
Nov 22 - 7:20p vs Falcons (TNF) [Hotel for Nov 22] - Entry Nov 15-19th
Dec 23 - 3:25p vs Steelers [Hotel for Dec 22] - Entry Nov 20th-Dec 19th
Dec 30 - 12p vs Panthers [Hotel for Dec 29] - Entry Dec 20-26th
Subsequent contest begins the Thursday following the previous week's deadline. Winner will be drawn Wednesdays at 5 pm and will be announced on Friday. (except MNF and TNF games which will be selected 3 days prior to game).
More From Classic Rock 105.1