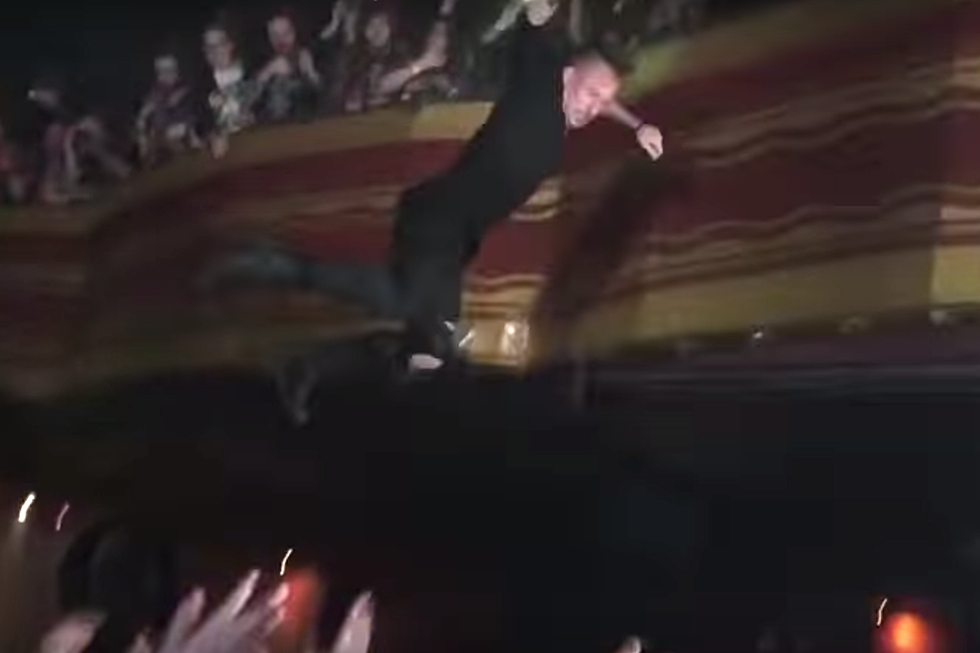 The Dillinger Escape Plan's Greg Puciato Jumps Off Balcony at NYC Farewell Club Show
YouTube: Edward Neznerol
The Dillinger Escape Plan recently bade farewell to their New York City faithful with a ridiculously intense show at Webster Hall. The peaceful musical riot culminated with frontman Greg Puciato leaping into the crowd from a second-story balcony and with fans pouring onto the Webster Hall stage by the hundred.
"Remember this," Puciato exclaimed while Dillinger concluded their set with "43% Burnt." By the show's end, there were almost as many fans onstage as there were on the Webster Hall floor. Though Dillinger's show got exponentially crazier as the night went on, there was never a moment that could be defined as "tame." Lunatics from the pit were stage diving at a savage pace and joining Puciato onstage for the chance to scream the vocalist's lyrics into his mic.
Guitarist Ben Weinman performed his signature crowd walk, playing flawlessly as the crowd held him up by the legs. Dillinger's furious pace never halted as the extreme quintet delivered cuts spanning their entire discography, including a bunch of new gems from Dissociation, which a large portion of the crowd already knew by heart despite Dillinger's sixth full-length only hitting shelves the previous day.
During the One of Us is the Killer favorite, "Prancer," Puciato suddenly appeared on the second-floor balcony, demanding the crowd below gather tighter and tighter to catch the vocalist's fall. "If I'm gonna die, let it be tonight…" and down went Puciato into the arms of his people. "Hey! I'm alive!" Puciato said with relief before Dillinger exited to prepare their encore.
Fans began to pile onstage during "Sunshine the Werewolf" and stayed until the final note of "43% Burnt." Filling every square inch of that stage, Dillinger fanatics even started taking apart Billy Rymer's drum kit, crowd surfing his china cymbal along the stage. Once it was all over, Greg Puciato called Ben Weinman's name, and once the two made eye contact, Puciato pounded on his chest as a sign of brotherhood and dove off the venue's speakers into the newly-formed mosh pit onstage. "Thank you guys so much, forever. Everyone in this room tonight, we're The Dillinger Escape Plan. This has always been our favorite city in the f—ing world."
The Dillinger Escape Plan will continue touring the U.S. for the final time, so click here to catch the remaining tour dates of the most insane live act to ever step on a concert stage.
See Where the Dillinger Escape Plan Landed on the Top 90 Hard Rock + Metal Albums of the 1990s
Listen to the Loudwire Podcast With Guests Ben Weinman + William DuVall
More From Classic Rock 105.1