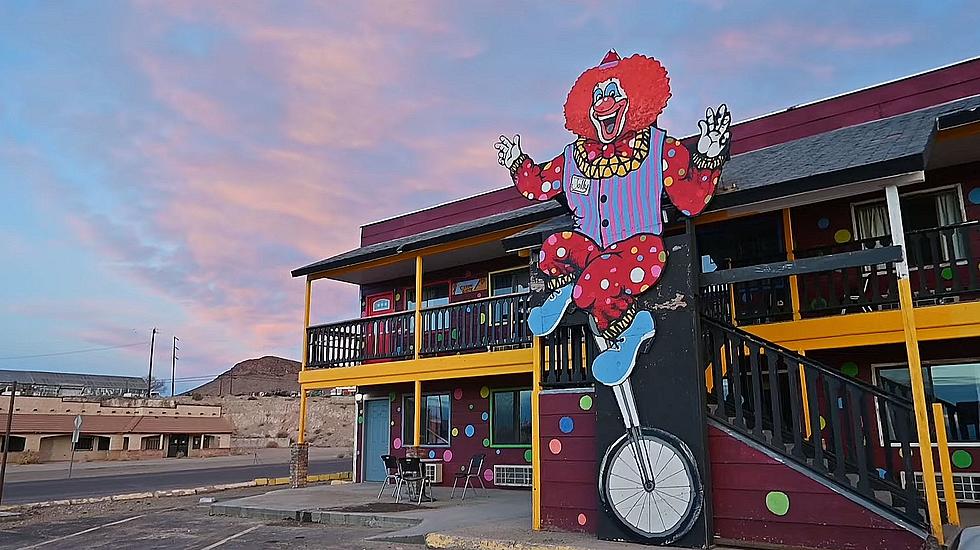 The Clown Motel in Nevada is as Real as the Nightmares You're About to Have
YouTube Via Chris Attrell
The World Famous Clown Motel in Nevada is an actual living nightmare you can be a part of. It looks like a cute place to die, I mean stay the night. Oh, it's also right next to an old cemetery.
The Clown Motel is an interestingly hellish-looking place in the desert of Tonopah, Nevada. Looking at the lobby where unsuspecting victims, I mean guests go to book their stay, it doesn't really look like that scary of a place. Weird for sure, but it almost has a playful, unique, fun kind of vibe.
According to The Clown Motel's Facebook page -
Our motel offers a little bit of something for everyone. It is home to over 2,000 clowns from every era and corner of the earth. Staying at the Clown Motel is a unique experience. All 31 of our rooms feature 2 to 3 custom clown art paintings.
The "2,000 clowns" number is one that grows daily because fans from all over the world send clowns to the Clown Motel to add to the collection.
You can even donate a clown to The Clown Motel over on their website theclownmotelusa.com.
The custom clown paintings in the rooms as mentioned above sound fun, don't they?
Clowns are fun, right?
Leona and Leroy David started The Clown Motel in 1985 in memory of their father Clarence David, who just so happens to be buried right next door in that cemetery I was talking about.
Leona and Leroy's father loved clowns, and when he passed away he left behind a collection of 150 clowns. In his memory, they decorated the motel lobby with his collection.
The whole thing pretty much skyrocketed from there.
According to their website "We'll do everything to make your stay comfortable, but what happens after dark is out of our hands…"
​One more thing, The Clown Motel is supposedly haunted.
Oh, one more one more thing...don't forget to take the tour of the cemetery right next door. Yes, a real cemetery.
For more, check out theclownmotelusa.com and their Facebook page.
Lizzie Borden's Maplecroft Is Back on the Market in Fall River, Massachusetts
More From Classic Rock 105.1