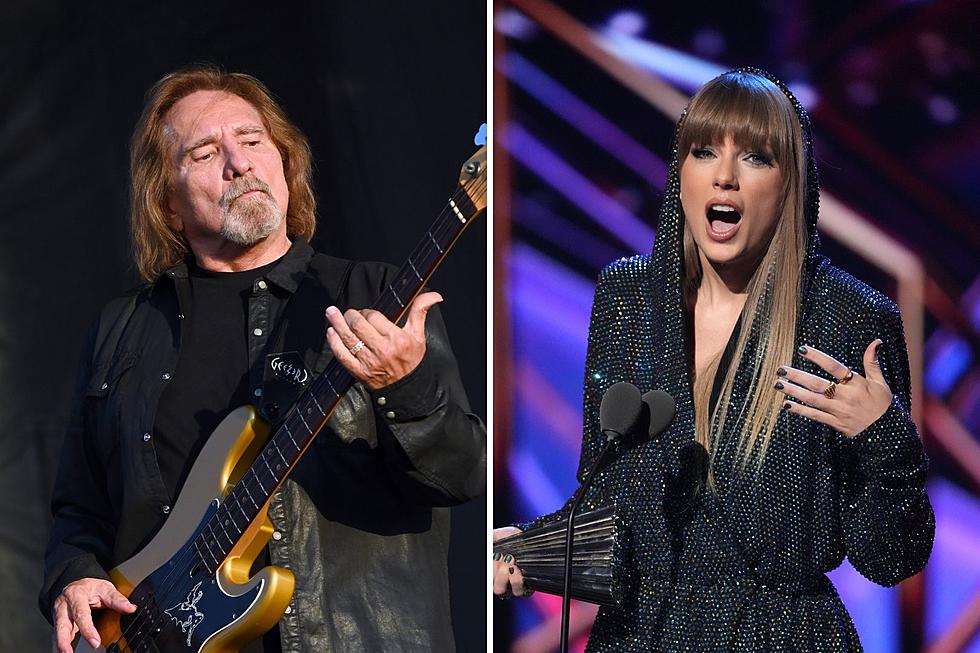 Black Sabbath's Geezer Butler Took the Grandkids to See Taylor Swift
Stephen J. Cohen / Jeff Kravitz, Getty Images
Geezer Butler had a reason last week for attending a Taylor Swift concert in Las Vegas, the Black Sabbath bass icon's recently adopted home base.
Indeed, the 73-year-old British rocker and founding Black Sabbath bassist was at the Taylor Swift show at Las Vegas' Allegiant Stadium with his wife, Gloria Butler, because they brought their grandkids to see the show, as a photo on social media shows.
See the image down toward the bottom of this post.
READ MORE: Metallica Bassist Robert Trujillo Makes His Vocal Debut on New Metallica Album
"Night out," Butler said on Instagram Monday (March 27) alongside the photo of him and Gloria with their four young grandchildren of various ages. In the caption, the Black Sabbath alum tagged @taylorswift and included hashtags for #grandkids and #gloriabutler.
Swift just kicked off her career-spanning "The Eras Tour," which included pop-rockers Paramore on one show. Swift stopped at Allegiant Stadium for two gigs March 24 and 25. Originally scheduled for just March 25, a second show was added due to demand.
Taylor Swift + Rock Stars
Swift's reach has rubbed up against others in the rock 'n' roll sphere before. Last year, former Oasis singer Liam Gallagher defended Swift after the pop star condemned Damon Albarn (Blur, Gorillaz) because Albarn said that Swift didn't write her songs herself.
READ MORE: 10 Rock Stars Who Defended Taylor Swift
Swift struck back on Twitter. "I was such a big fan of yours until I saw this," she wrote at Albarn. "I write all of my own songs. Your hot take is completely false and so damaging. You don't have to like my songs but it's really fucked up to try and discredit my writing." … "I wrote this tweet all by myself in case you were wondering."
Sign up for Loudwire's newsletter and get the Loudwire app to stay up on the latest rock and metal news.
Geezer Butler + Wife Gloria Take Their Grandkids to See Taylor Swift - March 2023
The Best Cover Songs From 40 Rock Bands
More From Classic Rock 105.1