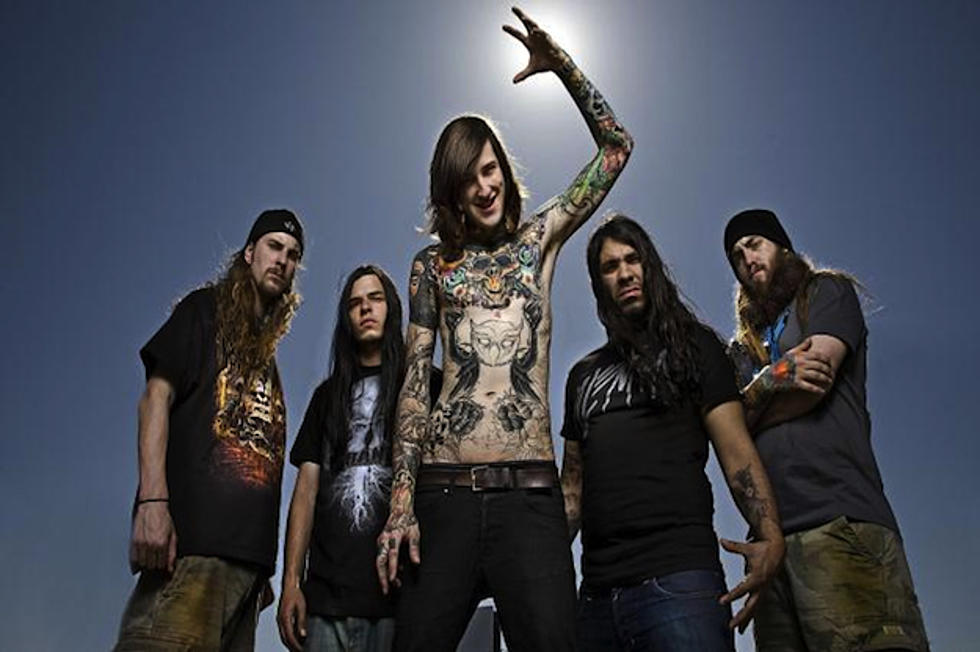 Suicide Silence Guitarist: It Took Our Singer Dying for Us to 'Get Our Heads Out of Our Ass'
Century Media
Suicide Silence publicly announced they would carry on as a band nearly a year after vocalist Mitch Lucker lost his life after a motorcycle crash. Recruiting All Shall Perish vocalist Eddie Hermida as the group's new frontman, the band is currently writing their fourth studio album, and guitarist Chris Garza recently spoke about the decision to carry on.
In a revealing interview with the Music Feeds podcast, Garza spoke about leaving the band's hard-partying ways behind. "I was pretty in shock with myself at how much you can get done in an effective manner when you're not always drunk," says Garza. "That's why people stop drinking and stop doing drugs; because you get a lot done. It was nice to share that with most of my band. I think Mark [Heylmun, guitar], especially, he stopped a lot of stuff and Alex [Lopez, drums] too and it was nice to be in a band again and us all have fun and be happy. All those positive vibes really came out in our music. Unfortunately, it took one of our best friends passing for us to get our heads out of our ass, for us to really take our job seriously again."
Garza continues, "We never talked about continuing and we never talked about quitting, so it was like an unspoken thing, because with some people, a tragic happening, the last thing you want to do is talk about it. It was an unspoken thing, like, let's just let time have its place and let everything happen organically. Once some time really passed and it was getting closer, it was time to start thinking. I, personally, sometimes went, 'Alright, I think it's time to f---ing hang up.'"
Finally, the guitarist spoke about keeping Mitch Lucker's legacy alive. "Keeping the Suicide Silence brand going and the name going keeps Mitch alive," Garza shares. "And I think it would be completely disrespectful to Mitch and everything that he worked for if we stopped going or we changed the name."
Suicide Silence's fourth studio album is expected to come out in 2014 via Nuclear Blast Records. Listen to the full interview with Garza below.
Suicide Silence's Chris Garza Speaks to Music Feeds
More From Classic Rock 105.1