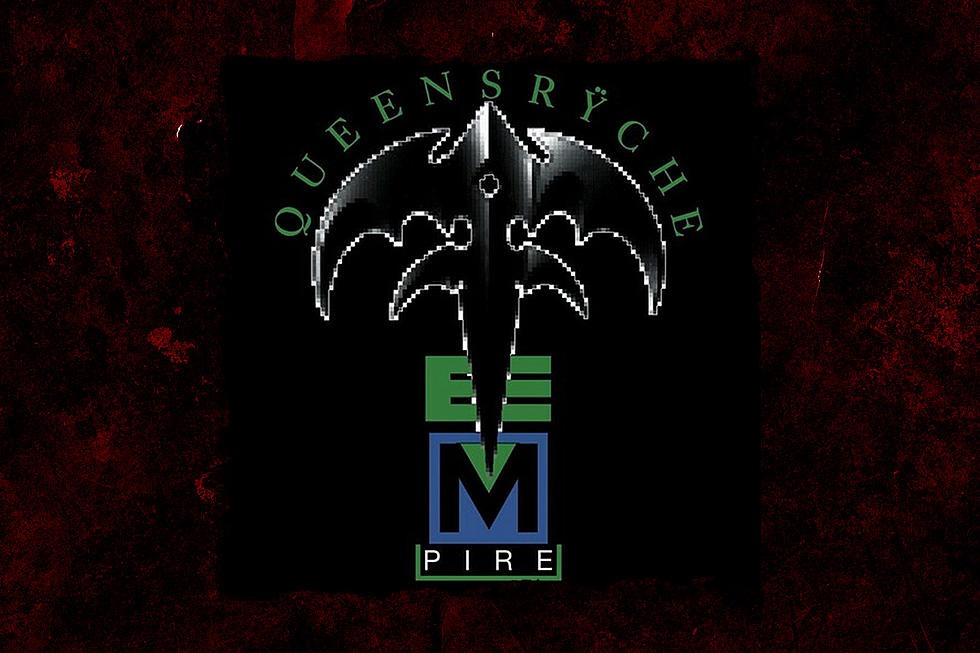 31 Years Ago: Queensryche Unleash 'Empire'
EMI
When Queensryche released their fourth album Empire, back in 1990, the stars aligned for the progressive metal outfit. The effort was the follow-up to their breakthrough concept album Operation: Mindcrime and was starkly different than its predecessor. It marked the band's evolution into an arena-headlining act.
Empire is Queensryche's most commercially successful album, selling over three million copies in the United States alone. It spawned six singles including "Jet City Woman," "Another Rainy Night (Without You)," "Best I Can" and the band's biggest commercial hit "Silent Lucidity." "MTV was playing hard rock and metal videos and we kinda hit a home run with MTV," guitarist Michael Wilton told us in an exclusive interview. "We just couldn't do anything wrong. You just get so much exposure and it was a lucrative time in the record company business."
Queensryche, "Jet City Woman"
The LP is very different from its predecessor Operation: Mindcrime, while it has thematic elements it is definitely not a concept album and continues the musical progression of the quintet. Wilton said, "Queensryche is always about evolving. I think that [guitarist] Chris [DeGarmo], myself and Geoff [Tate] wanted to take the band in a new direction, you know." The sophisticated effort lyrically touches on many social issues from homelessness and poverty in "Della Brown," to living with disabilities with "Best I Can," to drug trafficking on the album's heavy title track.
Empire shines a light on Queensryche's signature progressive metal style. Wilton told us, "That was the art to kind of make it sound like a rock song, a pop/rock song that has a good progressive nature embedded in the arrangement. It was a time when our musicianship was just really clicking, you know and we like to showcase that as much as we can but you know you don't want to over do it."
The 63-plus minutes of music on Empire features great progressive rock tracks like "Empire" and "The Thin Line," the interesting bass-driven deep cut "Della Brown," the riff-heavy anthemic rocker "Resistance" and the effort gets romantic without getting sappy, on "Hand on Heart" and "Another Rainy Night (Without You)," two creative love songs which feature Chris DeGarmo's signature stamp.
Queensryche, "Another Rainy Night (Without You)"
And then there was "Silent Lucidity." The DeGarmo-penned ballad is the band's biggest hit topping the rock charts and peaking at No. 9 on the Billboard Hot 100 chart back in 1991. Wilton said the sweeping ballad is actually a bit odd, "I mean you listen to the beginning of that and it's kinda quirky as far as the timing goes and the middle section goes off and we've always kind of done that with Queensryche you know kinda make it musically interesting and we do it in a subtle way."
Wilton also shared the beauty in being a part of the creative process of the classic song, "I remember Chris playing that for me on the acoustic guitar and singing the song (laughs). I told him, 'Dude that's dynamite, I love it man.'" Wilton continued, "And then to see it build and build and build and then to get Geoff [Tate] singing it and to get Michael Kamen involved and the orchestration and everything and the sound effects. From an acoustic piece that Chris had into that and something being a creative person to see how that grew like that is so cool. It was so fun to record that."
Queensryche, "Silent Lucidity"
The album was produced by Peter Collins, who also helmed the band's previous effort Operation: Mindcrime. The slick sound of the record is highlighted on the exquisite tracks "Anybody Listening?," "The Thin Line" and the aforementioned Pink Floyd-inspired "Silent Lucidity." "It was a great team we had [engineer and mixer] Jimbo Barton and Peter Collins working with us and we were recording up in Vancouver, Canada," explained Wilton. "We were kinda thrust into the digital age and digital perfection with the SSL consoles and digital recorders. It was such an eye opening experience."
Wilton told us, "Everything was firing on all cylinders, the band was playing together great, we were writing together great and the songs came together. We wanted to be song orientated rather than conceptual like we did on the past album."
"Silent Lucidity" was nominated for two Grammy Awards for Best Rock Song and Best Rock Vocal Performance by Duo or Group, but the band lost out to Sting's "Soul Cages" and Bonnie Raitt & Delbert McClinton's "Good Man, Good Woman," respectfully. The video for the track won was nominated for five MTV Video Music Awards in 1991, winning one for Viewer's Choice. Wilton said winning the VMA was a definite highlight of that time, as was attending the Grammy Awards and touring the world with great bands like Suicidal Tendencies and Warrior Soul.
"That whole time in our career is when we really collided with public opinion and public taste and the music industry, Wilton stated. "That was definitely the apex of Queensryche's popularity,"
The album was a bonafide hit for the Seattle quintet, and it saw the band launch their very first headlining arena tour. The 18-month long Building Empires Tour featured Queensryche playing a set of songs heavy on tracks from Empire and a second stanza featuring a performance of their Operation: Mindcrime album played in it's entirety. The band would end the show with an encore of "Silent Lucidity."
Watch the video for "Jet City Woman" to get a taste of what it was like to see Queensryche in their arena-rocking heyday in the early 1990s.
See Where Queensryche's Empire Landed on the Top 90 Hard Rock + Metal Albums of the 1990s
See Geoff Tate in the 12 Greatest High Notes in Rock + Metal
More From Classic Rock 105.1