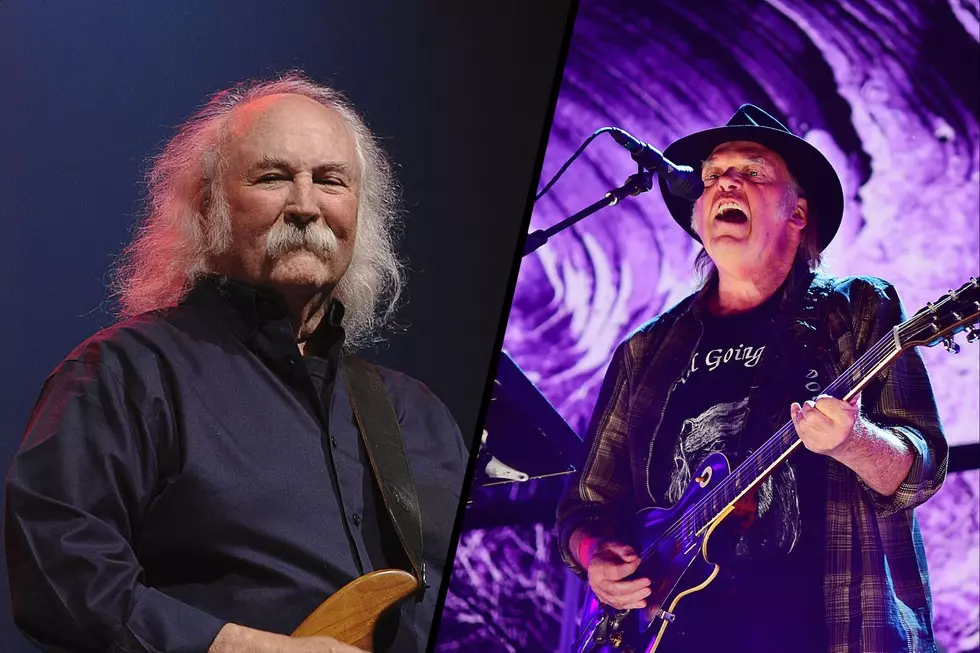 Neil Young Pays Tribute to 'The Soul of CSNY,' David Crosby
Eugene Gologursky, Getty Images / Matt Kincaid, Getty Images
This past Thursday (Jan. 19), Loudwire reported that legendary singer/songwriter David Crosby has died at the age of 81. Naturally, numerous music icons – such as Mike Portnoy, Sebastian Bach, Jefferson Airplane and Chuck D – quickly paid tribute to him, and now former Crosby, Stills, Nash & Young bandmate Neil Young has as well.
Yesterday (Jan. 20), Young published a heartfelt post about Crosby to his own website (Neil Young Archives). In it, he wrote:
David is gone, but his music lives on. The soul of CSNY, David's voice and energy were at the heart of our band. His great songs stood for what we believed in and it was always fun and exciting when we got to play together. 'Almost Cut My Hair' 'Dejavu', and so many other great songs he wrote were wonderful to jam on and [Stephen] Stills and I had a blast as he kept going on and on. His singing with Graham [Nash] was memorable, their duo spot a highlight of so many of our shows.
We had so many great times, especially in the early years. Crosby was a very supportive friend in my early life, as we bit off big pieces of our experience together. David was the catalyst of many things. My heart goes out to Jan and Django, his wife and son. Lots of love to you. Thanks David for your spirit and songs, Love you man. I remember the best times!
Of course, folk/country rock supergroup Crosby, Stills & Nash didn't originally feature Young; in fact, it was only when the trio needed a fourth member to properly tour their 1969 self-titled debut LP that Young (who, like Stills, was previously in Buffalo Springfield) was added. As a quartet, they went on to create several superb records – namely, 1970's seminal Déjà Vu – amidst dealing with various interpersonal conflicts and fluctuating line-ups.
Crosby and Young played on each other's solo LPs, too. For instance, Crosby (as well as Nash and Stills) appeared on Young's fourth studio album, 1972's Harvest. Likewise, Young (as well as Nash) played on Crosby's first collection, 1971's If I Could Only Remember My Name.
You can listen to a few of their collaborations below:
Crosby, Stills, Nash & Young, "Almost Cut My Hair"
Neil Young, "Are You Ready for the Country?"
David Crosby, "Music is Love"
Rockers We've Lost in 2022
Rock + Metal Musicians Who Died in 2022
More From Classic Rock 105.1