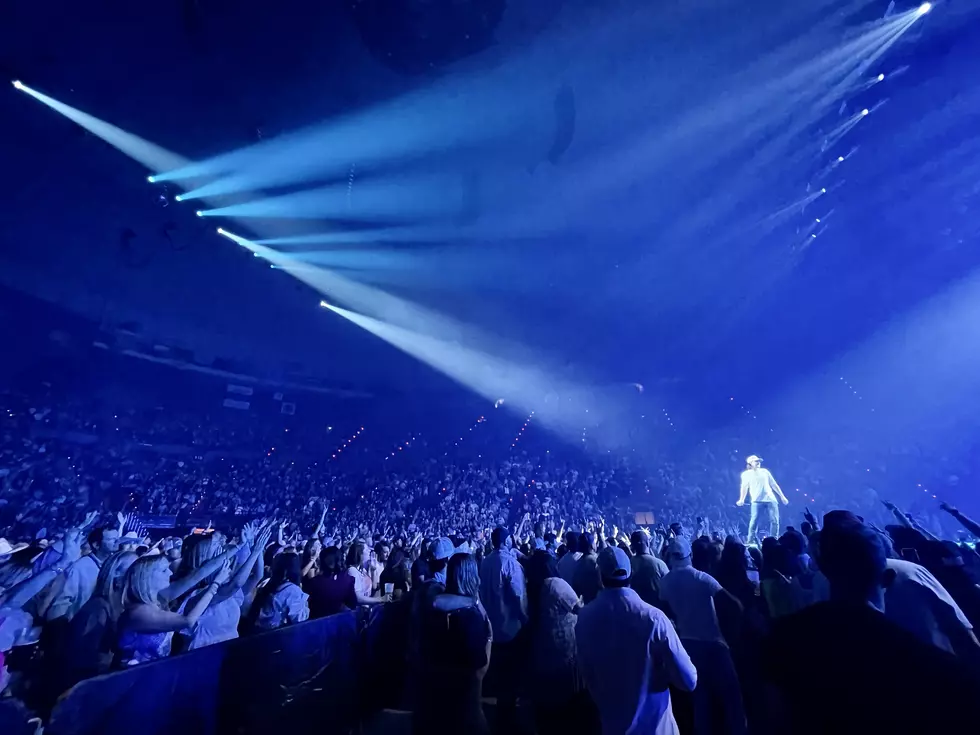 Was it Worth It? Lafayette Locals Reveal How Much They Spent on Morgan Wallen Concert Tickets
Staff Photo
Country superstar Morgan Wallen brought his 'Dangerous' Tour to Lafayette for a sold-out concert at the CAJUNDOME on Saturday night.
As a matter of fact, Wallen's entire tour almost sold out instantly once it was announced late last year and due to the high demand for hard-to-find tickets, prices have soared in every city set to host his 'Dangerous' run.
But rewind to a year ago and things weren't so great for Wallen. In February 2021, the rising country artist was caught on camera using a racial slur and almost instantly, it seemed like his career took a nosedive.
Wallen's contract was suspended by his record label. Radio stations dropped his music, he was shunned and criticized by fellow artists, and award shows made it clear that he wasn't invited.
All the while, his sales actually skyrocketed in the midst of the backlash as Wallen became somewhat of an overnight martyr in the war against "cancel culture." Despite the overwhelming support from people who believed that Wallen's use of the "n-word" shouldn't have resulted in any type of punishment, the country singer still apologized publicly, met with Black leaders, and pledged $500,000 in donations to Black-led organizations—a promise he has since fulfilled.
While there will always be mixed opinions and feelings on the timing of Wallen's return to country music, it almost feels like the controversy fueled his popularity as he is currently on a sold-out tour, scored a #1 record with 'Sand in My Boots,' and tickets to see him perform live are insanely hard to come by without shelling out a ton of cash.
Wallen is selling out shows throughout the south, but also in major coastal hubs like New York and Los Angeles as well with pit tickets listing as high as $1700 for some of his concert stops. 97.3 The Dawg has been the local country radio powerhouse in our Acadiana region for over 30 years and brand manager/morning show host Jude Walker says that he's "never seen a hotter ticket in town."
According to Walker, the closest would be the recent run of Garth Brooks concerts.
But the legendary 'Callin Baton Rouge' singer opened up five shows at the CAJUNDOME at one across-the-board ticket price to meet the demand of the market, so it's hard to even compare that to the frenzy that Wallen created by limiting his Lafayette show to what the CAJUNDOME could hold during his one-night-only performance on Saturday, April 23.
While we don't have an exact ticket count from last night, the CAJUNDOME shows an official capacity of a little under 12,000 for their basketball configuration and a little over 13,000 for concerts. Whatever the final number was, every single corner of the CAJUNDOME was at a premium and in high demand as the sold-out show drew nearer.
The demand was so high that even some of Wallen's biggest fans couldn't pass up the opportunity to sell their tickets for an insane profit. We asked some of his fans in Lafayette to share what they were spending on tickets as we heard reports of people spending well into the thousands for just a spot in the building.
The comments on Facebook gave us a really interesting look at how ticket prices and experiences varied depending on the Morgan Wallen fan that answered.
One of the most popular answers were got was from people who paid $1100 for a pair of tickets to the show. I'm not sure where those seats were located, but I'm imagining pit, floor, or very close to the stage is where they ended up sitting.
Others managed to score pairs of tickets for considerably lower prices, but again—not sure where they were located. At a certain point, just getting in the building was expensive.
Naturally, there were folks who said they'd never spend that type of money on a concert ticket no matter who was performing.
Others justified it by saying no amount was too much if the artist validated the spend.
Some of the folks got lucky and scored one of the many pairs of tickets being given out by our sister station at 97.3 The Dawg.
Lots of folks got in early and made a special gift out of the tickets for loved ones.
Other people chose the multiple payment route. 😅
A lot of parents scored MAJOR points for their kids.
Others didn't care what it cost because they were simply "livin the dream."
Even people who didn't know who Morgan Wallen was understood that seeing your favorite artist live (especially in your own hometown) was a priceless moment for many.
Again, some of these folks came out way ahead.
But, again—many folks just couldn't fathom spending that kind of money.
Others remembered a time when Morgan was the opening act in that very same CAJUNDOME venue. (prices were considerably cheaper)
As more and more people claimed to not know Wallen, others reminded them that their comments weren't necessary.
One commenter said she paid high prices to see Wallen but at a different venue.
But even those who supported Wallen couldn't justify spending that type of cash on a concert.
Of course, there were critics. It's the internet, right?
Ultimately, everyone who paid for a ticket—regardless of the cost, couldn't put a price on the experience or the memories.
Did you hit up the concert? If so, share your feedback.
I'm almost certain there will be more shows that capture the attention of the city a lot sooner than later now that live music and events are back.
I was able to tag along with our sister station, and what I enjoyed more than the show itself (which was great) was seeing the smiles, families, and people on their feet—excited and grateful to gather again.
It was also great to meet Wallen along with the opening acts and crew members backstage. I brought up his recent collaboration with Chicago rapper Lil Durk on 'Broadway Girls' which made his eyes light up a bit.
Speaking of rappers, Kevin Gates is set to perform the CAJUNDOME this coming Saturday, April 30 along with Toosii and Jeezy, and I'm sure it will be another party on Congress and Cajundome Blvd.
The 40 Best Cover Songs by Rock Bands
More From Classic Rock 105.1