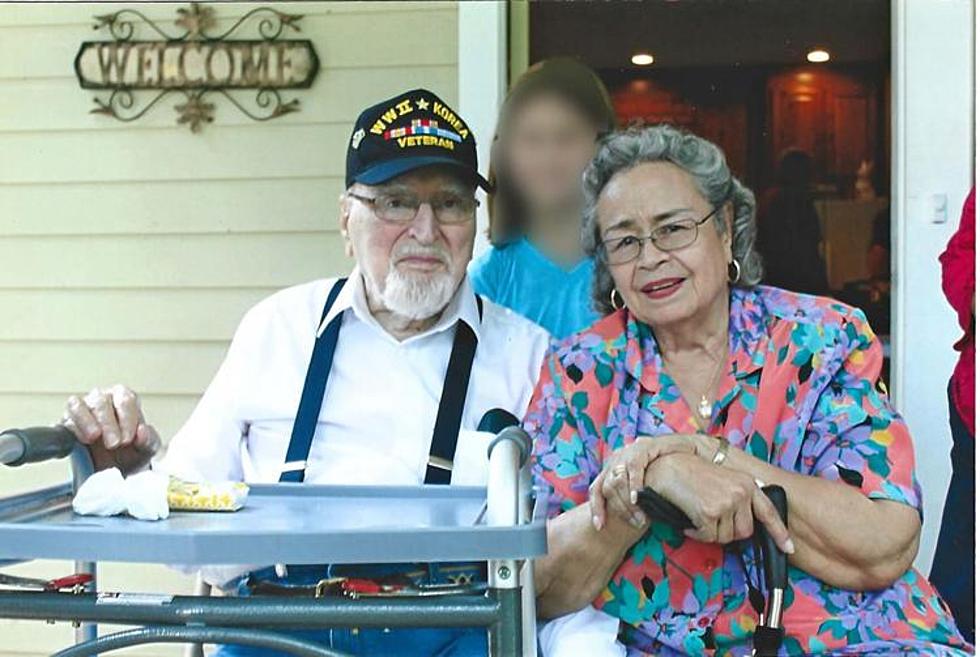 Louisiana WWII Vet's Body Dissected at Paid Event, Shocking Widow Who Thought She Donated it to Science
Family Provided photo via The Advocate Baton Rouge
According to reports, the wife of a deceased World War II veteran was shocked to find out from an undercover journalist that her husband's body had been the subject of a ticketed event where it was dissected in front of paying viewers. After being under the impression her husband's body would be used for science, the wife believes that this event was a commercialization of her husband's death.
Multiple outlets, including The Advocate (Baton Rouge) and VICE, reported on the event held at a hotel ballroom in Portland, Oregon that was branded as the "Oddities and Curiosities Expo". The event reportedly charged up to $500 for each ticket and included a presentation featuring an anatomical dissection and forensic autopsy of a full human cadaver.
The undercover journalist that attended the event was reportedly able to spot a name tag on the body and identify the cadaver as David Saunders. Saunders, a decorated WWII veteran and husband, was 98-years-old when he died in a Zachary, LA hospital after a bout with COVID according to reports.
Originally from New Orleans, Saunders and his wife Elsie were living in Baker before his death per reports. Saunders was a proud war veteran and was described by his wife as, "... a good man, a good Christian" who felt donating his body to science was a patriotic thing to do if it could help someone else per reports.
The Advocate spoke with Mrs. Saunders, who said she wanted to give husband's body to LSU, but the University was unable to accept as he was COVID positive. Saunders was then reportedly connected to a Las Vegas company named Med Ed Labs, with the impression that the company had same objectives that LSU would have.
After only finding out where her husband's body actually ended up from the fore-mentioned undercover reporter, Saunders told The Advocate, "As far as I'm concerned, it's horrible, unethical, and I just don't have the words to describe it". Elsie Saunders was clearly disturbed by the way her husbands body was utilized following his death.
Saunders went on to tell The Advocate, "I have all this paperwork that says his body would be used for science - nothing about this commercialization of his death", she told the outlet.
The Saunders family utilized Church Funeral Services whose owner, Greg Clark, reportedly had never heard of a public dissection where viewers would pay for tickets as his company prepared David Saunders body for transport to Med Ed Labs.
Med Ed Labs sold the cadaver to a company called Death Science, who described their event as educational and, "... absolutely NOT an entertainment style demonstration", per the report. Med Ed Labs also reportedly supplied the anatomist who taught the class of attendees that were not entirely made up of medical students. The undercover reporter was told by Death Science founder, Jeremy Ciliberto, that he often paid upward of $10,000 for a cadaver per The Advocate.
There was a promotional video for the event posted to TikTok by deathscience which you can check out below.
What does donating your body to science mean?
While the Saunders family is seemingly shocked to find out the manner in which their loved one's body was utilized, what does donating your body to science actually mean?
As Deb Hipp of considerable.com put it, the basic expectation for someone considering donating their body to science is that a group of medical students would one day learn how to eventually save a life through one's kind deed. But in reality, the fine print of many body donor authorization paperwork for programs that handle donated bodies show that there are a variety of ways a donated body could be utilized.
While what ended up happening to the body of David Saunders was clearly not the expectation of the family, it is not far fetched to see how these companies legally obtained the cadaver and used it for their event. There are ethical questions that arise when folks outside of the medical field are paying to attend an event that features the dissection of a cadaver, but there isn't currently any report of criminal activity in this incident.
Certainly, it does not sit easy with the Saunders family that their beloved David's body was the focal point of a ticketed event and I can completely understand why. But, as many prepare for how one's own body would be handled in an eventual death - this may be something to consider for anyone who has thoughts of donating their body to "science".
See the full report from The Advocate (Baton Rouge, LA) on Facebook below.
The story was also reported by VICE and you can see their post via Facebook here.
KEEP READING: Here are the best places to retire in America
More From Classic Rock 105.1