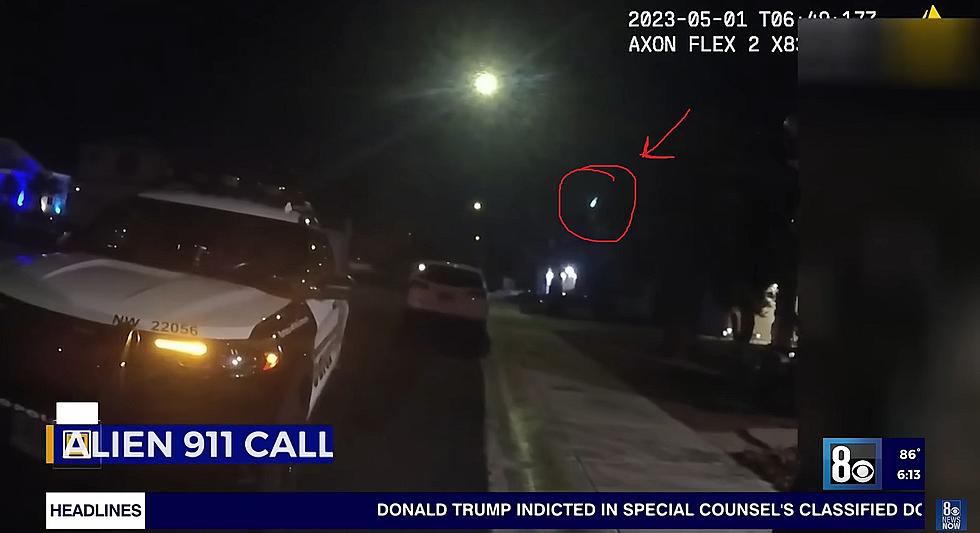 Las Vegas UFO 911 Call, Man Reports Beings in Backyard as '100% Not Human'
Screen Cap Via 8 News Now Las Vegas
A terrified Las Vegas family's 911 call is going viral and for good reason. The caller tells the dispatcher that something fell out of the sky, landed in his backyard, and two 10-foot-tall "non-human" beings were walking around his property. The man's report of an object falling from the sky is actually confirmed by a police officer's bodycam video.
A Las Vegas Metro police officer's body camera video has just been released from the night of April 30 around 11:50 p.m.
In the body cam video, you can see a flash of light streaking across the night sky.
According to the American Meteor Society, there were several reports of the flash from eastern California, Nevada, and Utah.
Shortly after the flash seen on the officer's body cam video, a 911 call was placed by a man reporting that "he and his family saw something fall from the sky and that there were two moving things in his northwest valley backyard" according to 8newsnow.com.
The man placing the call is obviously frightened, and listening to the recently released audio of the 911 call, he has every reason to be.
From 8newsnow.com -
Caller: In my backyard. I swear to God this is not a joke, this is actually — we're terrified.
Dispatcher: So, there's two people, there's two subjects in your backyard?
Caller: Correct and they're very large. They're like 8 foot, 9 feet, 10 foot. They look like aliens to us. Big eyes. They have big eyes. Like, I can't explain it, and big mouth. They're shiny eyes and they're not human. They're 100% not human.
Dispatcher: OK.
The 911 dispatcher sent two officers to the man's house to investigate the call, and that's when things got even stranger.
In the audio of the body cam video, one of the officers tells the man who placed the 911 call that he saw the light in the sky too.
In the body cam footage, you hear the officer say "I'm so nervous right now. I have butterflies bro — saw a shooting star and now these people say there's aliens in their backyard."
Drone footage taken of the 911 caller's property reportedy shows a circular impression where he claims the UFO crashed.
To read more, head over to 8newsnow.com.
LOOK: The states with the most UFO sightings
For each state, we've also included details of famous UFO sightings in that state. Of note is that almost three-quarters of all UFO sighting reports in the United States
occur between 4 p.m. and midnight
, and tend to peak between 9 and 10 p.m. Food for thought next time you're out scoping for alien life. Keep reading to see which states have had the most UFO sightings.
More From Classic Rock 105.1