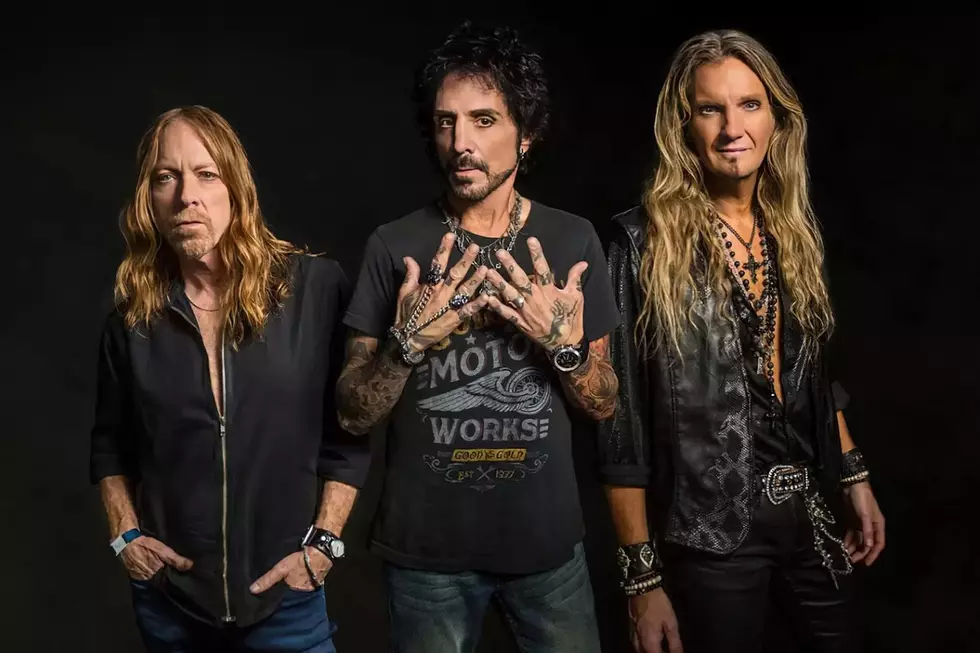 Deen Castronovo's Revolution Saints Confirm 'Eagle Flight' Album
Frontiers Music Srl
Journey drummer Deen Castronovo has confirmed details of Eagle Flight, his fourth Revolution Saints album.
The album, which will be released on April 21 via Frontiers Music Srl, is the first from the new lineup featuring Joel Hoektra and Jeff Pilson, who replace Doug Aldrich and Jack Blades respectively. The trio's latest single, "Talking Like Strangers," can be heard below, with the complete track listing also available below.
In a statement, Frontiers said the band's first three albums had "brought back the classic melodic rock style that thrilled and delighted legions of fans in the 1980s and 1990s and still does today." The label added: "While Revolution Saints MK I left an indelible mark on the melodic rock world, it was time for MK II to be born. Deen, having recently rejoined Journey, was feeling invigorated and inspired and ready to sing his ass off. Filling Blades and Aldrich's shoes would be no easy feat, but, mercifully, the exact right guys were found for the job.
"Hoekstra is a current member of Whitesnake, Trans-Siberian Orchestra and Iconic, as well as having his own solo project, Joel Hoekstra's 13, and is an absolutely stunning guitar player, able to play multiple styles. Pilson, currently a member of Foreigner, Black Swan and the End Machine, is also known for his time in Dokken and his more recent production work. Two stellar musicians to compliment Deen's singing and drumming is exactly what was needed ... and that's exactly what we've got here."
Watch Revolution Saints' Video for 'Talking Like Strangers'
Revolution Saints, 'Eagle Flight' Track Listing
1. "Eagle Flight"
2. "Talking Like Strangers"
3. "Need Each Other"
4. "Kids Will Be Kids"
5. "I'll Cry for You Tonight"
6. "Crime of the Century"
7. "Set Yourself Free"
8. "Sacred"
9. "Once More"
10. "Save It All"
Rock's Forgotten Supergroups
Here's a quick rundown of dozens of would-be supergroups that the world at large has forgotten over the years.