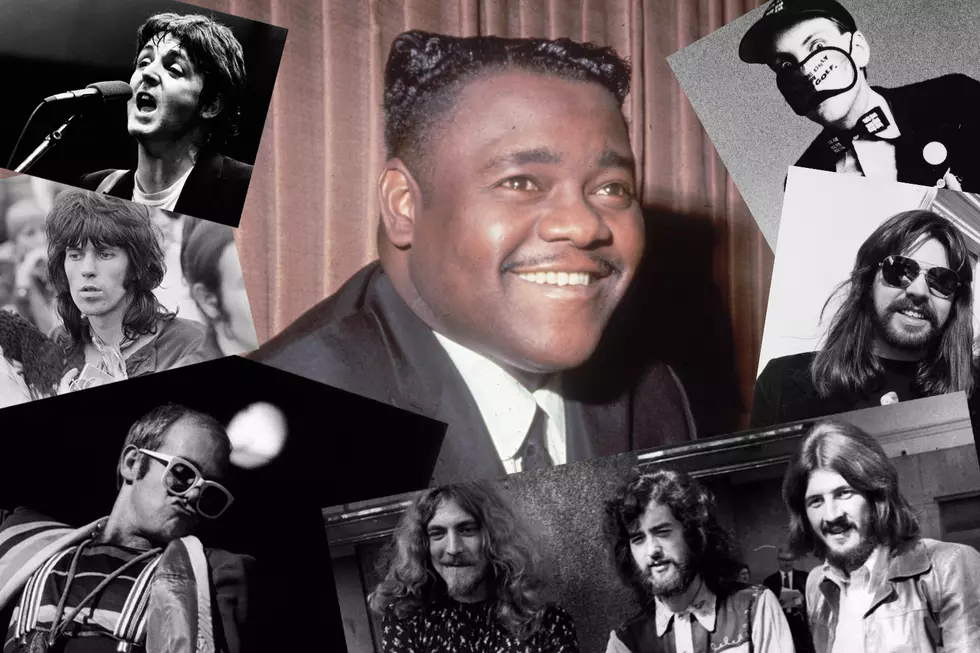 Fats Domino Covers: We Found 15 Thrills From Led Zeppelin, Paul McCartney and More
Evening Standard / Keystone, Getty Images
For the late rock 'n' roll pioneer Fats Domino, charisma and melody were contagious in equal parts. This was a fact made clear from the outset of his career: The robust, swinging piano chords, humorous lyrics and falsetto "wah-wah"-ing that animated "The Fat Man," sent the song – even though it was a b-side – up the charts.
Daybreak for an emergent genre had arrived. As unsettling as that might have been, Domino offered a beaming smile – as demonstrated during his timeless "Blueberry Hill" performance on Ed Sullivan – as a kind of a warm invitation to the changing course of music.
Rock 'n' roll went on to dominate the next half century, and Domino's role in fathering it would be remembered by every new generation – from Ricky Nelson to 2007's Goin' Home: A Tribute to Fats Domino, which featured an esteemed array of musically diverse recording artists. The below list of 15 Classic Rock Fats Domino cover songs makes clear his impact on each of them.
There were many, many others, of course. Domino left a profound impression on the institution of rock and roll, and his musical heirs have hardly been coy in paying tribute. Along the way, that's opened the door for still more fans to discover his towering collection of songs.
Paul McCartney Performs 'Ain't That a Shame'
Led Zeppelin Performs 'Blueberry Hill'
Bob Seger Performs 'Blue Monday'
Elton John Performs 'Blueberry Hill'
Bruce Springsteen Performs 'Let the Four Winds Blow'
Keith Richards Performs 'I'm Ready'
John Lennon Performs 'Ain't That a Shame'
Tom Petty Performs 'I'm Walkin"
Cheap Trick Performs 'Ain't That a Shame'
Robert Plant Performs 'It Keeps Rainin"
Johnny Winter Performs 'Sick and Tired'
Randy Newman Performs 'Blue Monday'
Dr. John Performs 'Goin' Home Tomorrow'
Neil Young Performs 'Walking to New Orleans'
Cat Stevens Performs 'Blue Monday'
The Top 100 Classic Rock Artists
See the Beatles in Rock's Craziest Conspiracy Theories
More From Classic Rock 105.1