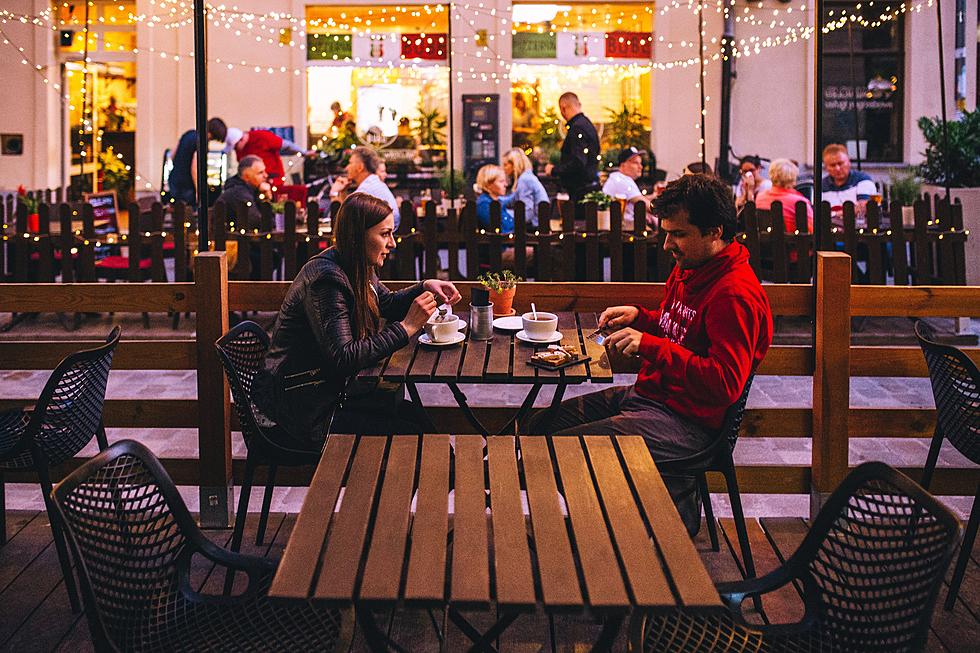 Dining Out? Should You Sit Next to Your Date or Across From Them
Wiktor Karkocha via Unsplash.com
Ahh, the wonderful world of pitching woo. You know what pitching woo is, right? No, it's not a lineup suggestion for a baseball team, it's the art of courting, dating, and falling in love. The term pitching woo actually has its roots in ancient times. Apparently, about 1050 A.D. is when "wooing" was a thing. The "pitch" was added in the 1800s by the door to door salesmen who often told their friends they were selling books but actually "pitching woo".
Today we call the art of pitching woo or sparking, another great old school term, dating. There are a lot of rules, mostly unwritten that enter into your life when you enter the dating scene. And Monday, February 14th, if you find yourself a fly on the wall of any of our local restaurants you will see the unwritten rules of dating in action for Valentine's Day.
One issue with dating and dining with a date in particular that has always troubled me is where should the couple sit in relation to each other? Obviously, the style of seating and the seating arrangement of a particular restaurant will have more to do with where you sit than maybe dating protocol will but let's assume for a second that we are talking about a booth.
Should you and your date sit across from each other face to face in that booth or should you sit side by side in that booth?
The consensus among relationship experts seems to zero in on another quandary related to romance, however in this case size does matter, a lot. I am speaking in particular about the size of the booth. Most booths are made for larger parties which can make sitting across from each other feel more like a shouting match.
But if the booth is perfect for four people then two people sitting on the same side should allow for easy access to conversation and the items on the table. The side by side method allows for more physical contact. So, if you and your date are familiar with each other and you like touching each other during the course of the evening then the side by side method is perfect for you.
If you're new as a couple or you're looking to make the night a romantic night then sitting across from each other is the way to go. There is a lot that can be said using only eye contact and if you want the words of your heart to be unspoken by your lips you'll want to be looking across the candlelight at your romantic love interest for the evening.
Now, as odd as it may sound, the directly across method is also the best choice for couples that haven't made it into the land of "Facebook Official". It's just easier to get to know someone if you can look directly into their eyes, especially at a table.
Now of course all this side by side or sit across nonsense takes a back burner when the food comes. For couples that are familiar enough with each other to share bites off of each other's plate, the side by side makes for less of a mess. However, if you're one of those that guard your plate like a butcher's dog at scraps time then you'll want to have your personal space and a table between your date who said: "she wasn't hungry".
Now, if you're an old married couple, the side by side method is going to be your preferred method of getting food. That's because old married couples seldom make it out to restaurants, they get their food through the drive-through and unless you're going to make your spouse sit out on the hood, you're going to want them in the seat next to you.
But the bottom line and final word on whether you should sit side by side or across from each other come down to this. They are both acceptable. So, there is no right way and there is no wrong way when it comes to sitting down for a meal with your date.
Oh, and one other tip, if you're planning or hoping for an intimate end to your evening once you get home, then you better get dessert to go. Nobody feels like doing all that physical work on a belly full of cheesecake. Besides, if you get it to go, then you'll have something good to eat for the "afterglow". 
Five Undeniable Reasons To Marry A Cajun Man
When you find a good Cajun man there's nothing better right? And as we all know, when you find that good Cajun man, there's always a good Cajun woman who helped make him that way.
More From Classic Rock 105.1