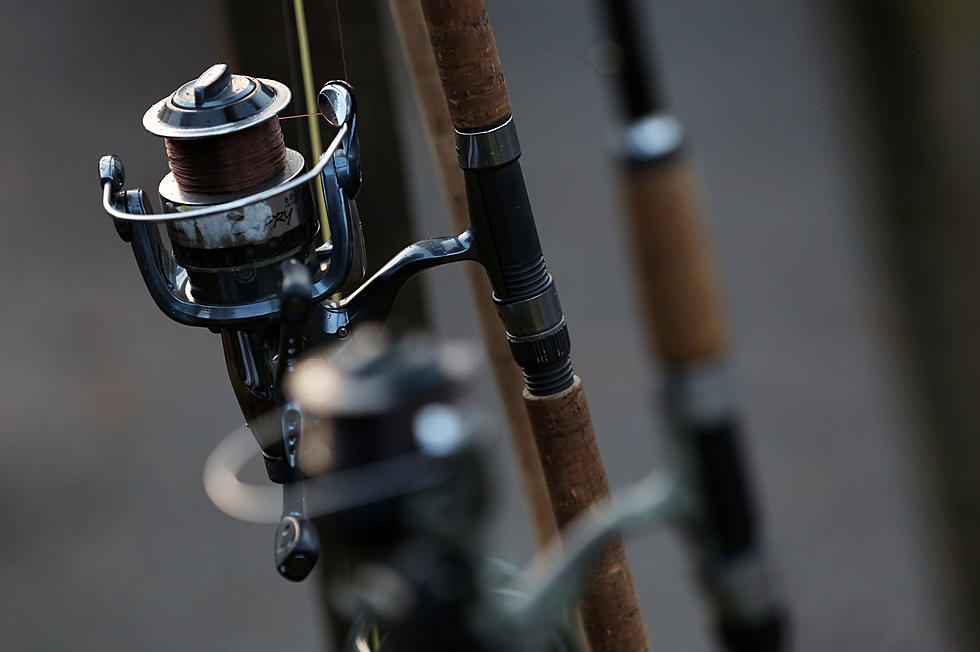 Contest Announced as Rainbow Trout Stocked in Public Ponds Throughout Louisiana
(Photo by David Cheskin/Getty Images)
Get ready to bait a hook and geo fishing because public ponds all around Louisiana have just been stocked with over 6,000 lbs of rainbow trout. If you can catch one of the four tagged trout, you'll win a prize from BREC!
The BREC and the Louisiana Department of Wildlife and Fisheries have stocked public ponds around the State with over 6,000 lbs of rainbow trout and are encouraging families to get up, get out, and go catch some fish.
In Lafayette Parish, officials say that Girard Park and Southside Regional Park have both just been stocked (01/21/2020).
Now, what about that contest?
"Instead of hosting a rainbow trout fishing rodeo, this year BREC has tagged four rainbow trout at each fishing pond.
Anglers who catch a tagged fish can claim a prize from BREC's main office at 6201 Florida Boulevard in Baton Rouge.
If you catch a tagged fish, take a photo of yourself and the tagged fish and email the photo to conservation@brec.org."
Below is the complete list of Louisiana public parks that have just been stocked with rainbow trout. For more information head over to brec.org.
East Baton Rouge Parish
Zachary Community Park – stocked on December 18, 2019
20055 Old Scenic Highway, Zachary
Central Sports Park – stocked on December 18, 2019
10501 Lovett Road, Central
Howell Community Park – stocked on December 18, 2019
5509 Winbourne Avenue, Baton Rouge
Forest Community Park – stocked on December 18, 2019
13900 South Harrell's Ferry Road, Baton Rouge
Perkins Community Park – stocked on December 18, 2019
7122 Perkins Road, Baton Rouge
BREC's Burbank Park – stocked on January 21, 2020
12400 Burbank Dr, Baton Rouge
Livingston Parish
Sidney Hutchinson Park – stocked on January 21, 2020
13750 Ball Park Rd, Walker, LA 70785
Tangipahoa Parish
Zemurray Park – stocked on January 21, 2020
400 S Oak St, Hammond, LA 70403
Lafayette Parish
Girard Park – stocked on January 21, 2020
500 Girard Park Dr, Lafayette, LA 70503
Southside Regional Park –stocked on January 21, 2020
221 La Neuville Rd, Youngsville, LA 70592
Jefferson Davis Parish
I-10 Park – stocked on January 21, 2020
100 Rue de l'Acadie, Jennings, LA 70546
Beauregard Parish (Lake Charles area)
Purple Heart Memorial Park Pond – stocked on January 14, 2020
US-190, Ragley, LA 70657
Orleans Parish (New Orleans East)
Joe Brown Park – stocked on January 21, 2020
5601 Read Blvd, New Orleans, LA 70127
Ouachita Parish (Monroe area)
Kiroli Park – stocked on January 14, 2020
820 Kiroli Rd, West Monroe, LA 71291
Webster Parish (Shreveport area)
Turner's Pond – stocked on January 14, 2020
517 Lakeshore Dr, Minden, LA 71055
Concordia Parish
William T. Polk City Park Pond – stocked on January 14, 2020
US-425, Vidalia, LA 71373
Lincoln Parish
Grambling City Park Pond – stocked on January 14, 2020
2045 W Martin Luther King Jr Ave, Grambling, LA 71245
Elmore D. Mayfield Park  – stocked on January 14, 2020
1701 Martin L King Dr, Ruston, LA 71270
 
More From Classic Rock 105.1