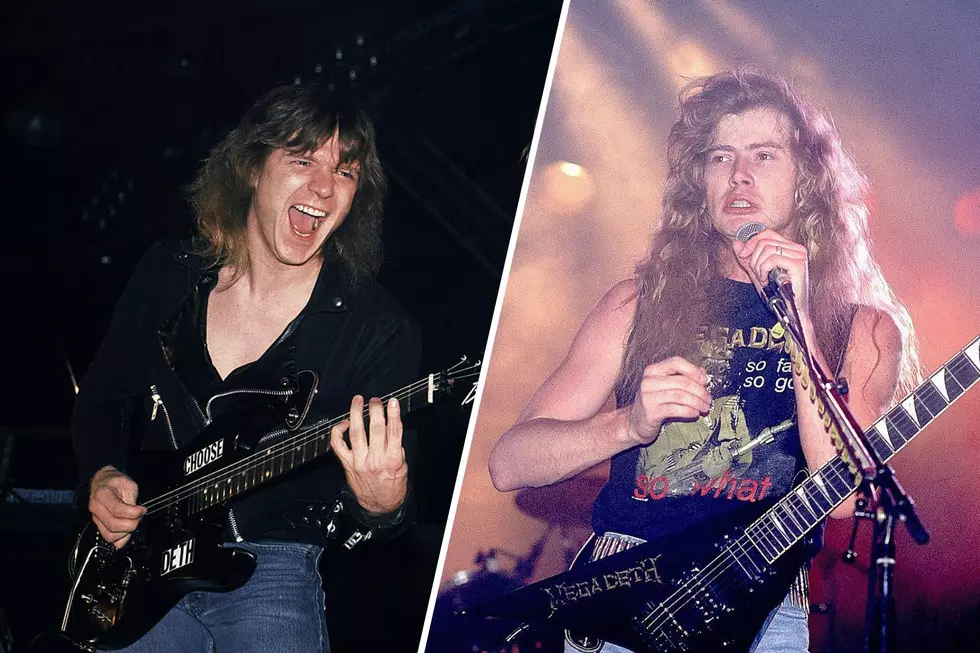 Why Chris Poland Says It'd Be 'Cool' If Dave Mustaine Jammed with Kings of Thrash
Paul Natkin/WireImage, Getty Images / Paul Natkin, Archive Photos/Getty Images
Ever since the Kings of Thrash supergroup was announced, much has been said about the pros, cons and likelihood of Megadeth mastermind Dave Mustaine playing with them. Of course, that's not very likely, but at the very least, guitarist Chris Poland is into the idea.
Earlier this month, Poland – who was involved with Megadeth intermittently from 1984 to 2004 – sat down with Rock Music Star to discuss the project. When asked if he would "allow" Mustaine to jam with Kings of Thrash someday, Poland gave an energetic and enthusiastic answer. As transcribed by Blabbermouth:
Fuck, I would. Yeah, I would. Are you kidding? I mean, please, that would be pretty cool. But Dave's probably kind of like Miles Davis. Miles Davis never looked back; he only looked forward. And I know he's playing certain songs from certain records, but I don't think he wants to go that far back. And that'd be a lot for him to learn. But I guess he wrote it; he could probably play that in about five minutes.
Naturally, Poland is alluding to the fact that Kings of Thrash's upcoming "Thrashing' USA" tour will see the group – Poland, ex-bassist David Ellefson, ex-guitarist Jeff Young, vocalist Chaz Leon and drummer Fred Aching – playing 1985's Killing Is My Business... and Business Is Good! and 1988's So Far, So Good... So What! in their entirety.
He also praised Young and Leon's abilities to replicate Mustaine's distinctive talents:
But I do wanna say that Jeff Young… Oh my God. I knew Jeff Young was a great guitarist but being out and playing those shows with him, I have a whole new respect for his playing, man. 'Cause he is nailing Dave, and nailing himself, and then just rocking while he's doing it. It's pretty amazing, man. Not to take anything away from Chaz. Chaz is an amazing guitar player himself, and to sing and play those things, I only thought Dave could do that.

You can learn the parts, but you're gonna learn the parts and sing it while you're playing it? I used to wonder how Dave did it when I was in the band, when we were playing those hard, hard songs like that. And Chaz — not a problem. Everybody in [Kings of Thrash], it's all for one and one for all, man. There's no egos anywhere. Everybody's just, like, "Let's go."
On that note, you can check out Kings of Thrash's upcoming tour dates below. Hatroit will be supporting them, and you can also purchase tickets here. In addition, you can preorder Kings of Thrash's upcoming CD/DVD package, Best Of The West…Live At The Whisky A Go Go, which arrives on March 24. Check out the trailer!
You can watch Poland's full interview with Rock Music Star below as well.
Chris Poland Discussed Megadeth and Kings of Thrash with Rock Music Star
Kings of Thrash 2023 U.S. Tour
Feb. 16 — Joliet, Ill. @ The Forge
Feb. 17 — Minneapolis, Minn. @ Varsity Theater
Feb. 19 — Madison, Wis. @ Majestic Theatre
Feb. 20 — Indianapolis, Ind. @ The Vogue
Feb. 21 — Columbia, Mo. @ Blue Note
Feb. 22 — Columbus, Ohio @ King Of Clubs
Feb. 24 — Flint, Mich. @ The Machine Shop
Feb. 25 — Cincinnati, Ohio @ Legends Bar And Venue
Feb. 27 — Cleveland, Ohio @ Beachland Ballroom And Tavern
Feb. 28 — Warrendale, Pa. @ Jergels
March 1 — Buffalo, N.Y. @ Town Ballroom
March 3 — Poughkeepsie, N.Y. @ The Chance
March 4 — Sayreville, N.J. @ Starland Ballroom
March 5 — Harrisburg, Pa. @ Midtown Arts Center
March 7 — Ardmore, Pa. @ Ardmore Music Hall
March 8 — New York, N.Y. @ Gramercy Theatre
March 10 — Charlottesville, Va. @ Jefferson Theatre
March 11 — Greensboro, N.C. @ Hangar 1819
March 12 — Asheville, N.C. @ The Orange Peel
March 14 — Charleston, S.C. @ Music Farm
March 15 — Atlanta, Ga. @ The Masquerade (Hell)
Megadeth Albums Ranked
More From Classic Rock 105.1