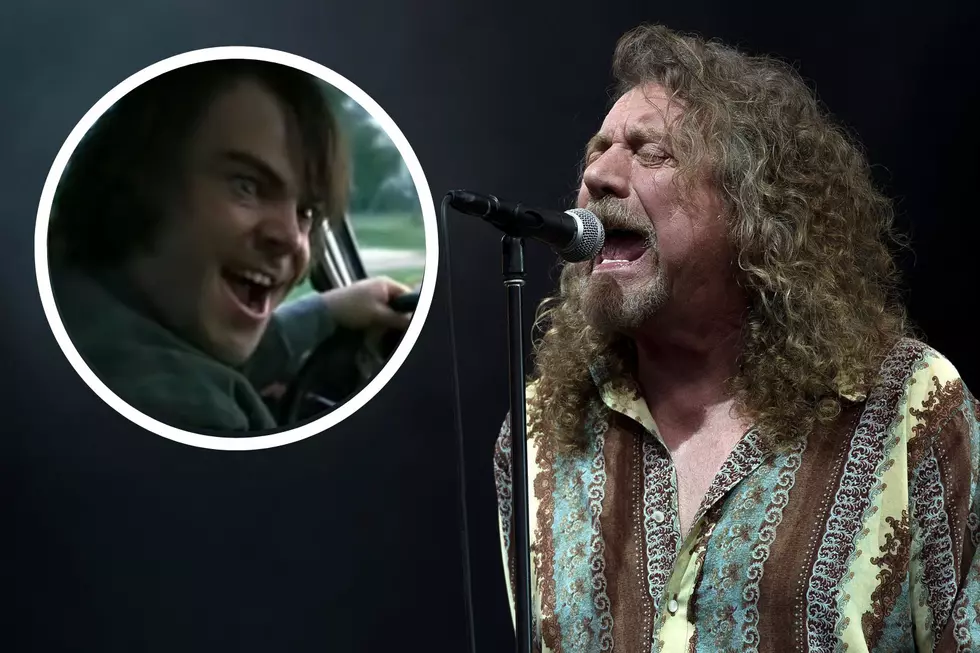 Why Robert Plant Let 'School of Rock' Use Led Zeppelin's 'Immigrant Song'
Ian Gavan, Getty Images
Youtube: HjamesR23
Led Zeppelin singer Robert Plant reveals why he let the Jack Black-led film School of Rock use "Immigrant Song" in the movie. The short answer: "Why not?"
In a new interview with Vulture, Plant says that the song is not a holy thing in itself, and is meant to be shared. Plant says, "My response is: Why not? Our songs didn't come from Valhalla. It's not a preferred destination, either. I like the idea of taking the hammer to another time."
"Jack Black made a magnificent meal of it," adds Plant, continuing. "It's a killer guitar riff. What a shame "Immigrant Song" isn't easy for kids to play, by the way. Everyone gets it, young and old. It's a great song. Not only slightly ridiculous but ridiculous. Considering that we wrote it in midair leaving Iceland — a fantastically inspiring gig and an adventure, beyond which there will be no books written. To give it to the kids is important. Send it up, send it down, and just keep sending it."
Plant lays a good chunk of praise on Black's performance and his accessibility. "Jack Black got it right down... All of my grandkids have all been able to play Jack Black's riffs. I think it was exactly the right thing to do, with School of Rock, to blow our myth up into the sky for a while. Because it's all myth. It doesn't matter. I've watched the film and find it funny." Black's maniacal singing along to "Immigrant Song" is awesome, and worth a re-watch. The clip is included at the bottom of the post.
Zeppelin songs in movies are relatively uncommon, simply because they are expensive to secure. And Plant confirms there is a vetting process. "I'm not responsible for all the decision-making when it comes to where we allow our music. It's group decisions... We have to go through the whole thing together. Not to generalize, but quite often we're presented with a scene that's in the script or cuts of a film. When there's something uncomfortable, unpleasant, or overtly just not the right place for our music to be, we say no. The music is dynamic. There it is, sitting there, and happily waiting for romance or nuance or drive that should link to a film with substance."
Plant makes it clear there have been plenty of rejections and some bad decisions. "A lot of stuff is completely tasteless," he says. "(Some films) just go straight for violence... So when good ones come, it's a different story. You can't put it in the wrong hands. We've already done too much of that."
Some movies that made Zeppelin's cut include The Big Short ("When The Levee Breaks,") American Hustle ("Good Times, Bad Times,") and Almost Famous ("Tangerine"). But the song that seems to get the most use? "Immigrant Song." It's been in Thor: Ragnarok, Shrek The Third, and Soldier, as well as School of Rock.
Plant was recently included in Rolling Stone's '200 Greatest Singers of All Time' list, he landed at 63. Twisted Sister's Dee Snider has opinions about Plant as well, saying he may be a great singer, but not a great performer (huh?) Read what Snider had to say here.
Will there be another Led Zeppelin song in another School of Rock movie? Possibly. Black says he's thinking about doing a sequel. Until then, relive "Immigrant Song," in all of its glory, from Jack Black's van.
"Immigrant Song " in The School of Rock
23 Actors Who Transformed Into Real-life Rockstars for Movies
More From Classic Rock 105.1