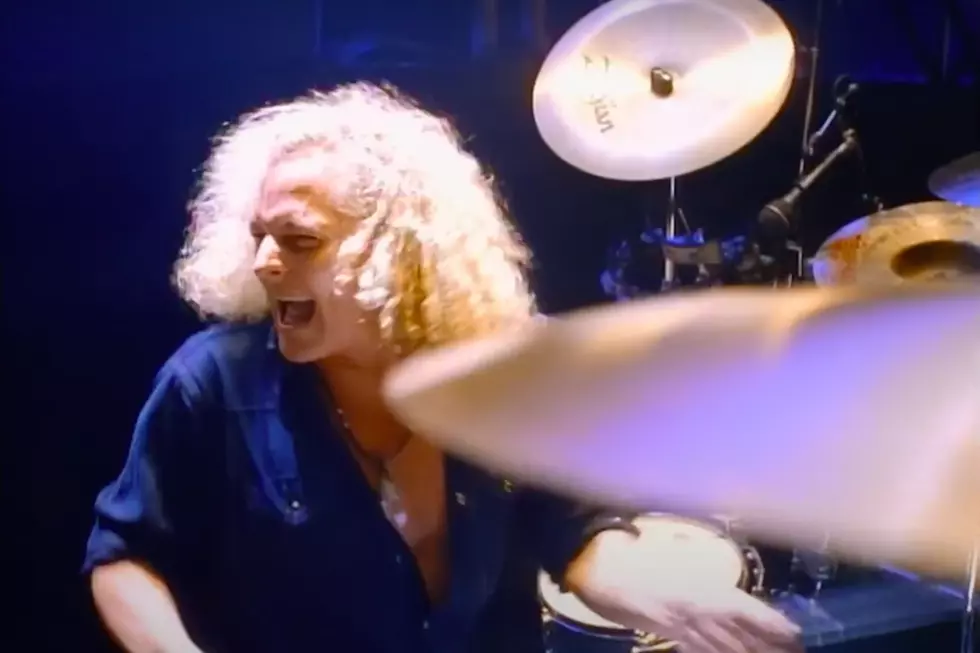 Why Matt Sorum Plays the Same Drum Fill 23 Times in Guns N' Roses' 'November Rain'
YouTube - Guns N' Roses
"November Rain" is one of Guns N' Roses' biggest hits, and there are quite a few stories behind the song. While we still can't tell you how Stephanie Seymours dies in its cinematic video, we can tell you why Matt Sorum played the same drum fill 23 times during the recording.
When Sorum was recruited by Guns to replace Steven Adler after he was fired in 1990, it's no secret that he was expecting to play more Appetite for Destruction-style tracks than ballads. However, his drumming style on the epic track was requested by none other than Axl Rose, who wanted the song to play homage to one of his heroes, Elton John.
"Axl wanted to make an epic record. We couldn't make the same record twice. We wanted to go forward, we wanted to move into a bigger arena... It was in Axl's mindset to make this grandiose piece of music," Sorum recalled to Spitfire Audio back in 2015. "At first when I joined the band and the pianos were involved and the strings, I was like, 'Whoa! I thought I was joining a two-guitar, bass and drum band.' But then I understood."
"For songs like 'November Rain' and 'Don't Cry' and 'Estranged' — these big, sort of epic pieces — me and Axl sat, I believe over there on the floor [points], we ordered some Russian caviar, we had a bottle of vodka... and we listened to 'Don't Let the Sun Go Down on Me' by Elton John," the drummer continued.
Upon hearing the tom fill in the John song, Rose said to Sorum, "I want you to do that, or something like that, on 'November Rain.'" The catch was, the singer wanted this "signature drum fill" to also appear on "Don't Cry" and "Estranged."
"I said, 'You want me to use the same drum fill?'" Sorum continued. "He said, 'Yes.' So I did the most famous fill that drummers give me shit for all the time, it's called the 'Pat Boone-Debby Boone.'"
Rose was a fan of the fill, and asked Sorum to use it various times as they worked on "November Rain" in the studio. Rose matched Sorum's playing on the piano, and the rest of the band came in and added their parts after.
They worked on "Estranged" afterward, which Sorum added was originally supposed to be part of "November Rain."
"It was segued into 'Estranged' and it was this huge, 20-something minute, epic thing, right? We cut it in half and made it separate, but it was part of what [Rose] called 'The Trilogy' — 'Don't Cry' was included in that. So it all sort of was a story," he elaborated.
Moral of the story is — Axl Rose wanted it. Watch the full interview below.
Top 66 Hard Rock + Metal Drummers of All Time
More From Classic Rock 105.1