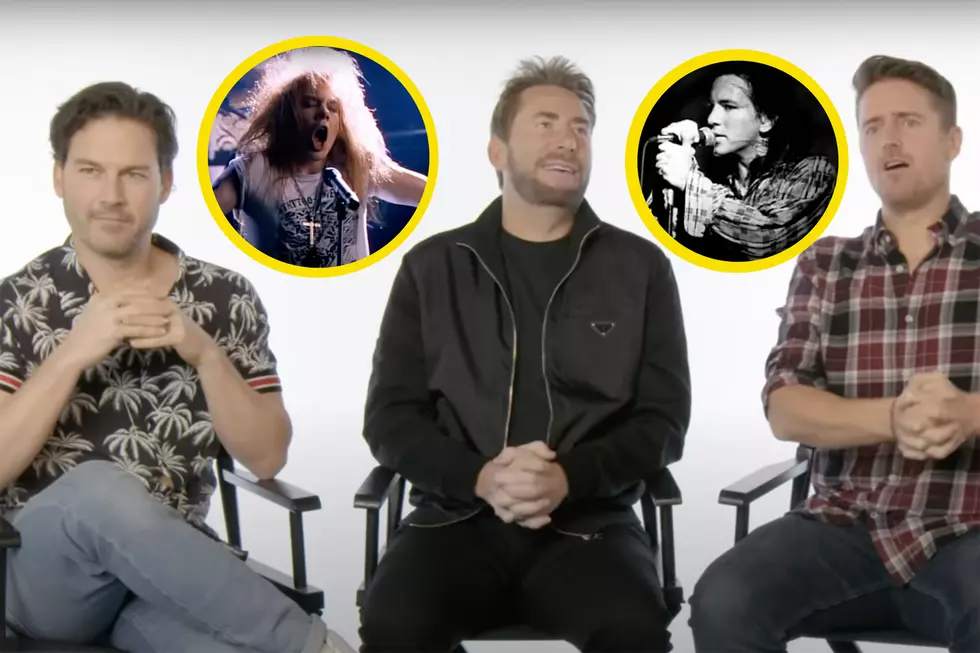 Hear What Nickelback Sound Like Singing Pearl Jam, RHCP + Guns N Roses
YouTube: Elle / YouTube: Guns N' Roses / YouTube: Pearl Jam
After decades near the top of the rock world, you can bet the musical knowledge of the members of Nickelback is pretty damn extensive. The band recently had a chance to showcase some of their internal song libraries by taking part in a video feature for Elle Magazine based upon word association.
In the bit that music acts are often tasked with by the magazine, a random word is presented with the subjects then asked to sing the first lyric that comes to mind when hearing that word. Here, it's Nickelback's Chad Kroeger, Ryan Peake and Daniel Adair dropping random songs based on what they've been presented.
While you don't get full-fledged produced songs here, the band is clearly having some fun with their off-the-cuff music picks. For instance, Daniel Adair and Chad Kroeger laugh after being presented with "ball" and realize that the Adair suggested AC/DC track "Big Balls" comes off like a pirate shanty.
Some of the choices seem obvious to most rock fans, with Kroeger immediately clicking on Pearl Jam for the word "Alive," then doing his best Eddie Vedder improv. Or later in the feature with Kroeger sharing an Axl Rose-ish moment once "Jungle" led them to "Welcome to the Jungle." The guys also pull up some Red Hot Chili Peppers within their challenge.
While some of the words required a little more thought, others led them right back into their own catalog with "Rockstar," "Those Days" and "Tidal Wave" all turning up as answers. How well did they do in the challenge? See for yourself below.
The Elle feature comes as Nickelback are supporting their late 2022 album release, Get Rollin'.  The album debuted at No. 30 on the Billboard 200 Album Chart, featuring the singles "San Quentin," "Those Days" and "High Time."
Nickelback Play Elle's Song Association Game
The 40 Best Cover Songs by 40 Rock Bands
More From Classic Rock 105.1