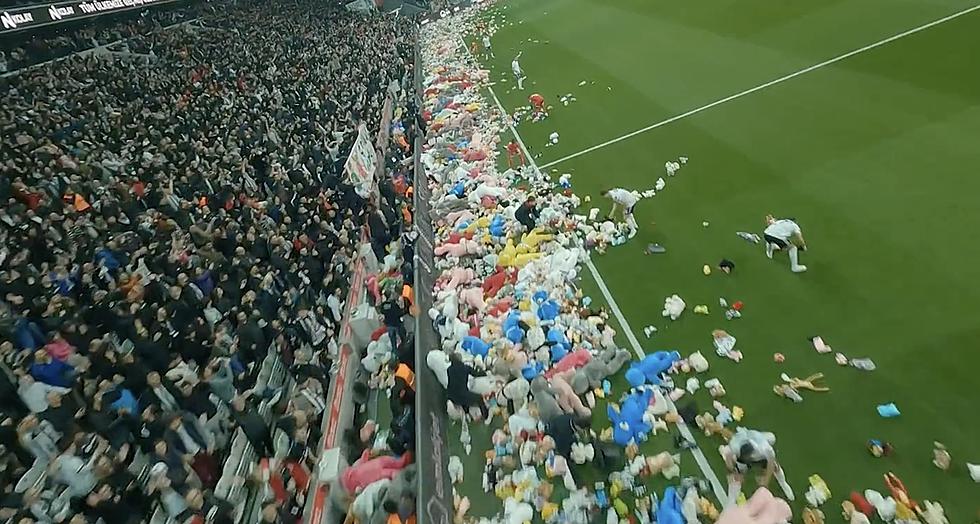 Thousands of Soccer Fans in Turkey Flood the Field with Toys for Earthquake Victims
Credit: Besiktas Football Club
Thousands of fans of the Turkish soccer club Besiktas threw stuffed toys onto the field for children affected by the earthquakes.
"Beşiktaş fans threw the toys they brought with them onto the field to be sent to our earthquake victims," a translated tweet showing video from the event says.
Besiktas, which is part of the Turkish Süper Lig, took on Antalyaspor in a match that ended 0-0. However, based on the footage from the game, it surely seems to be nothing short of a win for all sides.
The match was paused at 4 minutes and 17 seconds in to allow fans to throw the gifts onto the field, which were to be given to children affected by the earthquakes that devastated Turkey at the beginning of February. That 4:17 was significant - it was the time the first earthquake struck Turkey.
"Our fans threw scarves, berets and plush toys on the ground of Vodafone Park to be given as a gift to the children in the earthquake region to cheer them up," Besiktas said in a club statement afterward.
They tweeted video of the event with the caption "Children always smile."
The death toll from the earthquakes in Turkey and its neighbor, Syria, has crossed 50,000 lives lost in a major natural disaster that rocked the region and the world.
The series of quakes have not stopped in the region as another hit just today. More than 100 people were injured in that earthquake, which occurred in the town of Yesilyurt in Malatya province.
There are several relief agencies around the world that are working to provide support in the region. You can find a list of them here.
Lafayette Stores Your Parents Shopped At That Are Gone Now
I have been feeling very nostalgic lately, and when I get that feeling I often will browse the photos in the different collections on the Lafayette Memories Facebook page.
The History Behind Lafayette's Street Names
We drive them on a daily basis. Some are smoother than others. Some we use more frequently than others. Some randomly start, end, and/or change names. They're the streets of Lafayette. The names behind many of these streets have interesting histories. We take a look at where those names come from and the impact their namesakes have had on the city and the parish.
More From Classic Rock 105.1