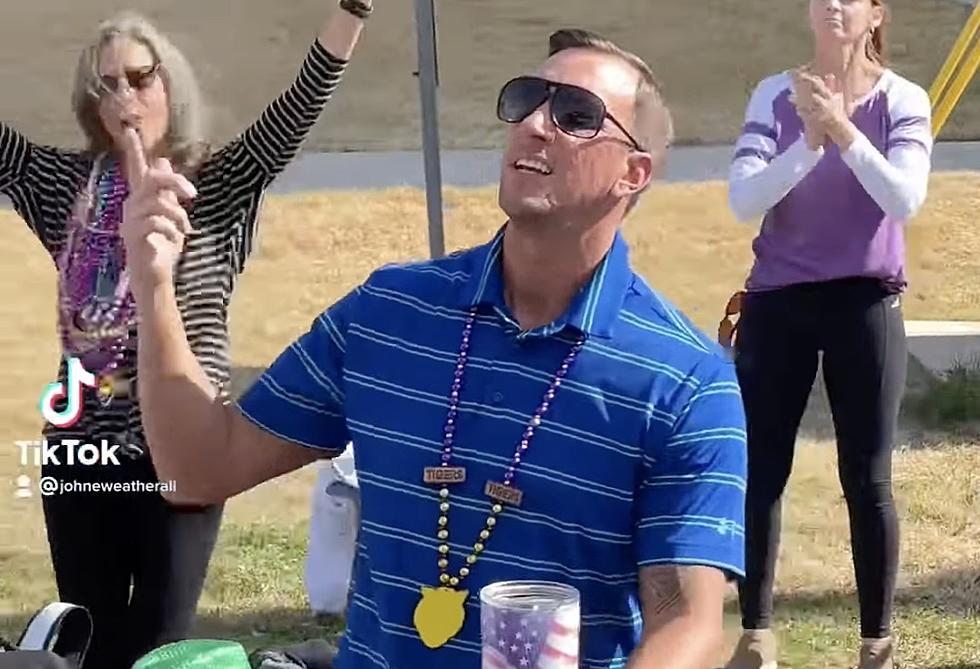 Youngsville Man Goes Viral, Gets Celebrity Shoutouts For Living His Best Life at Lafayette Mardi Gras
Facebook, John Weatherall III
While Mardi Gras 2022 is officially over, carnival season continues for one Youngsville man.
On Fat Tuesday, Steven Barbosa just wanted to hit the Lafayette parades and enjoy the Mardi Gras festivities that we've all been deprived of for the last two years. What he didn't know was that a 10-second clip of him having fun at the Lafayette Mardi Gras parades would go worldwide within days.
The clip, posted by popular Lafayette videographer John Weatherall III, shows Barbosa in sunglasses gripping his American flag tumbler while bopping and singing along to Kevin Gates' 2013 club banger "Thinkin' With My ****."
Whether it was the juxtaposition of a clean-cut fellow turning up to the NSFW lyrics from Gates (shout out to the DJ playing explicit music for tens of thousands of people in a public family setting) or just the pure joy that many described as a "whole mood," the video clip took off in a big way.
To date, the clip has over 400,000 views and nearly 20,000 shares on Facebook alone. This doesn't count the views on Weatherall's TikTok, Instagram, or the numerous reshares and reposts.
For instance, the video was reposted by superstar DJ and producer, Diplo on his social media.
There have also been reposts from artists like Mystikal and Kevin Gates' own Bread Winner's Association, but when it comes to why this particular video has had such big reach Weatherall tells me that he thinks that it simply comes down to Barbosa putting smiles on faces.
When I saw him on the Parade Route, I noticed him feeling the song so I started recording on my iPhone and I guess just him feeling the lyrics to Kevin Gates in that moment and Gates being a popular artist from Louisiana on top of that made people love it! He definitely put a smile on a lot of people faces, just from the comments I've seen on the videos 😂🙌🏾
Weatherall's parade recap videos have become one of the most anticipated parts of Mardi Gras season and his videos capture a version of Mardi Gras that falls somewhere between the big city pageantry of New Orleans and the raw and "real" traditions that are still carried out by krewes in Church Point, Mamou, and Eunice.
In addition to the Lafayette parades, Carencro, Youngsville, and Scott have only grown in size and popularity through the years and Weatherall manages to capture the melting pot of fun and unique culture that everyone from our area is familiar with, no matter their age, race, or walk of life.
Maybe that's why Barbosa's clip has been so popular.
With over a million views on TikTok within 48 hours, and thousands of comments across all social platforms—Barbosa's vibes are transcending, and the comments have definitely reflected that.
Speaking of Barbosa's inbox, it definitely has been "lit" as friends and strangers have been hitting him up nonstop since his video hit social media. His reply? Very simple.
Barbosa's wall has been lighting up with love from people ranging from locals to strangers from afar.
I reached out to Barbosa who said he's been nicknamed "spicy white" and is definitely "feeling the love."
I absolutely love it. It shows how great our southern culture is and how music connects us. I love when people come together to have fun and put all the craziness in the world out of their minds. I just love people lol
Speaking of love, I reached out to the promoters of the upcoming Kevin Gates concert at the Lafayette CAJUNDOME and we're hooking Steven up with a pair of tickets to see his favorite artist live in concert on April 30th.
Who knows, he may get on stage to show off those Mardi Gras moves again.
You can check out Steven's video along with all the other Mardi Gras recaps from John Weatherall's socials by tapping through below.
Now that we've located Steven, can we do this woman next? She is also a mood.
What Are the Signature Drinks From Every State?
More From Classic Rock 105.1