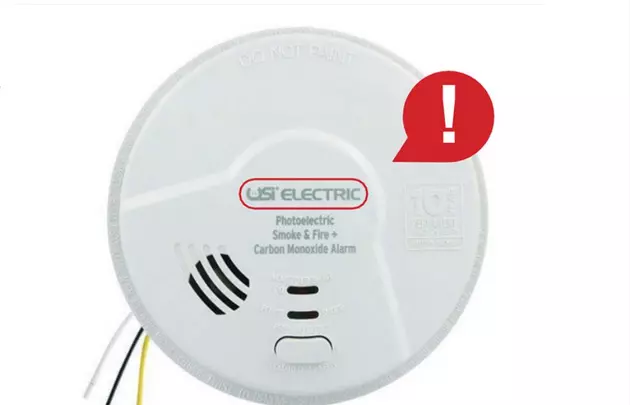 Smoke and Fire Alarm Recall: 'Fail to Alert' Listed as Reason
via Universal Safety Instruments, Incorporated
A company that manufactures smoke and fire alarms has issued a recall on some of its units, citing that they may "fail to alert".
Universal Security Instruments, Incorporated, issued the recall after it was made aware that some of its units failed to alert to dangerous levels of carbon monoxide within a set time limit.
The recall only affects some models distributed by the company.
IDENTIFY YOUR DEVICE
To see if your smoke detectors are affected by this recall, check the print on the face of your units.
The affected units will read "USI Electric Photoelectric Smoke & Fire + Carbon Monoxide Alarm" on the cover of the device.
If the print on your unit does have the above wording, you'll need to remove the unit from its mount to access the model numbers on the back of the unit for further identification.
CHECK THE MODEL NUMBER
The model numbers affected by the recall include:
If your units do NOT have these model numbers printed on the back, then you should reinstall your unit and remember to test it regularly.
If your units DO have one of these model numbers, you need to further identify your unit to know if it is one of the recalled devices.
CHECK THE DATE CODE
Only models with specific date codes are affected by the recall. If your MPC322S unit has the manufacture date of 2017JUN09, or your MPC122S has the manufacture date of 2017JUN02, then your units ARE the devices being recalled.
WHAT DO I DO NOW?
If you find that you are in possession of the Universal Security Instruments, Incorporated smoke detectors that fall into the "recall" category, you'll need to register your units with Universal Security Instruments to get them replaced.
After you have correctly identified your alarm as affected, and you have submitted your online registration form, Universal will verify your alarm has been correctly identified and then process an order for a replacement alarm(s) to be shipped to you at no charge.
You should receive your replacement units within 2 weeks of submitting your information.
WHAT DO I DO WITH THE RECALLED UNITS?
Once you receive your replacement units, Universal Security Instruments, Incorporated recommends you use a permanent marker to write "RECALLED" on the front and back of the unit and then dispose of it in your household trash.
Acadiana: Do We Really Know How to Prevent Fire Deaths?
Teach Yourself Tips to Prevent Tragedy Involving Kids & Car
More From Classic Rock 105.1