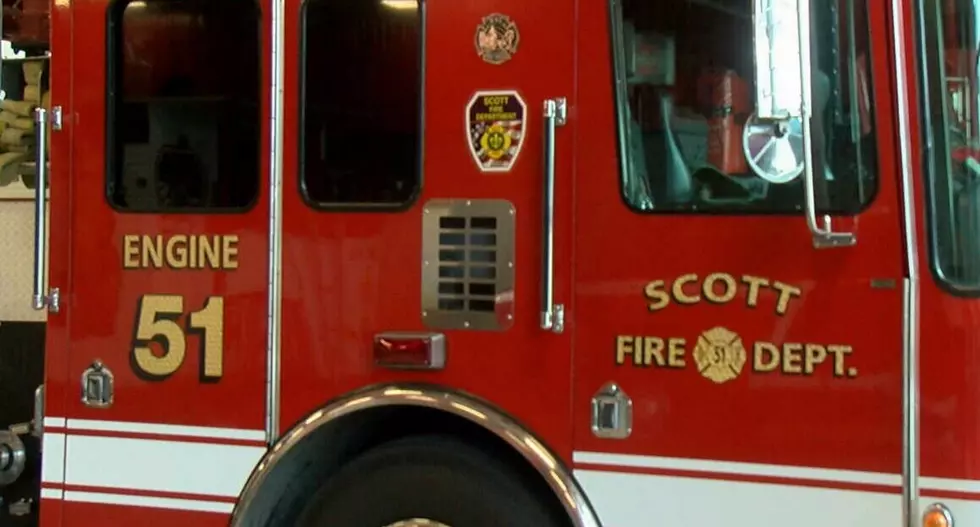 Scott Home Was a Total Loss after an Early Morning Fire
(Photo Courtesy of KATC)
SCOTT, La. (KPEL News) - Firefighters from the Scott Fire Department were called out at around 2 o'clock Monday morning to fight a blaze in the 100 block of Maywood Street.
The residential fire involved the whole home according to Scott Fire Department Chief Chad Sonnier. He adds the whole structure was fully engulfed with flames, but that the home was vacant.
Sonnier says that strong gusts of wind threatened a home next to the burning structure, and other firefighters from Carencro, Duson, and Lafayette helped get the fire under control.
As firefighters from several trucks were working on the blaze they were able to bring the situation under control.
Sonnier says the home was completely destroyed by the flames. He says the home next door did sustain some heat damage from the flames.
Investigators will continue looking into was started the fire in the vacant home. Sonnier says thankfully no one was injured as they battled this fire.
List of Homicides and Deaths in Acadiana for 2023
Whether you pay attention to the news each day or just sporadically check in every once in a while, I think you will agree that we are often reading about homicides and deaths around Acadiana. 2023 seems to be showing that Acadiana will have a busy year when it comes to homicides, fatal crashes, and pedestrian deaths.
The Most Common Medical Marijuana Questions In Louisiana
Multiple pieces of legislation dealing with medical marijuana and expansions to the current structure have been or will be introduced in the upcoming legislative session that begins March 14, 2022.
Attitudes are shifting about recreational use as well. In last year's session, lawmakers passed a bill that changes
penalties
for a small amount of marijuana.
At the beginning of 2022, s
mokable medical marijuana
also became legal. Many people have asked questions about how and where to get medical marijuana. Here is the current information available.
More From Classic Rock 105.1