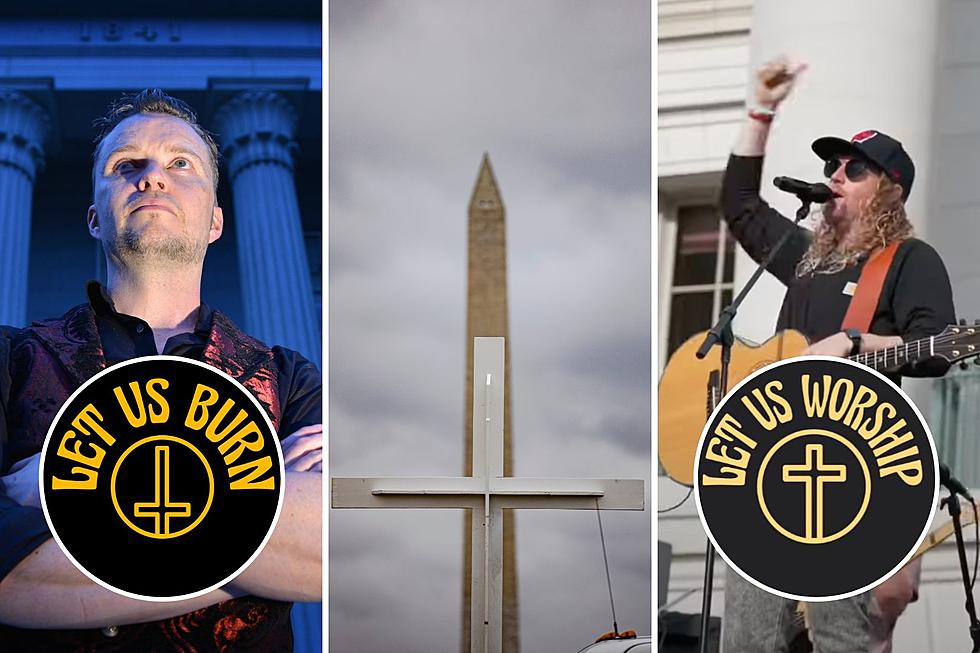 Satanic Planet (Satanic Temple Co-Founder) Aims to Perform at State Capitol Buildings That Have Hosted Christian Nationalist's Tour
The Washington Post, Getty Images / Samuel Corum, Stringer/Getty Images / YouTube: Sean Feucht
Satanic Planet, the avant-industrial band featuring Satanic Temple co-founder and spokesperson Lucien Greaves, have just announced their aim to embark on the Let Us Burn Tour, which is in direct response to Christian nationalist Sean Feucht's current tour of state capitol buildings.
Historically, the Satanic Temple, which was officially recognized as a religion by the U.S. in 2019, has made notable moves that strive for equal religious representation under U.S. Constitutional law, as well as combatting religious inequality, favoritism and other government acts that display unlawful preference to one religion over another.
In a press release, Greaves comments on this latest objective, "Feucht is openly a theocrat who courts the attention of politicians and seeks to proselytize through his performances. He has his opinions, and we have ours, but one thing the government can not do is preference his viewpoint over ours by giving him exclusive access to perform a concert on the Capitol grounds. That stage is every bit as much ours as it is his, so, in the name of pluralism and religious liberty, there are some state capitols that are likely soon to be hosting Satanic Planet shows."
In addition to Greaves, the group features Luke Henshaw (Planet B, Sonido de la Frontera), Justin Pearson (The Locust, Dead Cross, Swing Kids, Deaf Club) and other collaborators (such as ex-Slayer drummer Dave Lombardo).
Currently, Satanic Planet has submitted a request to perform at the Indiana state capitol building on Aug. 12.
First Amendment of the U.S. Constitution
Congress shall make no law respecting an establishment of religion, or prohibiting the free exercise thereof; or abridging the freedom of speech, or of the press; or the right of the people peaceably to assemble, and to petition the Government for a redress of grievances.
More About Sean Feucht
Feucht is the founder of the Let Us Worship movement, which first launched as a public gathering initiative in protest of public health orders and restrictions amid the pandemic after a failed 2020 bid to be an elected Republican official in California's 3rd congressional district.
He is currently on the Kingdom to the Capitol tour, which expresses an aim have fans and supporters join "in powerful worship, prayer, and hear the bold call for the church to rise for this historic moment we were literally born for," as denoted on the tour's website. It also states, "We believe this is a season for revival for our nation... and we want you to be a part of it!"
The tour seeks to perform in the capitol building of all 50 U.S. states.
The man who once made a bid to become a member of Congress (meaning he is Constitutionally forbidden from establishing any law with any religious bias or preference and must demonstrate neutrality) recently made headlines by making a guest appearance at a Tulsa, Oklahoma church which is home to the founder of the Pastors for Trump movement.
During this appearance, Feucht embraced the label of Christian nationalist and asked those in attendance, "You want God to come on over and take over the government?"
The crowd answered with a resounding yes.
He went on to proclaim, "We want God to be in control of everything! We want believers to be the ones writing the laws! yes! Guilty as charged."
Christianity Today defines Christian nationalist as "the belief that the American nation is defined by Christianity, and that the government should take active steps to keep it that way."
READ MORE: The Satanic Temple Installs 'Baby Baphomet' Display at Illinois State Capitol
More About Satanic Planet's Tour
"We will not be able to sell tickets to the capitol grounds, we will surely draw protests, the stage and sound will likely be difficult, and the cost will not be insignificant," explains Greaves.
"That said, however, we can not stand by idly as theocratic extremists are given such an elevated public platform to spread their divisive message without reminding everybody that that stage is equally theirs as well. Feucht seeks to use the stage to announce a theocratic stranglehold over the United States government, and we seek to rectify that by re-establishing pluralism," he asserts.
The Satanic Temple is raising funds that will be "put towards the legal battle that will follow" if Satanic Planet's performance requests are denied. Donate here.
10 Rock + Metal Bands That Started Out Christian But Aren't Anymore
There's the Father, the Son, the Spirit… and the rock. But not every rock and metal group that started its career as Christian stays that way — such as the following examples.
15 Artists Associated With Witchcraft, Satanism + the Occult
Below is a gallery of 15 prominent artists in the rock and metal world who have been associated with witchcraft, Satanism and the occult in one form or another. Some may seem obvious and others may completely take you by surprise.
More From Classic Rock 105.1