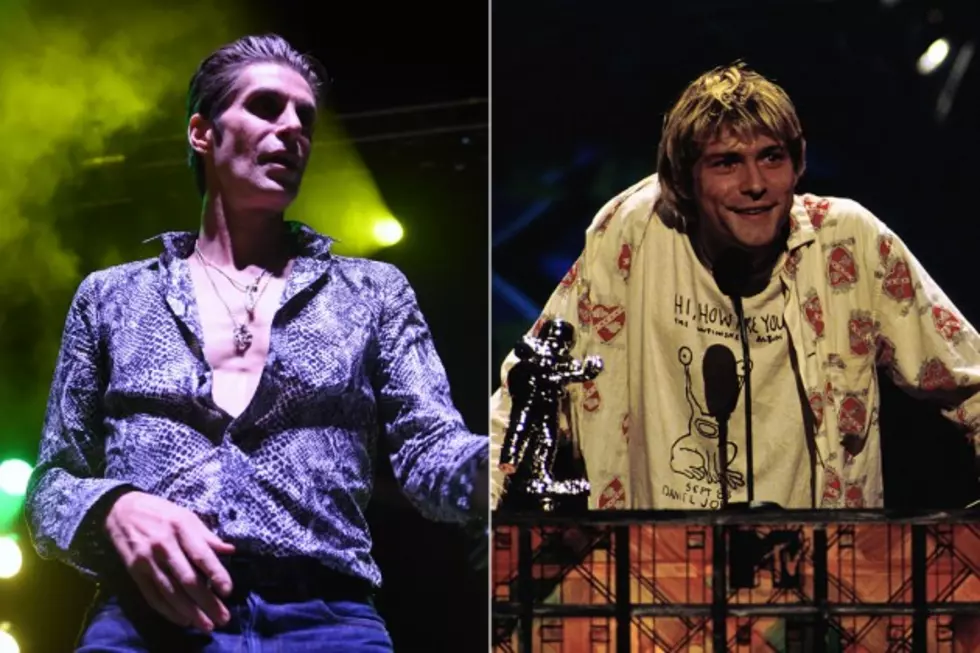 Perry Farrell Recalls Getting High With Kurt Cobain
Ethan Miller / Frank Micelotta, Getty Images
Like many, Jane's Addiction frontman Perry Farrell has now had a chance to view the Kurt Cobain: Montage of Heck documentary and he's chiming in with his thoughts on the film and his own recollections of meeting the iconic rocker.
Speaking with Rolling Stone, Farrell says that he crossed paths with Cobain a few times over the years. "I met him briefly. I must admit, I got high with him in the basement of the Palace when he came to Los Angeles, and I hung out with him at one of the MTV Awards shows," recalled Farrell. "We had a mutual respect."
He added, "I think the cat had the right idea, he had the right attitude. Except for one thing -- I love life. You have to kill me. I will never kill myself. That's the only difference."
As for the film, Farrell's critique was more cosmetic. "They're scraping things together," says the singer. "He's gone now, so you can't very well ask him to do another take, can you? He's very high. And if it was me, I would have said, 'I need a change of clothing.' But I though he was a very gentle soul and who knows what would have become of him had he lived."
In the interview, Farrell also spoke of how his perception of Metallica has changed over the years, explaining that he wasn't initially in favor of having them on Lollapalooza back in the festival's early years. He also speaks of a new mystery project that he says will be his "shining and greatest achievement in life." He teases that it's not a Jane's Addiction project, though they will have some involvement, but that it's "music-centric" and "inclusive of technology, film, theater and even the gastronomic arts." Check out more of the Farrell's Rolling Stone interview here.
You Think You Know Nirvana?
See the Yearbook Photos of Kurt Cobain and More Rock Stars
More From Classic Rock 105.1