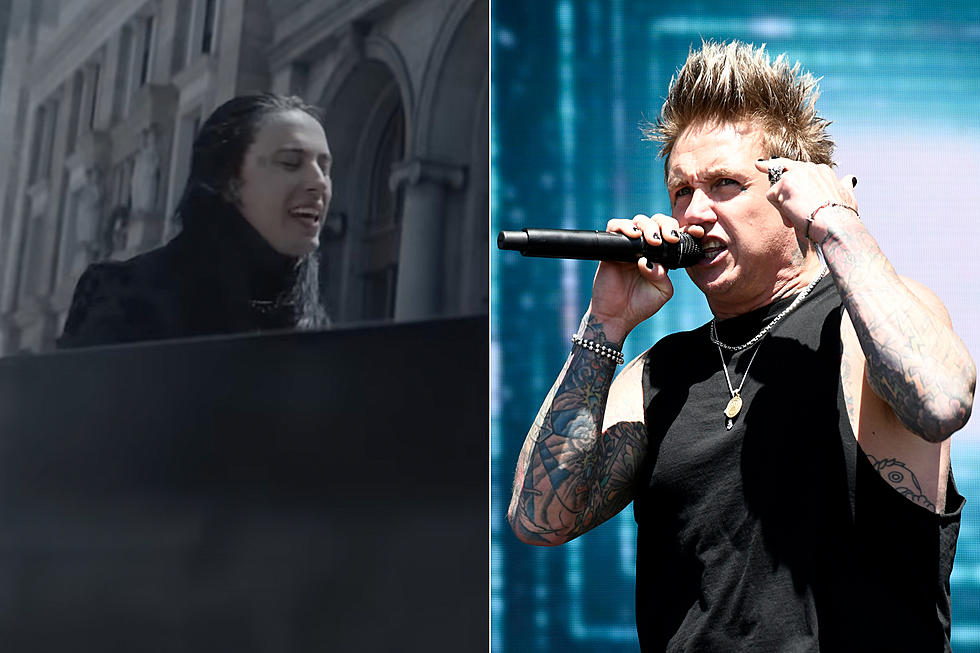 Papa Roach's Jacoby Shaddix Gives His Reaction to Falling in Reverse's 'Last Resort' Cover
YouTube: Epitaph Records / Tim Mosenfelder/WireImage, Getty Images
Falling in Revere's Ronnie Radke had social media buzzing earlier this week with the release of his interpretation of Papa Roach's "Last Resort" as an emotional piano ballad. While social media was initially overwhelmingly positive with their reactions, eventually more haters made themselves known while reacting to the Radke-led version. But what about the artist who originally did the song? What does Papa Roach's Jacoby Shaddix think of Ronnie and Falling in Reverse's take on the single that broke them to the masses?
Radke tipped a bit of Shaddix's reaction upon the song and video's release this week, commenting, Thank you to Papa Roach's Jacoby Shaddix for the blessing to do this" on Twitter, and later adding in a statement, "I wanted to reimagine one of the biggest rock songs of the last 20 years, because lyrically, it is so powerful and resonates. I got the blessing from Jacoby and I think that Papa Roach are one of the nicest, humble and most down to earth bands to date and it inspires me to keep going, since they have been so successful for so many years. This is me paying homage in the best way I know how."
That said, while Jacoby may have given his blessing, there's still the matter of hearing the final product. And for those of you hating or feeling that someone has messed with something that should only decisively be Papa Roach's, Shaddix has shared his opinions on the song, joining in those praising Radke's efforts.
"WOW I AM BLOWN AWAY!!!!," exclaims Shaddix in a new posting. "Honestly this one cuts deep. Right to the true emotion and depth of the lyrics. What an amazing cover @RonnieRadke. I'm trippin."
The singer went on to discuss the song's legacy and Ronnie's role in keeping it going, adding, "We are humbled that this song, 20+ years later continues to be meaningful to so many. Well done @FIROfficial & Ronnie."
To help drive home his support, Shaddix posted a 30-second reaction video. After visibly bobbing his head for the first portion of the clip, he offers an "ooh" at one point, takes a breath during an emotional part, then raises his hands to the prayer position during a break in the vocals with praise. Shaddix then mouths, "Ronnie" while giving two thumbs up, then mouths "Wow" before tapping his chest around his heart. You can watch the clip below.
Radke shared the video himself on Twitter, shouting out, "Love you guys" to Jacoby and Papa Roach in the process. Earlier this week, Radke shared that the song had been trending at No. 3 on the YouTube upon its release, so it's definitely a track that was moving the needle with the public.
The song sort of made its debut in Falling in Reverse's live show earlier this week as audio was played in between the songs "Just Like You" and "Watch the World Burn" during the band's Tuesday show (June 27) in Richmond, Virginia. But the official live performance debut has not taken place as of yet. Per Setlist.fm, Falling in Reverse did actually cover "Last Resort" during a 2018 performance at Download in Melbourne, Australia, but not the new reimagined version.
READ MORE: 20 Most Unexpected Rock + Metal Covers
Falling in Reverse are currently out on tour, with shows coming up in Hershey, Pennsylvania; Syracuse, New York; Gilford, New Hampshire and Baltimore, Maryland leading up to the July 4 holiday.
The 40 Best Cover Songs by 40 Rock Bands
More From Classic Rock 105.1