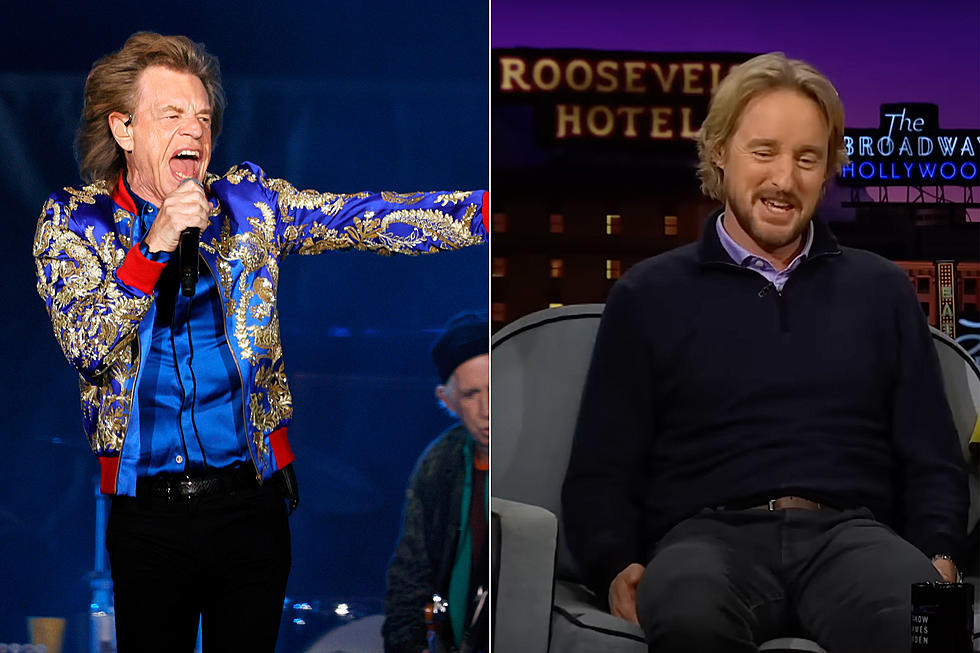 Actor Owen Wilson Reveals How He Had His Rolling Stones Lifetime Pass Revoked
Ethan Miller, Getty Images / YouTube: The Late Late Show With James Corden
There may be nothing cooler than receiving a lifetime all access pass to see your favorite band, but with privilege also comes great responsibility, and actor Owen Wilson revealed on The Late Late Show With James Corden how his lifetime pass to see the Rolling Stones got revoked after he tested the limits of what "all access" meant.
The subject came up as Corden was speaking with Wilson and fellow guest Jeff Goldblum about their rock star interactions. It was then that Wilson shared his sad tale, explaining the short-lived existence of his all-access Stones pass.
"I went to see the Rolling Stones in Argentina, and I was kind of friendly with some of the band, and then my friend was really good friends with Mick Jagger, and we got these special laminates, kind of All Access that were good for the rest of your life."
As Wilson revealed that the Rolling Stones were his first ever concert, he was thrilled to have gotten to the point in his life to have received such an honor. So, while trying out his pass for the first time, he decided to see how "all access" it was.
"I'm gonna walk over here and see if anybody stops me, and no one would stop me any place," Wilson revealed, then sharing that he found an area overlooking Mick Jagger on the concert stage.
"I'm kind of watching, and then all of a sudden he bolts during 'Jumping Jack Flash' and comes running down... and it turns out where I was was kind of part of the stage. I just sort of froze and, you know, tried to be inconspicuous and he kind of came down and then left," said the actor. "And then someone came running over, [screaming] 'Get out of here! Move! You're not supposed to be here!' And I was, 'You know, I didn't know! I'm so sorry!"
Wilson said he went to bed that night still thinking about it, calling it a "gnarly experience."
"Then I get a call the next morning, from Mick's security team, asking, 'Do you have that laminate?' 'Yes I still have it.' 'Okay, we're going to come over and pick it up.'"
READ MORE: Paul McCartney to Appear on New Rolling Stones Album
According to Wilson, he was dressed in a white T-shirt and white jeans and might have blended in to the stage had he worn darker colors, but ended up being fairly conspicuous when Jagger entered his area.
"I get it, you know, he has a show to do, he doesn't need some bozo kind of just cruising around, distracting him," said the actor.
The Rolling Stones are currently off the road, having spent 2022 touring. But you can see Wilson in the new film Paint, hitting theaters April 7.
Owen Wilson Talks About Having His Rolling Stones All-Access Pass Revoked on The Late Late Show With James Corden
25 Most Underrated Albums by Big Rock + Metal Bands
More From Classic Rock 105.1