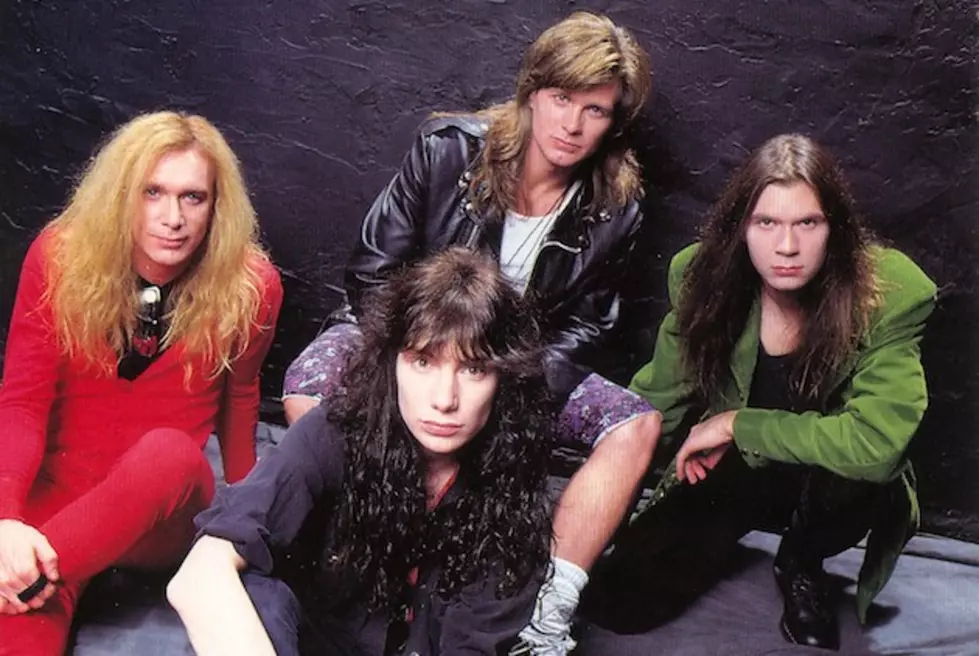 How Mr. Big Arrived Fully Formed on Their Self-Titled Debut
Atlantic Records
Mr. Big was already well on its way to becoming one of the most distinctive bands of the hard rock era, even before actually becoming Mr. Big. "The band sounded like Mr. Big immediately," guitarist Paul Gilbert told UCR. "Although it took us a while to find the name."
Once Gilbert, bassist Billy Sheehan, vocalist Eric Martin and drummer Pat Torpey agreed on the name Mr. Big – which they took from a Free song of the same name – they went about turning that instant chemistry into their self-titled debut, released on June 20, 1989. "I think we wrote most of the first album in about a week," Gilbert said. "I had never been in a band that could write songs so quickly – and have them be really good!"
Few groups, regardless of genre, could match the musical chops of Mr. Big, which began to come together when Sheehan and Gilbert met at the Musicians Institute. Sheehan is 13 years older than Gilbert, but the two hit it off during jamming sessions.
Sheehan, a veteran of Talas who played bass on David Lee Roth's first two studio albums, told the precocious Gilbert – already known as a guitar savant for his furious fret work with Racer X – that he was interested in working with Martin, then fronting his own self-titled band. Torpey, who didn't join Mr. Big until its first rehearsal, was an in-demand session and touring drummer who worked with acts ranging from the Knack to Belinda Carlisle.
It took just 40 seconds of the opener, "Addicted to That Rush," to introduce the quartet's unique sound, one that was impeccably layered together by producer Kevin Elson.
"OK, we're rolling," said somebody in a barely audible voice, followed by 10 taps of Torpey's drumsticks. Then came the dueling heavy sounds of Sheehan's two-finger tapping on the bass accompanied by Torpey's drumming. A few seconds later, Gilbert joined in, and by the time Martin began singing, a complex and singular formula had been born.
As it turned out, even the band's management was taken aback at the diversity of Mr. Big's talents. Mr. Big subtly took an edge off its sound not with synthesizers or overly sleek production but via the impressive harmonizing among all four members. Beatles covers became a staple of their live shows. "We all had a similar idea about what the band should be, and it was great that everybody could sing," Gilbert said. "I know we surprised our manager with our vocal harmonies."
Watch Mr. Big Perform 'Wind Me Up'
Most radio listeners wouldn't be introduced to Mr. Big's harmonies until late 1991, when the gentle "To Be With You" (the final track on the band's second record, Lean Into It) was released and surprisingly shot to No. 1. Two and a half years earlier, though, Mr. Big – perhaps aware of how one hit ballad could pigeonhole a band – steadfastly avoided taking the easy route to airplay. While the debut record had the requisite pair of ballads, neither "Had Enough" nor "Anything For You" were released as singles.
In addition, the band insisted on issuing "Addicted to That Rush" as the lead single instead of something more melodic such as "Wind Me Up." Atlantic Records complied, but warned such a choice would lead to flat album sales. "They even told us at the label, with the first single being a pretty heavy tune, that we shouldn't even expect to chart with it," Sheehan told the St. Louis Post-Dispatch in October 1989. Instead, "Addicted to That Rush" got plenty of airplay at rock radio, which allowed Mr. Big to establish itself as a steady seller during the summer and fall of 1989.
"When our record came out, they called us from the label and we asked, "What do we have on the charts?'" Sheehan told the Post-Dispatch. "And they said '75.' So I said 'Wow, 175? That's great! We're already in the Top 200 and we just came out.' And they tell me 'No, no, no, not 175. Seventy-five. With a bullet.'"
The album eventually peaked at No. 46 and was certified gold – impressive feats in the pre-SoundScan era for a hard rock record with no Top 40 single. For Gilbert, though, chart and sales figures were secondary to making music he enjoyed.
"All that stuff is kind of a different language to me," he said. "I mean, I remember 'To Be With You' reaching No. 1 in America and being excited about it. I just sort of watched and thought, 'Well, let's see what this is like.' But I didn't become a musician to think about charts. I became a musician to play music, so that's the most comfortable mindset for me. I like plugging in my guitar and playing the sounds that I hear in my head."
Gilbert left the band following 1996's Hey Man and was replaced by Richie Kotzen, with whom Mr. Big recorded two more records before breaking up in 2002. The original quartet then got back together for 2011's well-received What If and 2014's … The Stories We Could Tell. Sheehan and Kotzen later collaborated in the Winery Dogs, whose debut record went Top 10 in 2013.
"Eric, Billy, Pat and I have spent some amazing times together, and it's always enjoyable to remember what we've been through," Gilbert said. "We still sound pretty much like we did on that first day of rehearsal. Our tastes and abilities have expanded since those days, but we are still the same people at the core. ... It's a really unique combination, I think."
 
 
See Paul Gilbert Among Rock's Funniest Guitar Faces
More From Classic Rock 105.1