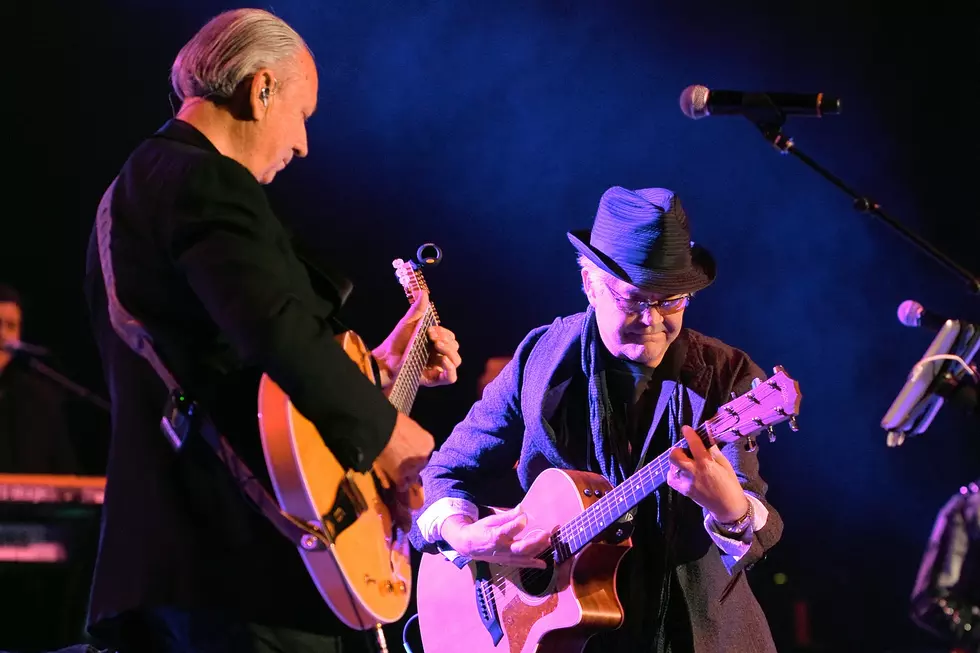 Monkees' Micky Dolenz and Mike Nesmith Announce First Duo Tour
Noel Vasquez, Getty Images
It's not an official reunion of the Monkees, but it's close. Mike Nesmith and Micky Dolenz will mount their first-ever tour as a duo, though the reasons for fellow surviving member Peter Tork's absence remain unclear.
The concerts, titled "The Monkees Present: The Mike and Micky Show," begin in June. A complete list of dates, cities and venues is below. Davy Jones, who rounded out the original foursome, died in 2012.
Tork said in a news release that work on a tribute album to Louisiana bluesman Lead Belly is keeping him off the road. Nesmith, however, hinted that something else was going on behind the scenes. "I'm afraid I would betray a confidence if I said any more than, 'This is not a right time for him,'" he told Rolling Stone. "He has his reasons. They are very private."
Dolenz and Nesmith are promising plenty of Monkees hits but also a deeper dive into album cuts and rarities. "It will be very different than a Monkees show," Nesmith said. "I mean, it'll be Monkees music, but there's no pretense there about Micky and I being the Monkees. We're not. We're the remnants."
Nesmith hasn't appeared with the Monkees since 2016, and hasn't toured with Dolenz and Tork since 2014. He didn't participate in the Monkees' celebrated mid-'80s reunion and played a limited role in the band's most recent studio album, 2016's Good Times! The two shows in Canada are Nesmith's first Monkees-related concerts since the band played there in 1969.
Micky Dolenz and Mike Nesmith, 'The Monkees Present: The Mike and Micky Show' 2018 Tour
6/1 - Chandler, AZ, Chandler Center for the Arts
6/2 - Los Angeles, CA, the Orpheum
6/3 - San Diego, CA, Humphrey's
6/5 - Anaheim, CA, the Grove
6/6 - Saratoga, CA, the Mountain Winery
6/8 - Stockton, CA, Bob Hope Theatre
6/9 - Stateline, NV, Harrah's Lake Tahoe
6/12 - Denver, CO, Paramount
6/14 - Chicago, IL, Copernicus Center
6/15 - Huber Heights, OH, Rose Music Center
6/16 - Cleveland, OH, Cain Park
6/18 - Toronto, ON, Sony Center
6/19 - Kitchener, ON, Centre In the Square
6/21 - Philadelphia, PA, Keswick Theatre
6/22 - New York, NY, Beacon Theatre
6/25 - Red Bank, NJ, Count Basie Theatre
More From Classic Rock 105.1