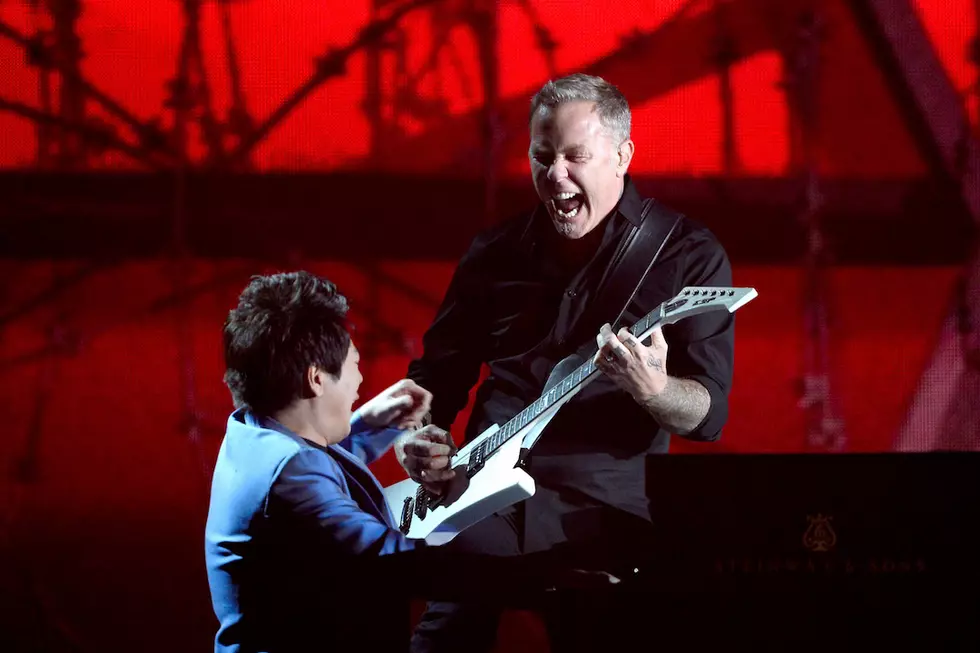 Metallica to Perform With Chinese Concert Pianist Lang Lang at Beijing Show
Kevork Djansezian, Getty Images
Those who watched the 56th Grammy Awards may recall Metallica sharing the stage with concert pianist Lang Lang for a special performance on the ...And Justice for All track "One." Well, history is set to repeat itself as the two forces will join together once again during Metallica's upcoming concert in Beijing, China.
"Three years ago we were honored to share the stage with world-renowned Chinese concert pianist Lang Lang at the Grammy Awards as we performed 'One' together," began the band in a statement found on the Metallica website. "It was one of the most creative, unique performances of our career and we're thrilled to announce that Lang Lang will join us again, this time in Beijing on Jan. 18, 2017 when we take over Le Sports Center for a sold-out stop on the first leg of the 'WorldWired' tour this year."
Metallica elaborated, "Having toured around the world himself, we're excited to collaborate with Lang Lang in his home country and are ready to kick off the new year with five shows in Asia... it's just the beginning of a full year of 'WorldWired,' so we'll see you out there!"
The band have a number of tour dates scheduled around the world and fans have been eagerly awaiting a full-blown tour routing, but it appears that may not happen. Frontman James Hetfield recently revealed that Metallica will only be playing around 50 shows this year, stating his body is unable to handle more extensive touring.
As the thrash legends continue to promote 2016's highest-selling hard rock / metal album, Hardwired... To Self-Destruct, they've been switching up the setlist and debuted "Halo on Fire" and "Now That We're Dead" two days ago (Jan. 11) in South Korea.
See Where Metallica Rank Among the Top 50 Hard Rock + Metal Live Acts of All Time
10 Greatest Metallica Riffs
More From Classic Rock 105.1