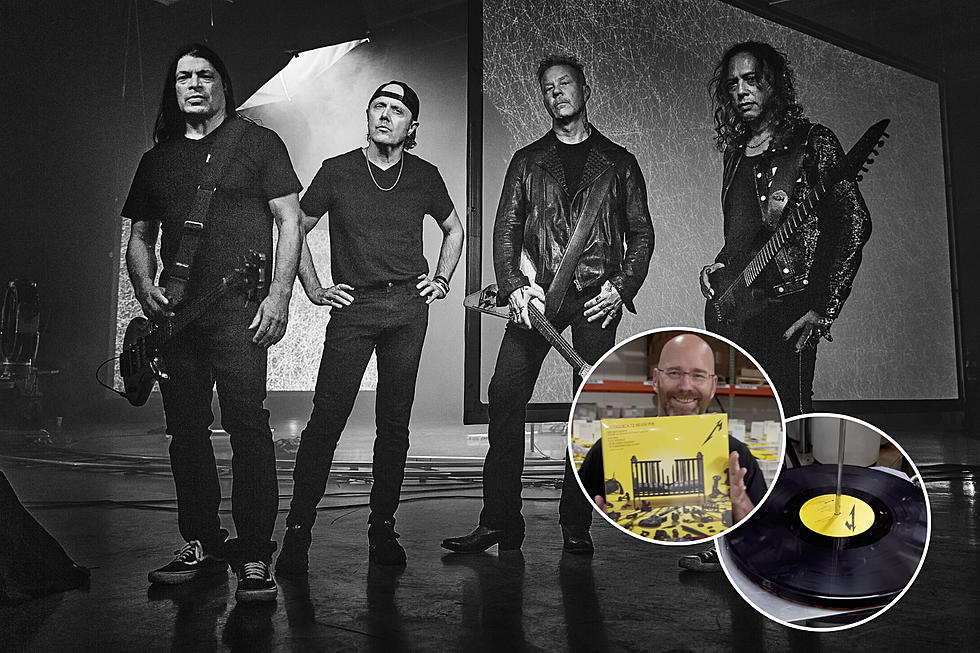 Watch One Lucky Metallica Fan Press His Own Copy of '72 Seasons' on Vinyl
Tim Saccenti / YouTube: Metallica
The day Metallica announced 72 Seasons and released "Lux Æterna" to an unsuspecting world, they put the new album up for pre-order in several different formats, including many different vinyl variants. One of those variants was an extremely limited-edition pressing, a yellow-and-black splatter double-LP that was only available to pre-order for 72 hours.
Needless to say, Metallica care about the vinyl experience for their fans.
Since then, they've released their anticipated Pro-Ject turntable, spun "Lux Æterna" and "Screaming Suicide" on vinyl to celebrate the launch of this year's Record Store Day list and they've teased fans with a video of James Hetfield opening the vinyl of 72 Seasons.
Oh, and they also acquired a majority interest in the vinyl pressing plant, Furnace Record Pressing. And in a once-in-a-lifetime contest, Metallica partnered with Furnace to give one lucky fan the chance to visit the pressing plant and watch 72 Seasons get created.
More than simply walking through the doors and getting a behind-the-scenes tour of Furnace, the winner, Peter Wilson, also got to press his own copy of the record and package it himself.
Metallica captured the experience on camera and you can watch the full video of Wilson's visit to Furnace below:
From trimming the flash on the vinyl to learning why records have to sit for 24 hours before they're moved because they're still warm and are physically changing, Wilson received a crash course in the making of vinyl records. Wilson's tour guide was Mark Reiter, Vice President of Manufacturing at Furnace, and he walked him through all the different steps in the pressing process.
READ MORE: 10 Things We Love About Metallica's New Album, 72 Seasons
"There's always Metallica on a press," Reiter told Wilson, who was wearing a concert T-shirt from Metallica's old-school show in Florida from last year. "We had a day last week when Metallica was on every single one of our machines."
Metallica have worked with Furnace since 2014 and as the video shows, all of the 72 Seasons vinyl variants have been or will be pressed, packaged and wrapped at their plant.
If that's not enough vinyl for you, Metallica have shared another sneak peek of the new record on vinyl; this time it's Rob Trujillo cracking open the smoky black variant, which is available for pre-order right now at Metallica.com. You can watch the video below.
Look: Metallica Just Made the Most Metal Looking Vinyl Turntable
Here's a look at Metallica's new $1599.00 turntable that's coming soon.
More From Classic Rock 105.1