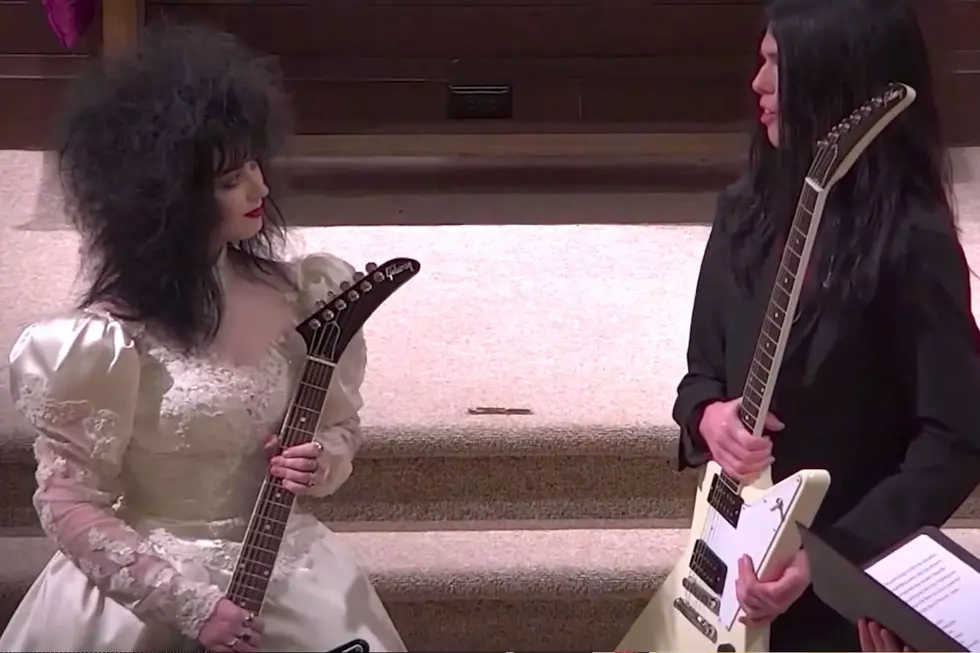 Metal Couple Exchange Guitars Instead of Rings at Their Wedding
YouTube: New York Post
Is it the "most heavy metal wedding ever"? That's what a "head-banging bride and groom" aimed for when they exchanged electric guitars instead of wedding rings at their nuptials, as the New York Post reported.
That's right! Last month, video creator Madi Danger and her husband, Jay Aspen, tied the knot in Idaho Falls, Idaho. But as a "less stressful and more personal" solution to ordinary "crappy" wedding bands, they say, the pair swapped Gibson Explorers with each other.
Watch the video down toward the bottom of this post.
"It was really fun because the guitars had been hidden for so long — like when the groom can't see the bride," Danger tells the Post of the couple's very metal ceremony. "Only a few people knew about it so some people were shocked and then they were excited about it."
The idea for the guitars came naturally to Madi and Jay after they were randomly discussing what new instruments they desired. Now that's a great idea for a metal couple!
"We were talking about what guitars we wanted and we were looking on Gibson's website at the Explorers," Danger explains. "I joked about us exchanging those at our wedding then we decided to do that instead."
She adds, "I really like Victorian-style rings, but they're hard to find and the ones we saw looked really cheap and awful. Jay didn't want to buy me a crappy ring and he doesn't like wearing rings anyway."
"Most Heavy Metal Wedding Ever": Bride + Groom Exchange Guitars, Not Rings
50 Best Rock + Metal Albums of 2022
In a year with thousands of new albums, here's the very best, presented in chronological order of release.
More From Classic Rock 105.1