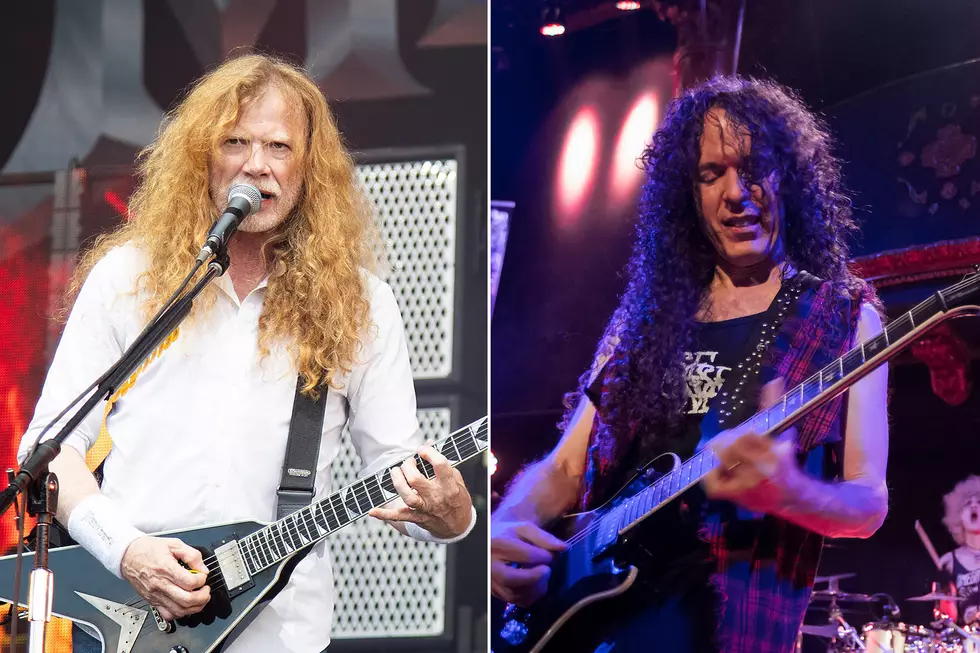 Will Marty Friedman Play with Megadeth Next Month? Probably.
Joseph Okpako, WireImage/Getty Images / Miikka Skaffari, Getty Images
It's been 23 years since Marty Friedman parted with Megadeth, and while both artists have done great things since then, many fans have been longing for a reunion. Fortunately, it looks like that'll be happening soon, as Friedman has suggested that he'll be joining the thrash legends on stage in Japan in late February.
Next month,  Megadeth will begin their 2023 tour in support of 2022's The Sick, The Dying... And The Dead! (which Loudwire named one of the 50 Best Rock + Metal Albums of 2022). While they'll eventually make it to Knotfest Australia and Blue Ridge Rock Festival, their first show will be at Nippon Budokan in Tokyo on Feb. 27. It's there that Friedman is set to appear.
You see, Friedman appeared on the Jan. 18 episode of Japanese radio program Next Guitar Hero Is . . ., where he confirmed his involvement. As transcribed by Megadeth fan site Megadeth of Destruction, Friedman revealed:
And you might be aware that Megadeth, the band I used to play in, will play live at Budokan. Believe it or not, I'm gonna jam with them! Well, I can't tell you any details but it's gonna be a miraculously special night for sure. How do I put this? I think the fans will also enjoy it as much as I [will]. From behind the scenes, I've always rooted for them just like the guys in Megadeth have cheered for my career in Japan. So, this will really be an awesome reunion and my heart is really full of overflowing love. Anyway, I'm really looking forward to it.
As longtime Megadeth fans know, Friedman replaced Jeff Young in early 1990; between then and his departure in 2000, he played on all releases from 1990's pivotal Rust in Peace to 1999's maligned Risk.
Back in August 2022, Mustaine spoke with Guitar World about Friedman's decision to leave following a dispute over Friedman's "Breadline" guitar solo. Mustaine explained:
I've always believed we should give the guitar player an opportunity to do a solo that he feels is right for the song. If someone plays something that doesn't work for the part, then I may make some suggestions. If it's still not happening, I might say, "Okay, this is what I want you to play here." If a lead totally doesn't work, then I'm going to do the part myself. That's what happened [on] "Breadline," and Marty Friedman quit over [it].

I said [to management], "Well, you have three choices. Either you mute the solo completely, have Marty come back and redo it, or I do it." And then I said, "If I do it, you'd better tell him." Well, I redid it and nobody told Marty. So, we're in there listening to the finished album and the solo comes on. It's my solo, not Marty's. . . . I looked at him as tears ran down his face and I knew right away that nobody had told him.

Having been a partner with Marty for so many years, as much of an enigma as he was, I could tell he was really upset and he had had enough. What happened to Marty was definitely not okay. Our management was supposed to tell him and, for whatever reason, they didn't do it. I think that was a terrible thing to do to him.
Blabbermouth confirmed that Friedman and Mustaine have "seemingly been on good terms . . . in recent years" despite Friedman turning down a chance to take part in 2015's Rust in Peace line-up reunion.
You can listen to the excerpt from Friedman's Next Guitar Hero Is . . . interview below. Also, let us know if you're psyched about the potential team-up!
Marty Friedman Confirms February 2023 Tokyo Appearance with Megadeth 

Your Guide to Rock + Metal Bands Touring in 2023
Check out over 150 rock and metal bands' touring schedules for 2023.
More From Classic Rock 105.1