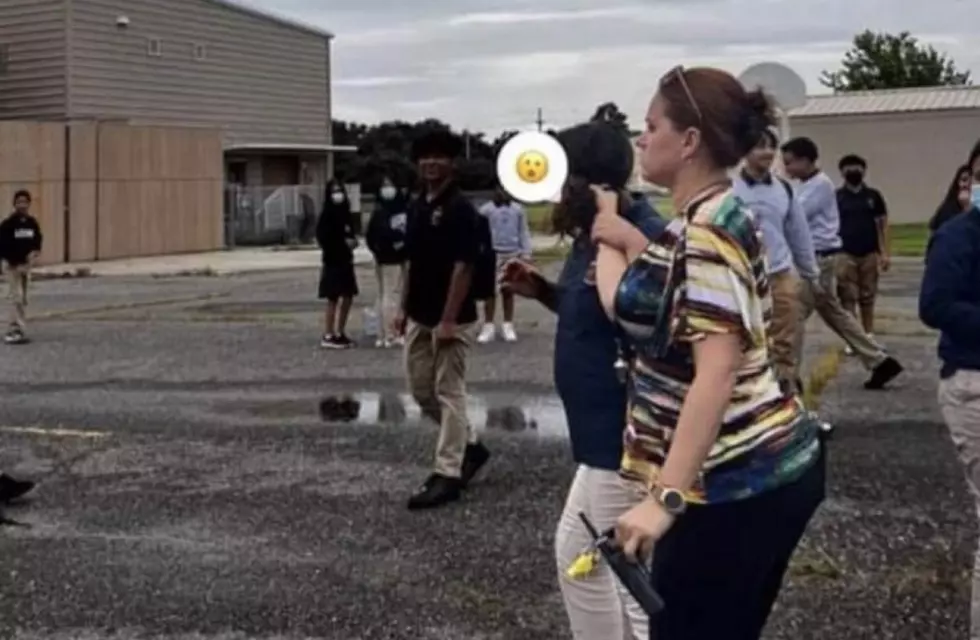 Louisiana Middle School Administrator on Leave After Photo Shows Her Grabbing Student By Hair
Facebook, WVUE
A Louisiana middle school administrator is on leave after a mother posted a photo to social media showing an adult grabbing her daughter by the hair.
According to the Jefferson Parish Public School System, an administrator at John Q. Adams Middle School is on leave after "an incident with a student on Tuesday (Aug. 23)."
WVUE reported on the mother's viral post but couldn't confirm the identity of the adult in the photo due to it being a "personal matter" at the school; this according to Jefferson Parish Schools Chief of Staff Gabrielle Misfeldt.
An investigation is currently ongoing and it is possible that the administrator could face disciplinary action depending on its outcome.
We are aware of an incident that occurred on August
23 on the campus of Adams Middle School between
an administrator and a student. In Jefferson Parish
Schools, we are committed to providing a safe and
nurturing environment in which to learn. The
administrator has been placed on leave pending an
investigation. Disciplinary measures will be taken as
deemed appropriate upon conclusion of the
investigation.
The WVUE report also stated that the administrator allegedly "came over and grabbed her (the female student) by her hair" while the girl was in an argument with another student.
Reactions on social media were mixed. Some who commented publically on the WVUE Facebook page blamed the parent and the student for the teacher having to grab her by the hair.
Others felt that, regardless of the situation, the administrator should know better than to put her hands on the student.
There were also commenters who said they needed more information before coming to any type of conclusion on the situation.
The girl's mother declined an on-camera interview.
See the full story here via WVUE.
KEEP READING: Here are the most popular baby names in every state
Using March 2019 data from the
Social Security Administration
,
Stacker
compiled a list of the most popular names in each of the 50 states and Washington D.C., according to their 2018 SSA rankings. The top five boy names and top five girl names are listed for each state, as well as the number of babies born in 2018 with that name. Historically common names like Michael only made the top five in three states, while the less common name Harper ranks in the top five for 22 states.
Curious what names are trending in your home state? Keep reading to see if your name made the top five -- or to find inspiration for naming your baby.
More From Classic Rock 105.1