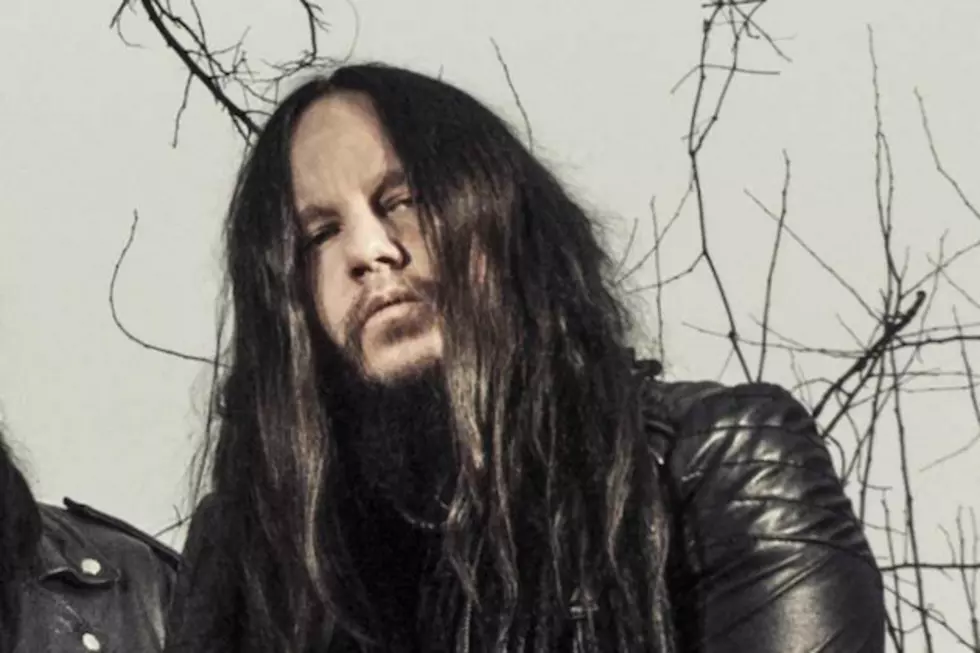 Joey Jordison on Original Diagnosis: 'Doctors Said I Might Not Be Able to Walk Again'
Roadrunner Records
Ever since former Slipknot drummer Joey Jordison revealed he had been struggling with transverse myelitis, a story which was kept surprisingly quiet began to unfold. In a new piece of Jordison's account, the drummer explains to Metal Hammer that he was originally diagnosed with a form of leg paralysis and he was told by doctors there was a chance he'd never walk again.
More and more essential tidbits from Jordison's condition and standing in Slipknot are coming out as new excerpts form Metal Hammer are released. It features the exclusive interview with Jordison where he discussed being let go from Slipknot via email, the band's apparent misunderstanding that Jordison was on drugs and how the drummer would love to have a face-to-face meeting with his longtime bandmates if a reunion were to be discussed.
This latest revelation is extremely unnerving and it dates back to August 2012 — almost a year and a half before he was let go from Slipknot. "On August 21, 2012, he was admitted to Mercy West hospital in Des Moines, diagnosed with some form of leg paralysis but unaware of exactly how or why this was happening to him. Ten days later, he was transferred to the neurological unit at University of Iowa Hospital in Iowa City, understandably terrified and extremely confused about his physical deterioration. 'It was f—ing bad, dude,' he recalls.
"The doctors said I might not be able to walk again," Jordison reveals. "Today, I can almost run, but back then I couldn't even stand up. I was bed-ridden. If I wanted to turn over in bed, I had to move my legs with my hands. I was in and out of the hospital for months. Some beautiful people have helped me out and got me back stronger and taught me how to walk again, but at that moment my whole life was screwed, man. Acute transverse myelitis is a f—ed-up disease and a lot of people don't recover from it and they're paralyzed forever." [via The PRP]
Jordison would go on to wear leg braces after being released from the hospital, beginning an exhausting regiment of physical rehab which has gotten him back behind the drum kit again.
For Jordison's full interview, grab the latest issue of Metal Hammer.
11 Unforgettable Joey Jordison Slipknot Moments
Top 50 Hard Rock + Metal Drummers of All Time
More From Classic Rock 105.1