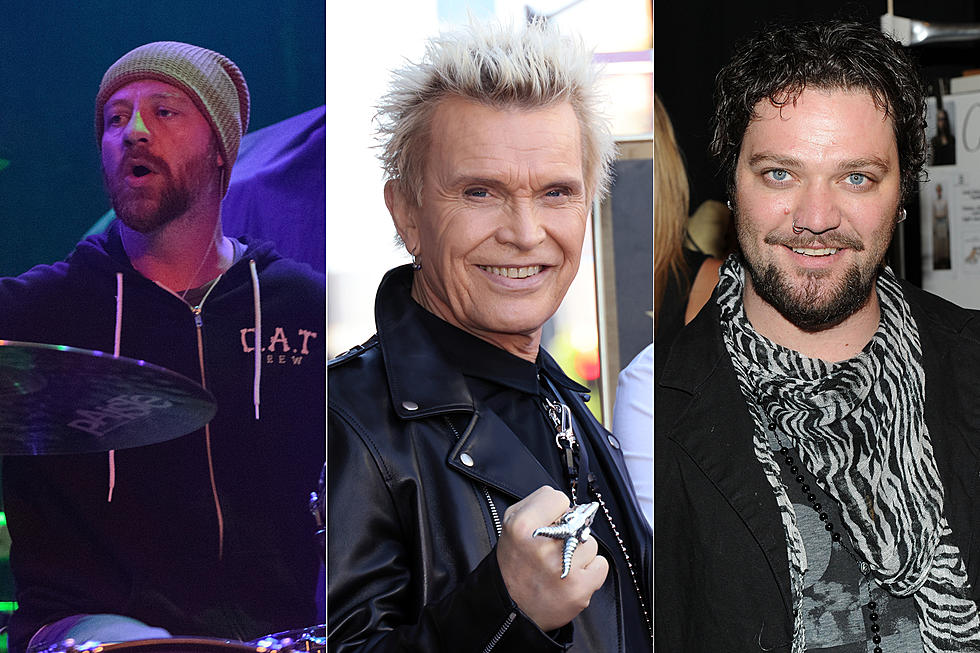 Jess Margera Reveals Bam Margera Smashed Billy Idol Guitar During 'Psychotic Episode,' Idol Offers to Replace It
Daniel Boczarski / David Livingston / Jason Kempin, Getty Images
Former Jackass star Bam Margera's public battles with sobriety have been well documented, and most recently Margera turned himself into the authorities after threatening his brother, musician Jess Margera, and fleeing from his home. Jess Margera has been active on Twitter over the past 24 hours, calling out those aiding Bam's actions and revealing that Bam recently trashed a treasured keepsake during what Jess called "a psychotic episode."
According to Jess, Bam smashed a Billy Idol Martin acoustic guitar during a particular episode, something that Jess called "unforgivable." "Of all the guitars to smash while having a psychotic episode, bam chose the Martin acoustic we got from @BillyIdol Unforgivable," wrote the musician.
One of the first people to take note of the tweet was Billy Idol himself, who graciously offered some words of encouragement during this difficult period for the Margera family. "@jessmargera, That is a shame but we can replace it … but Bam, we need him well," said Idol in response to Jess' initial tweet.
READ MORE: When Guitar Smashing Goes Wrong
Fans were quick to ask if it was the guitar given during the Viva La Bam episode with Billy Idol that was given to the Margera boys' mother on her birthday. Others on Twitter called out Jess for even bringing attention to the incident, noting that it wouldn't necessarily help Bam's current state.
As for Billy Idol, the musician is currently on tour, while recently playing the first-ever concert at the Hoover Dam along the Colorado and Nevada border. The concert was taped for a concert film release later this year. As for his current run of dates, you can get your tickets here.
If you or someone you know is struggling with mental health, help is available through the Substance Abuse and Mental Health Services Administration website. To speak to someone on the phone, dial 1-800-622-HELP (1-800-622-4357) or send a text message to 1-800-487-4889.
The 16 Most Expensive Guitars of All Time
More From Classic Rock 105.1