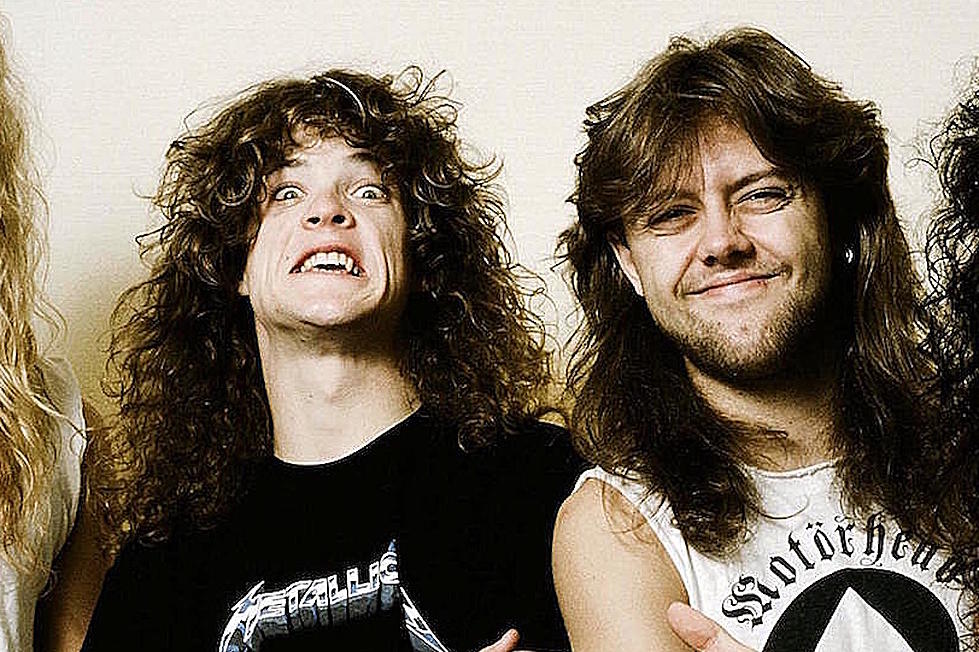 Jason Newsted Defends Metallica's Lars Ulrich – 'He's Way Ahead of You in Most Things'
Koh Hasebe/Shinko Music, Getty Images
Metallica drummer Lars Ulrich is one of the most criticized musicians in metal and his former bandmate Jason Newsted is not tolerating any of the smack talk. In an interview on the Let There Be Talk podcast with comedian Dean Delray, Newsted outlines what makes Ulrich so great and tells all the haters, "He's way ahead of you in most things, I promise you that."
The ex-Metallica bassist has been candid about both his time in the band and his relationships with his old bandmates over the years. He's previously admitted he thought the band's huge hit "Enter Sandman" was a bit "corny" and also acknowledged that Ulrich is an unsung hero when it comes to the band's best-selling record, Metallica, more commonly referred to as 'The Black Album.'
Chatting with Dean Delray, Ulrich's drumming came up where the host noted how the Metallica co-founder's skills are consistently called into question while lesser-known musicians reap heaps of accolades for their own skills.
"Anybody that says that is a fucking idiot. They have no idea what they're talking about," Newsted fires back (transcribed by Blabbermouth), speaking about critical assessments of Ulrich.
He continues, "The depth of this guy, his foresight, his comprehension of what the hell was going on when he was 21, 22, 23. Seriously? So if he can't play the same fill as Dave Lombardo or whoever the fuck you pick for today, so what?. Look at the scoreboard, motherfucker. Do not talk shit about that guy. He's way ahead of you in most things, I promise you that — I promise you."
READ MORE: Gojira's Mario Duplantier Defends Lars Ulrich - 'We Need to Bring Some Justice for Him'
Explaining what ways Ulrich was ahead of the curve, the bassist, who recently reactivated his metal band for a one-off show, adds, "If we wouldn't have had him and his ability to anticipate, to predict, to know geography, to understand what country and what city and what did what at what time and all this stuff, no way Metallica would be what they were. No way! So you need to get ahold of yourselves because there's way more to it than just being able to hit a snare drum."
Newsted goes on to mention how much of a musician's life is dominated by the demands of the job, which is a lot more than learning your instrument, showing up and playing the gig with chunks of time now being occupied by music videos shoots, interviews, meetings, lawyers and many other things and whatever else is could be devoted to family.
The bassist challenges naysayers who think they can do what Ulrich does, stating, "So if anybody wants to talk about, 'Oh, yeah, I got this. I could do that. Could you? Could you, really? I don't think so, man."
Newsted is far from the first to voice support for Ulrich's drumming, but unlike Mastodon's Brann Dailor, Mike Portnoy and Gojira's Mario Duplantier, he has the unique perspective of having been in a band with Ulrich for nearly 15 years.
Catch Ulrich live onstage this year and next on Metallica's world tour in support of their new album, 72 Seasons. See all upcoming dates at this location and grab your tickets here.
Jason Newsted on Let There Be Talk With Dean Delray
10 Rock + Metal Bands Whose Drummer Is the Only Original Member Left
The following bands no longer have any original members left except for their drummer.
Top 66 Hard Rock + Metal Drummers of All Time
More From Classic Rock 105.1