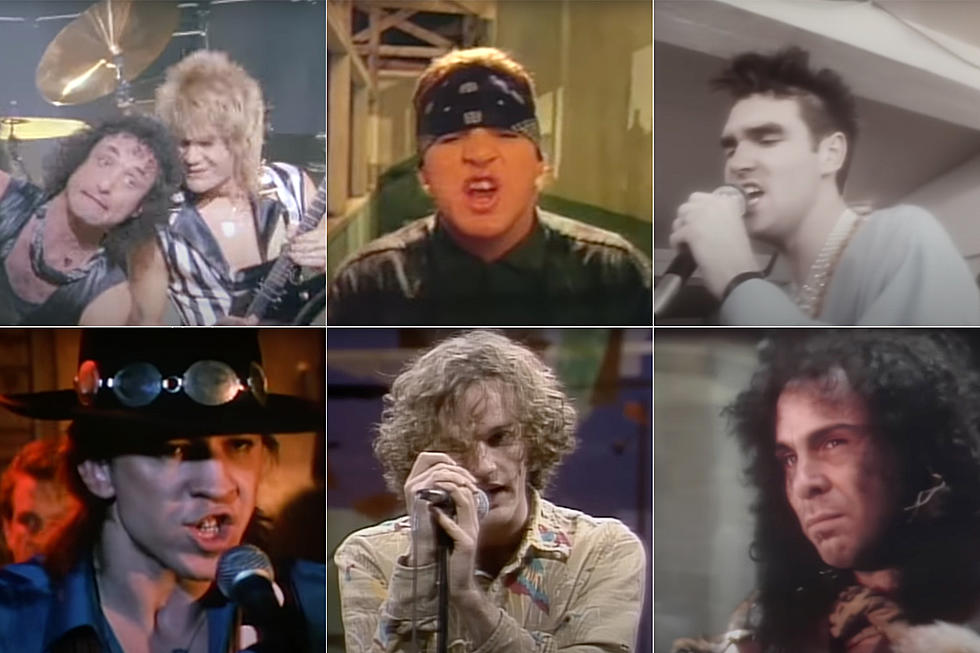 Whatever Happened to 1983's Breakout Rock + Metal Bands?
YouTube: QuietRiotVEVO / YouTube: BlankTV / YouTube: The Smiths / YouTube: Stevie Ray Vaughan / YouTube: Letterman / YouTube: Rhino
The year was 1983. We were saying goodbye to TV's M*A*S*H* and the last Star Wars installment (or so we thought) with Return of the Jedi. But while we were saying goodbye to two classics, in music things were just getting started for a new batch of rock and metal acts. In this feature, we take a look back at 1983 and see what happened to the breakout rock and metal acts of the year.
It was a year in which Michael Jackson had everyone trying to moonwalk, and many kids were donning Ray-Ban sunglasses and Swatch watches, but you likely had your boombox rocking out some bodacious tunes from Quiet Riot and Dio! College kids were starting to embrace R.E.M., The Smiths and Violent Femmes and a new guitar hero was emerging in Stevie Ray Vaughan.
So let's trek back to the '80s and revisit what happened to the Class of '83. Trust us, it won't be as scary as seeing KISS without makeup for the first time.
The Alarm
What Happened With The Alarm in 1983?
Bigger things would come, but Welsh rockers The Alarm made their first imprint in 1983 with a self-titled EP and the release of their first major single, "Sixty-Eight Guns." The song hit No. 17 on the U.K. Singles Chart, cracked the U.S. Mainstream Rock Top 40 at No. 39 and helped pave the way for their 1984 debut album release, Declaration.
The Alarm, "Sixty-Eight Guns"
What Happened With The Alarm After?
Though The Alarm didn't have the Top 40 success of some of their peers, they enjoyed a solid and steady run with modern rock and college radio listeners throughout the '80s. Their 1985 follow-up Strength was their highest-charting record, hitting No. 39 on the Billboard 200 Album Chart. "Strength," "Spirit of '76," "Rain in the Summertime," "Rescue Me," "Presence of Love," "Sold Me Down the River," "Devolution Working Man Blues," "The Road" and "Raw" kept the band on the airwaves into the early '90s. After 1991's Raw album, singer Mike Peters announced plans for a solo career.
In 2002, Peters returned to recording under The Alarm name though distinguishing it from the '80s and '90s version dubbing it The Alarm MM++. He's since released 15 albums under that moniker, with 2023's Forwards being their latest offering.
In 2005, Peters was diagnosed with chronic lymphocytic leukemia. He started the Love Hope Strength cancer foundation, and in 2007 he joined with 38 musicians and cancer survivors to raise money for the organization by hiking to base camp at Mount Everest over 14 days and then performing a concert there.
Big Country
What Happened With Big Country in 1983?
After forming in 1981, Scottish rock outfit Big Country made their biggest mark on the music world with 1983's The Crossing album. The song "Harvest Home" made a dent in the U.K. in late 1982, but the bulk of their success came in 1983 with "In a Big Country" that rose to No. 17 on the Billboard Hot 100 and the song "Fields of Fire," which caught a second look after the breakout success of "In a Big Country." The album peaked at No. 18 in the U.S., going on to be gold certified.
Big Country, "In a Big Country"
What Happened With Big Country After?
Big Country would release eight more studio albums after The Crossing, but never reached the heights of their debut effort. While riding high off their debut, they were invited to join the all-star cast of the "Do They Know It's Christmas" benefit single under the Band-Aid moniker. 1986's The Seer album yielded a radio hit with "Look Away," while 1988's Peace in Our Time album yielded the alt-rock hit "King of Emotion" and they saw a surprise resurgence in 1993 with "The One I Love."
The '90s were tougher for the band, who lost their label deal, and aside from 1993's success with "The One I Love," they fell off the radio charts. After 1999's Driving to Damascus, singer Stuart Adamson left the band. The singer returned in 2000 for a farewell tour. Sadly, in November 2001, Adamson went missing. He was found dead in December 2001 in a Hawaii hotel room.
In 2007, with bassist Tony Butler taking on lead vocals, the group reunited for a U.K. tour and Twenty Five Live release. The years since have seen a shifting lineup with guitarist Bruce Watson and drummer Mark Brzezicki being the lone holdovers from the original group.
Dio
What Happened With Dio in 1983?
Ronnie James Dio was already a household name in metal by the time 1983 rolled around, but with Dio and drummer Vinny Appice having a falling out with Black Sabbath, they decided to branch off and form a new band. Pulling in guitarist Vivian Campbell and bassist Jimmy Bain, they formed Dio and issued one of 1983's most anticipated metal albums, Holy Diver.
It proved to be one of the year's most successful metal offerings, led by the title track as well as the songs "Rainbow in the Dark," "Stand Up and Shout," "Don't Talk to Strangers" and "Straight Through the Heart." The album peaked at No. 56, but has been certified double-platinum in the U.S.
Dio, "Holy Diver"
What Happened With Dio After?
Dio would remain a prominent presence in metal through the '80s with The Last in Line, Sacred Heart and Dream Evil all being signature Dio albums. The band would issue 10 studio albums in total, with 2004's Master of the Moon being the last. Songs such as "The Last in Line," "Rock 'n' Roll Children," "Mystery," "Hungry for Heaven" and "I Could Have Been a Dreamer" kept Dio on the airwaves through the '80s. They would also take part in the metal benefit song "Stars" under the moniker Hear 'n Aid.
The '90s were a little more uneven with Dio leaving for a reunion with Black Sabbath for a period, multiple lineup changes and a shifting focus away from their fantasy-themed songs. The 2000s saw a resurgence with the Magica album, but also a hiatus as Dio and Appice rejoined Sabbath's Geezer Butler and Tony Iommi under the Heaven and Hell moniker.
In 2009, it was revealed that Ronnie James Dio had been diagnosed with stomach cancer and had been undergoing treatment. On May 16, 2010, Dio died at the age of 67. In the aftermath of Dio's death, several alumni of Dio's lineups have toured under the name Dio Disciples, while another offshoot of Dio alumni continued as the band Last In Line.
READ MORE: Whatever Happened to the Breakout Rock + Metal Artists of 1993?
Icicle Works
What Happened With Icicle Works in 1983?
After a 1981 EP, English alt-rock act Icicle Works were primed for the big breakout and it came in 1983 with the single "Birds Fly (Whisper to a Scream)." (or "Whisper to a Scream (Birds Fly)" as it was released in the U.S.). The tribal sounding song cracked the Billboard Top 40 at No. 37 and rose to No. 18 on the Billboard Mainstream Rock Chart.
Icicle Works, "Birds Fly (Whisper to a Scream)"
What Happened With Icicle Works After?
"Birds Fly (Whisper to a Scream)" paved the way for the release of 1984's self-titled debut album. It also featured the single "Love Is a Wonderful Colour," which rose to No. 15 in the U.K., but failed to chart stateside.
The band would release four more studio albums after their debut, but never reached the heights of their breakout single and album. Only the song "High Time" off the Blind album garnered any radio traction in the U.S.
Signs of fracture started in the late '80s with both drummer Chris Sharrock and bassist Chris Layne exiting in 1988. Sharrock would later drum for The La's, Oasis, Beady Eye and most recently Noel Gallagher's High Flying Birds. After a split with their label and a shifting of band members, singer Ian McNabb launched his solo career in 1991 after the group broke up.
In 2006, McNabb reactivated Icicle Works. The years since have seen sporadic touring under the band name, while the singer has also continued his solo career.
Quiet Riot
What Happened With Quiet Riot in 1983?
Quiet Riot formed in Los Angeles in 1973, but it was a decade before their big break happened. In fact, they actually split up for a period in 1980 after founding guitarist Randy Rhoads left to join Ozzy Osbourne's band a few months prior. But in 1982, singer Kevin DuBrow received the green light from Rhoads to revive the band name with his new group of players.
Landing a deal with CBS Records, they recorded and released Metal Health and the success they'd long wished for finally came through. Buoyed by their fist-pumping cover of Slade's "Cum On Feel the Noize," Quiet Riot had a hit on their hands.
In November 1983, Quiet Riot became the first American metal act to have a Top 5 hit and a No. 1 album in the same week. They were also the first American metal band to hit No. 1 on the Billboard 200 Album chart. They would go on to score another hit with the album's title track, "Bang Your Head (Metal Health)" later that year, carrying them over into 1984. The songs "Slick Black Cadillac" and "Don't Wanna Let You Go" also received radio airplay.
Quiet Riot, "Cum On Feel the Noize"
What Happened With Quiet Riot After?
While Metal Health was a smash, the band never quite replicated that moment in time. 1984's Condition Critical debuted at No. 15 and went on to be platinum certified, but only mustered up another Slade cover, "Mama Weer All Crazee Now" as the lone charting single.
By the time 1986's QR III arrived, radio had mostly moved on to other heavy bands as their rock radio favorites and they never charted with another song. That didn't stop the band from releasing records, as 14 studio albums have been issued so far.
In 1987, tensions arose with singer Kevin DuBrow's combative personality and the group relieved him of his duties with the band. Lineup changes further complicated things, with DuBrow eventually fighting to legally reclaim the band's name. By 1993, tensions had soothed and several of the Quiet Riot alumni had rejoined the singer in the group.
The band split in 2003, but reformed again a year later. Further lineup changes occurred over the next several years, with DuBrow remaining as the singer until his death in 2007.
Drummer Frankie Banali, with the blessings of DuBrow's family, then took claim of the band, starting up a revival in 2010. The Banali years had a revolving door of vocalists including Jizzy Pearl, Seann Nichols and James Durbin all handling duties at different times. In 2019, Banali was diagnosed with Stage 4 pancreatic cancer. He died on Aug. 20, 2020.
Honoring the wishes of Banali to keep the band going, they currently feature a lineup of Jizzy Pearl, Rudy Sarzo, Alex Grossi and Johnny Kelly.
R.E.M.
What Happened With R.E.M. in 1983?
Having toiled around Athens, Georgia since 1980 and independently releasing the single "Radio Free Europe" in 1981 and the Chronic Town EP in 1982, R.E.M.s big breakthrough came in 1983 with the release of their debut album, Murmur through I.R.S. Records.
"Radio Free Europe" was reissued as a single in 1983, making an impact with college rock radio and climbing to No. 25 on the Mainstream Rock chart. The track also cracked the Billboard Hot 100, peaking at No. 78. The band followed with a second single, "Talk About the Passion."
By the end of the year, the album was almost universally praised as one of 1983's best critically reviewed records, including a nod from Rolling Stone that proclaimed it the Best Album of the Year over Michael Jackson's Thriller, The Police's Synchronicity and U2's War.
R.E.M., "Radio Free Europe"
What Happened With R.E.M. After?
Though predominantly a college rock favorite in the early days, the sky was the limit for these future Rock and Roll Hall of Famers. Reckoning, Fables of the Reconstruction and Life's Rich Pageant kept them hovering as a buzz band, until 1987's Document gave them their commercial breakthrough with "The One I Love" becoming their first Top 10 single.
1988's Green spawned the single "Stand" (as well as "Orange Crush" and "Pop Song '89"), but it was 1991's Out of Time that earned them widespread recognition, winning the Grammy for Best Alternative Album and bolstered by the double-Grammy winning single "Losing My Religion."
1992's Automatic for the People, 1994's Monster and 1996's New Adventures in Hi-Fi saw the band at their commercial heights, while their decline started with 1998's Up. Coincidentally, the decline coincided with the exit of drummer Bill Berry. The musician suffered a brain aneurysm in 1995, and by 1997 he made the decision to retire. The group continued as a three-piece from that point forward.
The 2000s saw a steady drop in popularity, with the band eventually deciding after 2011's Collapse Into Now to call it a career.
The Smiths
What Happened With The Smiths in 1983?
After forming in Manchester in 1982, the four-piece outfit The Smiths made their initial imprint on the music scene the following year. Hooking up with Rough Trade Records, the band issued their debut single "Hand in Glove," which was enough to garner some notice in their native U.K.
That was soon followed later that year by "This Charming Man," which would become their first charting single, hitting No. 25 in the U.K. and No. 1 on the U.K. Indie Singles Chart. The song would later be included on the U.S. edition of their self-titled 1984 debut album.
The Smiths, "This Charming Man"
What Happened With The Smiths After?
The Smiths would become one of the most popular college radio bands of the '80s. Singer Morrissey, guitarist Johnny Marr, bassist Andy Rourke and drummer Mike Joyce would all become lauded musicians.
Four albums would arrive in a four year period — 1984's The Smiths, 1985's Meat Is Murder, 1986's The Queen Is Dead and 1987's Strangeways, Here We Come. They would yield such standout songs as "What Difference Does It Make?," "Heaven Knows I'm Miserable Now," "How Soon Is Now," "Bigmouth Strikes Again," "Girlfriend in a Coma" and "Stop Me If You Think You've Heard This One Before."
Despite the success, behind the scenes there were tensions rising. Johnny Marr took a break in June 1987, citing exhaustion, and a month later he left the group over a disagreement caused by an article. While the band tried out a replacement, by September 1987 they had split.
Behind the scenes, the group was also warring over royalties, with Morrissey and Marr each receiving 40 percent, leaving 10 percent each for Joyce and Rourke, something that in 1989 led to a court battle and continued to be an issue with the band members over the next couple of decades.
There were no reunions for The Smiths, and in 2023 Rourke died at the age of 59 from pancreatic cancer.
Suicidal Tendencies
What Happened With Suicidal Tendencies in 1983?
After forming in Venice, California in 1980, the crossover thrash outfit Suicidal Tendencies released their self-titled debut album in 1983. The set blended the growing thrash metal sound with elements of skate punk, hardcore and funk for an interesting fusion of sound.
Though mostly viewed as an underground offering, Suicidal Tendencies found unexpected success when MTV started playing the song "Institutionalized" off the album.
Suicidal Tendenices, "Institutionalized"
What Happened With Suicidal Tendencies After?
The lineup has changed frequently (singer Mike Muir remains the lone constant), but the band has put up an impressive 14 studio albums since their 1983 debut.
The group is considered one of the influential pioneers of crossover thrash, and they count both Robert and Tye Trujillo, Dave Lombardo, Thomas Pridgen, Ra Diaz, Brooks Wackerman, Jimmy DeGrasso and Ben Weinman amongst those who've held down spots at different times in the band.
Never a big radio band, the group did score airplay for the songs "Nobody Hears," "I Wasn't Meant to Feel This" and "I'll Hate You Better" back in the '90s.
The group briefly folded in 1995, but reunited a year later. They also went silent again in 2001, and remained mostly inactive on the recording front through the decade until their 2010 return. But they've remained active ever since.
Stevie Ray Vaughan
What Happened With Stevie Ray Vaughan in 1983?
Making a name for himself in the Austin music scene in the late '70s, Stevie Ray Vaughan started to garner attention on the festival circuit in the early '80s. A 1982 appearance at the Montreaux Jazz Festival caught the attention of David Bowie, who had him record the guitar part for Bowie's 1983 hits "Let's Dance," "China Girl" and "Modern Love." Producer John Hammond then put him in contact with Epic, who signed Vaughan and his rhythm section Double Trouble for their 1983 debut album, Texas Flood.
The album helped establish Vaughan as one of the '80s truly great guitar players, with the songs "Love Struck Baby" and "Pride and Joy" becoming his first two singles. The album arrived to critical praise and topped out at No. 38 on the Billboard 200 Album Chart.
Stevie Ray Vaughan and Double Trouble, "Love Struck Baby"
What Happened With Stevie Ray Vaughan After?
Vaughan's star just continued to rise. 1984's Couldn't Stand the Weather featured a blistering version of Jimi Hendrix's "Voodoo Child (Slight Return)," "Cold Shot" and the original title track. He continued to thrive through the decade with the Soul to Soul and In Step. Then, in 1990, he paired with his brother, Jimmy Vaughan of The Fabulous Thunderbirds, on the Family Style album, featuring the song "Tick Tock."
Vaughan was widely considered one of rock music's greatest guitarists, putting his emphasis on blues related rock. Sadly, on Aug. 27, 1990, Vaughan was killed in a helicopter crash after traveling from a show in East Troy, Wisconsin. He was 35.
After his death, The Sky Is Crying compilation album was released combining 10 previously unreleased tracks from the previous decade. It was Vaughan's highest charting album, hitting No. 10 on the Billboard 200 Album Chart. The album's cover of Jimi Hendrix's "Little Wing" received the Best Rock Instrumental Performance Grammy in 1993.
Violent Femmes
What Happened With Violent Femmes in 1983?
Formed in 1981, the Violent Femmes caught their first big break when The Pretenders' James Honeyman-Scott spotted them busking outside the Milwaukee theater where his band was playing and invited them to play an acoustic set that night. By 1982, the group was recording their self-titled debut album, which would arrive a year later.
The record was described as a bit of folk-punk, a mostly acoustic, bass-heavy effort with minimal production and plenty of attitude. It was one of the year's more well-reviewed album, featuring such standouts as "Kiss Off," "Add It Up," "Blister in the Sun" and "Gone Daddy Gone." It's been included in the book "1001 Albums You Must Hear Before You Die."
Violent Femmes, "Blister in the Sun"
What Happened With Violent Femmes After?
It's been a bit of a mixed bag for Violent Femmes after the breakout success of their debut album. The 1984's Hallowed Ground and 1986's The Blind Leading the Naked were largely overlooked and leaned more country influenced. After briefly disbanding, they reunited for 1988's 3, which had a more stripped back sound.
They saw a bit of a resurgence with 1991's Why Do Birds Sing? and the charting single "American Music." 1994's New Times yielded another alt-rock hit in "Breakin' Up." But that's the extent of their radio airplay.
They've issued 10 albums total, but a mid-2000s disagreement over the licensing of "Blister in the Sun" for commercial use caused a 2009 disbandment while legal matters were worked out. By 2013, they reunited and while the lineup has shifted over time, they still remain active with Gordon Gano and Brian Ritchie remaining the band constants.
There you have it - 1983, a year that brought interesting new metal, rock and alternative rock acts, some of whom would stick around and make a Rock and Roll Hall of Fame impression. Others would see their star fade after 1983's breakout. But all in all, it was a memorable year for these bands.
Rock + Metal Bands You Didn't Realize Are Turning 40 in 2023
These bands formed in 1983.
More From Classic Rock 105.1