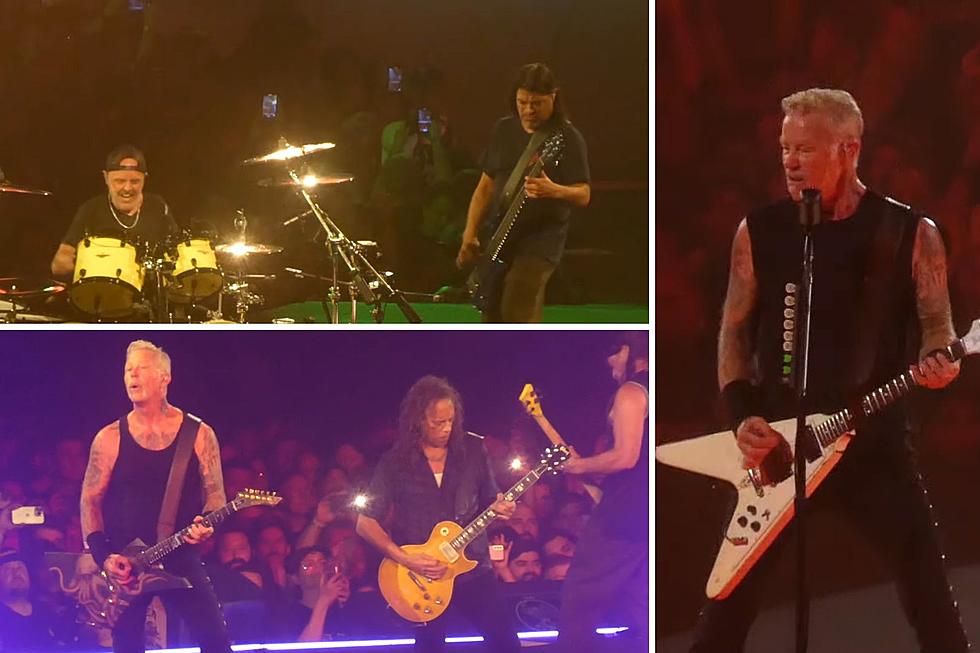 Setlist, Photos + Video – Metallica Unleash Scorching Live Debut During North American Tour Kickoff
YouTube: Jim Powers
This past Friday (Aug. 4), Metallica launched the North American leg of their "M72 World Tour" – in support of this year's 72 Seasons – at MetLife Stadium in East Rutherford, N.J. Aside from Pantera and Mammoth WVH's opening sets, highlights included the debut of another standout piece from the quartet's latest LP and Kirk Hammett once again botching the opening of a Metallica classic.
It was the group's first performance in roughly a month and a half, and as usual, they preceded the performance with AC/DC's "It's a Long Way to the Top (If You Wanna Rock 'n' Roll) and Ennio Morricone's "The Ecstasy of Gold." (Loudwire recently dug into why they always open with the latter track.)
Per setlist.fm, Metallica pulled out the biggest surprise of the night roughly halfway into the show, when the second song from 72 Seasons ("Shadows Follow") made its live debut between "Fade to Black" and "Orion." Drummer/co-writer Lars Ulrich previously described it as "a stomper," so it's anyone's guess why it took them so long to bring it to the stage, and with its addition, Metallica have now played more than half of 72 Seasons' in concert.
Prior to playing "Fade to Black," James Hetfield spoke about turning 60 years old: "[It's] my seventh decade on this planet. 60 years old. Can't believe it. The young me would be saying, 'You made it. You freaking made it, dude. Right on.' . . . I'm glad I didn't listen to my head when I was young."
Naturally, the crowd showered him in applause.
After nailing "Orion," Metallica attempted to begin "Nothing Else Matters"; however, Kirk Hammett messed up the intro, forcing the band to restart it (via setlist.fm). Afterward, he declared: "Okay, it's the first show [laughs]. I'm gonna do this intro all over for your guys again. It's just not good enough for myself, and if it's not good enough for myself, it's not good enough for you!"
Of course, this isn't the first time he's had trouble with the track. Last May (at Boston Calling 2022), for example, he flubbed it, resulting in him lightheartedly falling to the stage and bassist Robert Trujillo pretending to fan him. Upon getting up, Hammett told the crowd: "Sorry guys, you're so kick-ass; I got distracted by how kick-ass you are."
READ MORE: Every Artist That's Opened for Metallica Over the Last 10 Years
Other than that, Metallica relied on a tried-and-true assortment of career-spanning classics, such as "Harvester of Sorrow," "Master of Puppets," "The Day That Never Comes," "72 Seasons" and "Sad But True."
You can see the full setlist below, as well as check out fan-captured photos and footage of the show.
In related news, Trujillo finally explained his trademark "crab walk" (including how Ozzy Osbourne inspired it). Also, Disturbed frontman David Draiman named his top 3 Metallica songs, Ulrich estimated how much venue damage Metallica fans have done and OTTTO's Tye Trujillo chatted with Loudwire Nights' Chuck Armstrong about a multitude of things.
Metallica will be playing a new set at MetLife Stadium tonight (with openers Five Finger Death Punch and Ice Nine Kills). You can check out all of their upcoming tour dates here and grab tickets here!
Metallica Aug. 4, 2023 East Rutherford, N.J. – MetLife Stadium Setlist (per setlist.fm)
1. Creeping Death
2. Harvester of Sorrow
3. Holier Than Thou
4. King Nothing
5. 72 Seasons
6. If Darkness Had a Son (followed by "Rose Avenue" Kirk & Rob doodle)
7. Fade to Black
8. Shadows Follow (live debut)
9. Orion
10. Nothing Else Matters (Kirk messed up intro, song restarted)
11. Sad But True
12. The Day That Never Comes
13. Battery
14. Fuel
15. Seek & Destroy
16. Master of Puppets
Metallica, Live Footage From Aug. 4, 2023 in East Rutherford, N.J.
"Shadows Follow"
"Fade to Black"
"Orion"
"Battery"/"Fuel"
"Master of Puppets"
"Holier Than Thou"
"King Nothing"/"72 Seasons"
"Nothing Else Matters"
"Creeping Death"/"Harvester of Sorrow"
Photos — Metallica Live on Aug. 4, 2023 in East Rutherford, N.J.
Metallica Albums Ranked
See how Metallica's albums stack up from worst to best.